The 25th Master Classics of Poker Kicks Off Nov. 12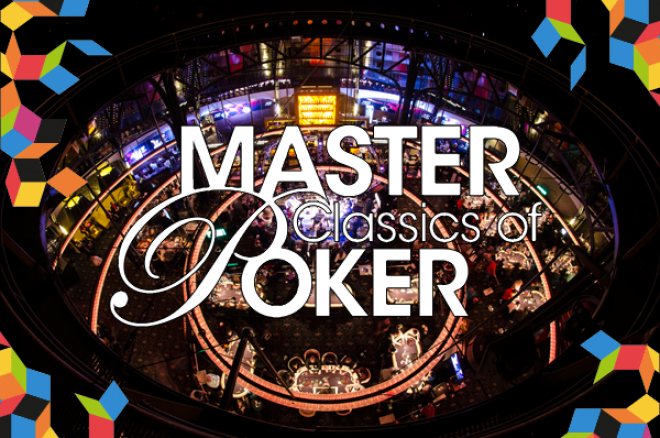 The Master Classics of Poker is returning for its 25th anniversary to the Holland Casino Amsterdam with 25 action-packed events from Nov. 12 through Nov. 26.
This is more than double the events that took place last year when the 2015 Master Classics of Poker (MCOP) featured just 12 events.
The highlight of the poker festival is the €4,250 MCOP Main Event featuring two opening days on Nov. 18 and Nov. 22. Surviving players will compete for three more days from Nov. 23 to Nov. 25 until a winner is crowned.
Last year, Finland's Jussi Nevanlinna outlasted a 291-entry field to win the exclusive winner's plate, Skullcandy headphones and a first-place payout of €300,000.
Two years prior to Nevanlinna's win, the title was kept on home soil. Dutch poker pro Ruben Visser emerged victorious against 2011 MCOP Main Event champion David Boyaciyan to win the top prize of €225,000 as part of a three-way final table deal in 2014.
In 2013, Dutch poker player Noah Boeken claimed the €306,821 top prize in that year's Main Event.
In addition to a handful of live satellites and other events starting at just €110, the tournament will host events attractive to lower-limit players on this year's schedule, including the €275 MCOP #3 Warm Up Single Re-entry on Nov. 13 and the €275 MCOP #10 5-Card Omaha Pot Limit 8 MAX Unl. Rebuy + Add-on on Nov. 16.
The Main Event isn't the only reason the poker festival will attract many big names in poker. The festival also features both the €25,250 MCOP #12 Super High Roller Re-entry on Nov. 17 and the €10,250 MCOP #17 High Roller 8 MAX Re-entry on Nov. 20.
Here is a look at the entire 2016 Master Classics of Poker schedule:
| Date | Starting Time | Description | Buy-in |
| --- | --- | --- | --- |
| Nov. 12 | 16:00 | MCOP #1 Step 2 Satellite Main Event 1A | €700+70 |
| Nov. 12 | 20:00 | MCOP #2 Satellite Main Event Single Re-entry | €250+25 |
| Nov. 13 | 16:00 | MCOP #3 Warm Up Single Re-entry | €250+25 |
| Nov. 13 | 20:00 | MCOP #4 Satellite Main Event Unl. Rebuys+Add-on | €250+25 |
| Nov. 14 | 16:00 | MCOP #5 Satellite Silver Edition Unl. Rebuys+ Add-on | €100+10 |
| Nov. 14 | 20:00 | MCOP #6 Satellite Main Event Single Re-entry | €250+25 |
| Nov. 15 | 16:00 | MCOP #7 Silver Edition Freeze-out | €1,250+80 |
| Nov. 15 | 20:00 | MCOP #8 Satellite Main Event Unl. Rebuys+Add-on | €250+25 |
| Nov. 16 | 14:00 | MCOP #9 Team Event 100 teams of 2 players Freeze-out | €500+50 |
| Nov. 16 | 14:00 | MCOP #10 5-Card Omaha Pot Limit 8 MAX Unl.Rebuy+Add-on | €250+25 |
| Nov. 17 | 13:00 | MCOP #11 Satellite Main Event Unl.Rebuys+Add-on | €250+25 |
| Nov. 17 | 14:00 | MCOP #12 Super High Roller Re-entry | €25,000+250 |
| Nov. 18 | 14:00 | MCOP #13a Main Event Single Re-entry Day 1A | €4,000+250 |
| Nov. 18 | 18:00 | MCOP #14 Satellite €1500 Event Unl. Rebuys+Add-on | €100+10 |
| Nov. 19 | 14:00 | MCOP #15 Satellite High Roller Re-entry | €500+50 |
| Nov. 19 | 16:00 | MCOP #16 €1500 Event Single Re-entry | €1,500+90 |
| Nov. 20 | 14:00 | MCOP #17 High Roller 8 MAX Re-entry | €10,000+250 |
| Nov. 20 | 18:00 | MCOP #18 NLH €500 Speed Freeze-out | €500+50 |
| Nov. 21 | 14:00 | MCOP #19 Satellite Main event Unl. Rebuy+ Add-on | €250+25 |
| Nov. 21 | 18:00 | MCOP #20 NLH 8 MAX Freeze-out | €700+70 |
| Nov. 22 | 14:00 | MCOP #13b Main Event Single Re-entry Day 1B | €4,000+250 |
| Nov. 22 | 18:00 | MCOP #21 €500 BOUNTY Freeze-out | €500 value bounty |
| Nov. 23 | 16:00 | MCOP #22 NLH €1000 Freeze-out | €1000+80 |
| Nov. 24 | 14:00 | MCOP #23 PLO Single Re-entry | €600+60 |
| Nov. 25 | 14:00 | MCOP #24 NLH €750 Single Re-entry | €750+75 |
| Nov. 26 | 14:00 | MCOP #25 €500 BOUNTY Freeze-out | €500 value bounty |