Sunday Briefing: Patrick Leonard and Kevin Killeen Win Sunday Majors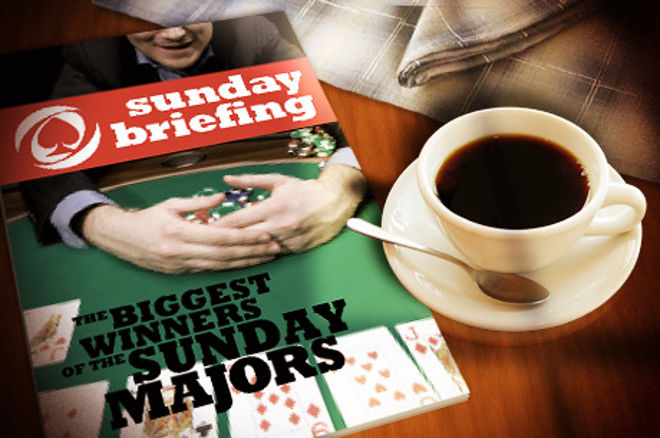 Two of the United Kingdom and Ireland's brightest poker stars won big this Sunday by taking down tournaments at PokerStars.
Ireland's Kevin "torino2000" Killeen topped a field of 1,002 players in the $215 Bounty Builder, scooping $16,194.60 in prize money and $8,248.97 in bounty payments. Patrick "pads1161" Leonard emerged victorious in the Hot $109, beating 1,191 opponents to get his hands on $16,339.69.
Another of Ireland's top players, Dan "NukeTheFish!" Wilson, current number one in the Irish online poker rankings, saw his $109 Sunday Kickoff run end with a third place finish worth $11,158.45, while "d7o1d1s0" took down the Big $109 for a $26,312.50 score.
In the Hot $162, "The TJS" finished as runner-up for $11,569.63, and "Mr.Nice*2626" finished fourth in the $700 Super-Sized Sunday for $14,090.52.
Three Union Jacks were present at the final table of the $109 Bubble Rush. "K3RRY" fell in ninth place for $814.66, "SmellyToes4u" was the third place finisher for $5,577.49, and Harry "Iamapoopie" Lodge exited in second place for a $7,685.67 addition to their bankroll.
"raconteur" and "ZhipOHoy" both collected $7,232.88 when they finished sixth and seventh in the $1,050 Sunday Grand PLO, while "com 157" and "farmjim" bust in fifth and ninth place in the Big $215 for scores of $6,926.83 and $1,921.14.
Brighton's Phil "PhilRoyal888" Mighall may have finished in second place in the Hot $215, but the $16,091.03 he collected was more than what the eventual winner took home thanks to the heads-up duo striking a deal.
It wasn't only at PokerStars where our players excelled because there were a handful of impressive results at both Partypoker and 888poker.
Oliver "ThreeBunPass" Price followed up last weekend's win in the partypoker $2,600 Super High Roller with an eighth place finish worth $5,800. Another great result was the third place finish in the $300,000 Gtd Title Fight by Sam "sammy_squid" Grafton that netted the popular pro $28,050.
Over at 888poker, "MOI_est_JEAN" finished fifth in the $120,000 Whale for $7,963.11 with "summuNNN" and "carmen.1957" finishing third and sixth in the $120,000 Mega Deep for scores of $13,200 and $5,610 respectively.
Four UK-based players reached the final table of the $45,000 Turbo Mega Deep. "jonnyb35" walked away with $2,034 by finishing sixth, Italy's "easylimp888" was the fourth place finisher for $3,842 and Sebastian "iknowmybody" Saffari was eliminated in third place for $5,107.60. Spain's Sergio "trujustrus" Cabrera was the tournament's runner-up, a finish worth $6,780.
Lastly, for this week's Sunday Briefing, is the fourth place finish in the $80,000 Sunday Challenge for "carpediem14" which bagged him $6,279.30.