Online Gambling Accounts For 33% of British Gambling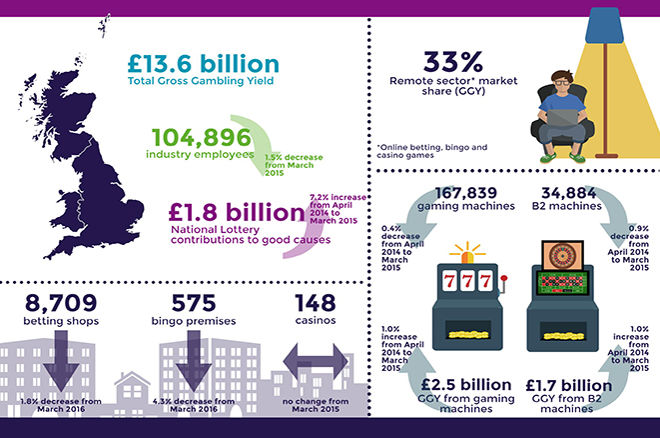 Figures released this week by the UK Gambling Commission (UKGC) reveal online gambling accounts for 33% of all gambling activity in Great Britain.
The UKGC study shows online gambling is the largest gambling sector in Britain having generated Gross Gambling Yield (GGY) of £4.5 billion for the period April 2015 to March 2016. In comparison, the National Lottery generated £3.4 billion, high street betting £3.3 billion, and £1 billion by traditional bricks and mortar casinos.
GGY is the amount retained by operators after the payment of winnings but before the deduction of the costs of the operation
Online casino games generated £2.6 billion of the total £4.5 billion with sports betting accounting for £1.6 billion. Online slots are hugely popular having generated £1.8 billion, £152 million came from betting exchanges, £153 million from playing bingo online and £26 million from pool betting.
A staggering £13.6 billion was the Total Gross Gambling Yield across Great Britain, an increase of £2.6 billion from the period April 2014 to March 2015 when online gambling made up 29% of the GGY.
The substantial increase in GGY comes despite the number of industry employees falling 1.4% to 104,896, the number of betting shops decreasing 1.8% to 8,709 and a 4.3% reduction in the number of bingo halls to 575.
Also falling in numbers are the gaming machines in betting shops around Britain. There are 167,839 gaming machines operating, down 0.4$ from the previous reporting period, but revenues from these machine increased 1% to £2.5 billion.
Gambling Commission programme director James Green said: "Our latest statistics show that with the growth in online gambling the industry is increasingly taking a creative approach to using technology to engage consumers. As the online sector grows operators will also need to demonstrate that they are taking an equally innovative approach to ensuring gambling is safe for all online consumers."
Lead image and data courtesy of the UK Gambling Commission