Five Thoughts: The One Drop Debate, The William Kassouf Conundrum and a Poker Hall of Fame Redo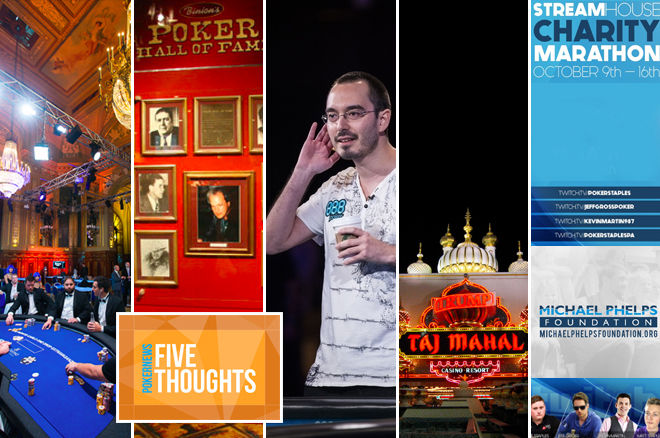 There are weeks when coming up with five thoughts about issues surrounding the poker community is a tough thing to do. This was not one of them.
The biggest buy in tournament in the history of the game went off amid continued public debate as to who should and should not be allowed to play. The Poker Hall of Fame made a decision to induct two new members and even more debate heated up over how they go about doing that.
Outspoken Brit William Kassouf dominated ESPN's coverage of the 2016 World Series of Poker Main Event for all the wrong reasons again, and the doors were finally closed on one of poker's most hallowed halls. Plus, as if that weren't enough, a group of professional poker players and Twitch streamers got together to do something for someone other than themselves, shocking everyone and wrapping up this week's Five Thoughts.
1. Debating One Drop

Although debate about the event's success and the amateur or professional status of some of its players may endure on social media, the €1,000,000 Big One for One Drop is over.
Elton Tsang, a Canadian-born Hong Kong resident who plays a fair bit of poker and has a broad portfolio of investments in IT, Internet firms and travel agencies, walked away with the title and an €11,111,111 first-place prize.
Obviously, not allowing professional players to freely enter had an effect on the numbers, but it also ensured the recreational players who bought in felt they had a legitimate shot to compete free of the collusion and soft-play some suspect is plaguing pro-heavy high roller events these days.
While the tournament drew a less-than-expected 28 entries, including two re-entries, it's hard not to consider it a success for several reasons. The tournament raised €3,111,108 for the One Drop charity in its effort to provide access to safe water around the world.
Those knocking the Big One or how One Drop founder Guy Laliberte has chosen to run the tournament, would be best served to remember what the event is really about and delete more than just the negative tweets, but their entire self-serving attitude as well.
2. Rethinking The Hall

After weeks of heated debate, Carlos Mortensen and Todd Brunson will make up the Poker Hall of Fame's class of 2016.
While I personally felt like Chris Moneymaker deserved the nod for all he's done to promote the game of poker, I can't argue that Mortensen and Brunson weren't at least as worthy of induction under the current criteria and congratulations certainly go out to them.
Now, as far as the Poker Hall of Fame is concerned, the debate turns to that criteria itself and how to best define it going forward.
Daniel Negreanu addressed several issues in his blog last week, including block voting, fan voting and the builder category. The only thing missing, in my opinion, was how to handle a player-builder hybrid like Moneymaker.
He may not fit the player criteria to the strictest letter of the law and he may not be simply a builder, but from the outside looking in, he belongs in the Poker Hall of Fame just the same.
One way or another, the Poker Hall of Fame needs to figure out a way to recognize Moneymaker and others like him or it stands to lose any credibility it currently enjoys from the entire poker community of fans, media and players.
3. The Kassouf Conundrum


ESPN's coverage of the 2016 WSOP Main Event continued this week with highlights from Day 7 and a growing group of players at the feature table ganging up against William Kassouf.
As annoying as it is to hear him repeat the same lines over and over again, it wasn't really his vaunted speech play that raised everyone's ire this time around. It was the amount of time he was taking with each decision. I hate to jump on the pile here, but it must be said that taking 15 seconds before you look at your cards, more than a minute before you act in an unopened pot and an excessive amount of time trying to engage with opponents who aren't saying a word back to you on every single street, is not only extremely annoying, it's rather unethical.
Kassouf wasted a lot of everyone's time on Day 7, a fact that was even evident in an edited-for-television version of what went on. Watching Zvi Stern tank it out every hand during the live coverage of the 2015 WSOP Main Event final table turned a lot of people off poker. Kasouff probably isn't doing the game any favours emulating that behaviour either.
Some might think Cliff Josephy was a little out of line repeatedly calling him a clown. I choose to think that when you've pushed an otherwise respectful and respected legend of the game, plus an entire table of your peers, to the point where they are berating you, maybe it's time to take a close look at yourself in the mirror.
Regardless of where you stand on all of Kassouf's eclectic behaviour on the felt, one thing is for sure: ESPN has turned him into a villain to some, a hero to others and a real conundrum for pundits like me.
I hope and pray Kassouf does not spawn a legion of followers that copy his annoying playing style, but at the same time, I'm keenly aware that a character like him is drawing eyeballs to the game. Stop reading now to avoid the spoiler, because in case you didn't know it, Kassouf does not make the November Nine.
In fact, he's about to go down to Griffin Benger in a blaze of glory and one hell of a cooler in an upcoming episode that I'm positive a growing audience can't wait to see. I abhor all of Kassouff's behaviour and think it's terrible for the game, but the attention he's drawing has to be considered the opposite. Love him? Hate him? Love to hate him? There's the rub.
4. The Nail In The Coffin

In the seminal poker film Rounders, it was the place where Mike McDermott could have turned his truck onto the Jersey Turnpike and been at in two hours.
It was the room where Worm loved to find rolled up aces over kings, check-raise stupid tourists and take huge pots off of them playing all night high-limit hold'em. It was where the sand turned to gold and he built stacks and towers of checks he couldn't even even see over and where McDermott once sat with Johnny Chan, making a move on the world champion in the $300/$600 game.
Rounders made the Trump Taj Mahal the immortal home of poker on the East Coast, and whether it ever really was or not, it clearly won't ever be again.
The poker room on the property had fallen on hard times long ago and any attempt to return it to its glory days have now been derailed by a labor dispute that has forced the closure of the entire property for good this week.
Since it opened in 2003, The Borgata has really been the home of poker in Atlantic City anyway, and with it's connection to online giant PokerStars, Resorts Casino has number two on the list locked up for the most part.
Here on PokerNews, the story about the Taj closing called it the "end of an era," and while that may ultimately be true by most accounts, it was an era that ended long ago and this final nail in the coffin of a long since dead property is more accurately just that.
5. Charitable Endeavors
Hats off to Jaime Staples, Matt Staples, Jeff Gross and Kevin Martin, who managed to make it all the way through their StreamHouse Charity Marathon on Twitch.tv last week, streaming for 168 straight hours and raising over $21,000 for the Michael Phelps Foundation.
The foundation itself works to promote healthy, active lives, particularly for children, mostly by expanding opportunities for participation in the sport of swimming. It's certainly a worthy cause and the players involved should be applauded, not only for their efforts to help it, but in taking the game of poker, an otherwise pretty selfish endeavor, and turning it into something positive for the entire community.
Here's hoping more professional poker players follow this lead and get involved in charitable efforts, because it's good for everyone.
Even those more concerned with their own bottom line can agree the more players are seen giving to worthy causes, the more poker players will be viewed as respected and valued members of the community. Over time, this should bring mainstream media attention, which will be followed by big time sponsorship opportunities and ultimately help grow the game to previously unseen levels.
It's good for the entire community, good for the soul and ultimately, good for the game as well.