Shah Raza Leads the 888live London Main Event, Scott, Grafton and Chattha Still in Contention as 14 Remain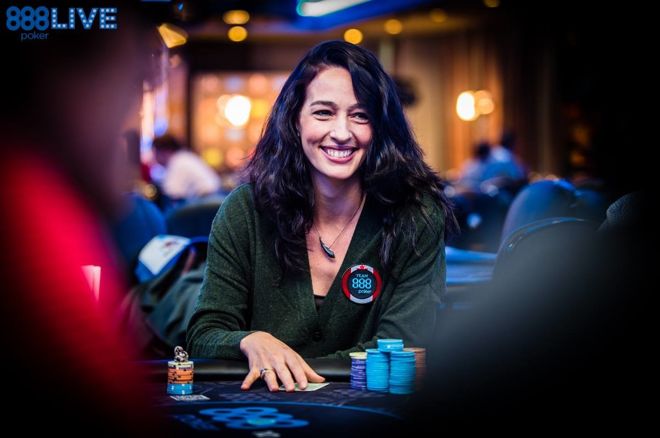 After a long and exciting Day 2 of poker action in the 888Poker London Live Main Even, Shah Raza ended at the top of the leaderboard with just 14 players remaining.
| Player | Chip Count |
| --- | --- |
| Shah Raza | 1,153,000 |
| Charles Chattha | 922,000 |
| Sam Grafton | 900,000 |
| Cristian Mihu | 852,000 |
| Jose Lopez | 837,000 |
| Phillippe Souki | 643,000 |
| Ka Him Li | 628,000 |
| Mikhail Pokrepa | 554,000 |
| Demetris Triantapillou | 549,000 |
| Enzo Del Piero | 500,000 |
| Andrea Volpi | 317,000 |
| Kara Scott | 315,000 |
| Kevin Allen | 313,000 |
| Tony Douggett | 173,000 |
The action was fast and friendly from the kickoff, with players still some way from the 36 money places. Sam Grafton took the most advantage of the early skirmishes as the vivacious personality eliminated Martin Spearing when the latter's ace-king walked into the pocket rockets of Grafton.
The first Team 888Poker ambassador to exit was Natalie Hof when she lost a coin flip. She was followed out of the door by fellow German and three-time WSOP bracelet winner Dominik Nitsche before the bubble was even close.
Arron Fletcher lost a huge half-million-chips pot to Albert Sapiano when the latter shoved all-in with two-pair. Fletcher, who until that point had hardly put a foot wrong in the tournament, believed his opponent was on a flush draw and made the call. Sapiano led after that, but not for long as a series of hands saw him exit soon afterwards. Others such as Chris Da-Silva and Sinem Melin followed, with the unfortunate Melin running pocket kings into a set on the flop to lose a massive half-million chip pot.
When it got to the bubble, the field was a split of strong players with big stacks looking to apply pressure and short stacked players looking to survive it. As it happened, Michael Mizrachi managed to eliminate fellow poker pro Andrew Hulme on the bubble when his two-pair beat Hulme's top pair.
Players such as Daniel James and James Phillips were only too grateful. They cashed but busted soon after and the race to end with the most chips at the closing of the day really began. Enzo Del Piero made a run for the lead when he was all-in and at risk with pocket sevens against two players and over cards, but he survived. Sam Grafton took the captain's armband at the feature table with Mizrachi's own elimination (ace-queen against sevens, no luck), but he would not end with it.
Kara Scott was laying low for the first couple of levels, got unlucky a bit but bounced back in the last level, ending the day with 315,000 in chips.
Shah Raza stayed out of the way of damage for much of the day but made the most of his time at the feature table to end as the only player above a million chips bagging 1,153,000. He'll have a lot of competition on the final day, with Charles Chattha (922,000), Sam Grafton (900,000) and Cristian Mihu (852,000) in particular hunting him down.
It's the impressive Raza who has the lead, and with just five players needing to depart for the final table to be formed, we expect the action to be fantastic when play resumes at 1pm local time here in London on Sunday. The first level on the schedule is 8,000/16,000 with a 2,000-ante. The remaining 14 players are guaranteed £3,010 but are all gunning for that £50,000 ($61,160) first place prize. Here's what's at stake tomorrow:
| Position | Prize |
| --- | --- |
| 1 | £50,000 |
| 2 | £35,300 |
| 3 | £22,740 |
| 4 | £16,830 |
| 5 | £12,640 |
| 6 | £10,100 |
| 7 | £8,410 |
| 8 | £6,720 |
| 9 | £5,040 |
| 10 - 12 | £3,760 |
| 13 - 14 | £3,010 |
PokerNews will be back to bring you all the drama on what is sure to be a pulsating day of action as an 888Poker London Live Main event champion will be crowned!
While you anxiously await the final day of play, check out Sarah Herrin's interview with Antonio Esfandiari who was invited to London by 888poker: