The 2016 November Nine: Seat 5, Cliff Josephy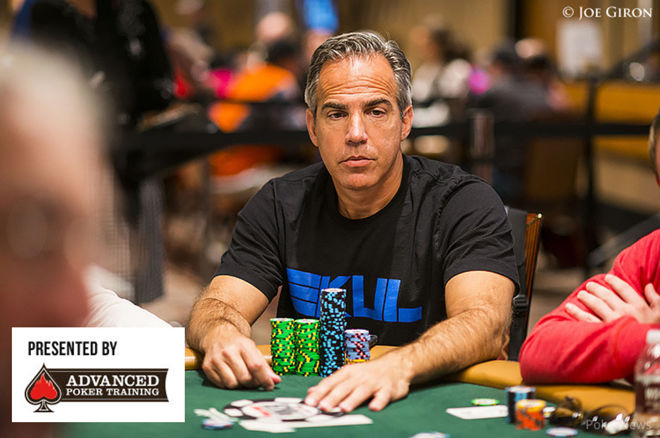 Each week leading into the World Series of Poker final table we'll profile one player who will be vying for the championship. Our profiles are sponsored by Advanced Poker Training, one of the world's top poker training sites. At AdvancedPokerTraining.com you can play up to 500 hands per hour of full-ring, six-max, sit-n-go or full MTTs against thousands of intelligent computerized opponents, with instant advice, weekly training plans and much more. It's the fastest way to ignite your game!
When Muttontown, New York's Cliff Josephy sits down to begin the final table of the 2016 World Series of Poker Main Event at the end of October, he will be more than just the chip leader.
At 50-years-old, Josephy will be the oldest player in the final nine. With two WSOP bracelets and $2,641,620 in career live tournament earnings coming into the Main Event, he will also be the most accomplished. Plus, considering he was ranked the top online poker player in the world back in 2005, he is recognized as one of the best teachers of the modern game from his days starting the PokerXFactor.com training site. Josephy is also widely known to have financially backed a stable of hundreds of players online and off, including 2009 WSOP Main Event champ Joe Cada. Given his ranking, reputation and time in the game, Josephy's also one of the most experienced players in the game.
As a result, Josephy knows as much as anyone coming into the WSOP. There's no guarantee he'll win the tournament and collect the $8 million first place prize that awaits the champion, but at this point, he has to be the favorite.
"This is the goal," Josephy told PokerNews just moments after the 2016 November Nine was set. "We have a loftier goal than just making the final table, right, but right now, we're on the right path."
Josephy was a New York stock broker-turned-analyst back in 2003 when he went to visit his father down in Florida. He'd often played Hearts on his computer to pass the time. After he saw coverage of the WSOP Main Event on ESPN on the flight down south, and watched his father play a little online poker during the visit, the game quickly consumed him.
Online poker became Josephy's new hobby. After some advice from a client and friend to read a few informative poker books, he found a ton of success right out of the gate. So much so that poker soon became more than just a hobby.
"I was just a stock broker," Josephy explained. "I got some training from some very bright people and soon I began to understand the reasons behind the different stock moves. I learned how to analyze stocks and I essentially became an analyst. I did a lot of business with a lot of the different hedge funds in New York, and then, one day, I fell in love with poker.
"I was working at a firm and that firm was transitioning to another firm and I didn't want to go, so I just started playing poker instead, and luckily I found success right away. I just said 'I'm going to try playing poker' and it worked out right away."
Under the screen name "JohnnyBax," Josephy starting winning big online tournaments from the outset, collecting multiple seats to major live tournaments like the WSOP Main Event through online satellites on a regular basis. He reached legendary status in the online world almost immediately, earning the top online player ranking on PocketFives and winning his first WSOP bracelet in 2005 — in what also happened to be his first ever Seven-Card Stud tournament.
Josephy and the same friend who offered the poker reading advice soon partnered up to back a huge stable of successful players both online and live. Before long, he also began to teach other players the secrets to their success through the PokerXFactor.com online poker training site.
Josephy is married with three children. He has since split with that business partner, but even so, Josephy continues to find success through investing in other players, having a piece of November Niner Ylon Schwartz in the 2008 WSOP Main Event, and then famously railing Cada all the way to victory a year later (while backing him).
Now, for the first time, Josephy says being in the driver's seat makes all the difference.
"This is the dream," Josephy said. "[Backing other players who have run deep in the WSOP Main Event] is just money, and it's great to be able to help some kids out and have them get life-changing or life-altering money. I can selfishly say that this is really the dream."
How He Got Here
| Day | Final Chip Count | Rank |
| --- | --- | --- |
| 1c | 39,200 | 2,337/3,252 |
| 2 | 196,000 | 600/2186 |
| 3 | 320,000 | 414/800 |
| 4 | 1,554,000 | 84/251 |
| 5 | 6,175,000 | 21/80 |
| 6 | 23,860,000 | 3/27 |
| 7 | 74,600,000 | 1/9 |
Strangely enough, Josephy appeared in one of the first updates on WSOP.com at the start of Day 1c. In fact, the reporter claimed he won the the very first hand of the day, raising to 400 from the hijack and getting two callers. They both folded to a 500-chip continuation bet from Josephy on an



flop and he jumped out to an early lead on 50,875.
Things must have gone south from there, but Josephy apparently stayed patient, bagging under starting and heading into Day 2 with 39,200. He stayed out of the spotlight on Day 2, chipping up big time, but staying out of the WSOP.com live updates on the way to bagging 196,000.
The next time he appeared in the updates they had him at 190,000 after winning a race to bust one opponent holding with the


versus


for a 100,000-chip pot. Josephy went on to bag 320,000 and sat in the middle of the 800-player pack at the end of the day.
WSOP.com then reported Josephy losing a pot to two pair, mucking his hand and doing "a quick lap around his chair before returning to his seat" in the middle of Day 4. At that point, he reportedly had it up to 700,000 and was beginning to look like a contender. By the end of the day, he was on 1,554,000 and in the top 100 with 251 remaining.
On Day 5, Josephy was featured prominently in the updates as he truly began to contend. First, he did the TV crew a favor and busted perennial tanker Jordan Cristos with the


versus the


to move up to 1,750,000. Then, the poker gods smiled on him a little.
Josephy got it all in for 1,455,000 against Vladimir Geshkenbein on a a



flop holding the


for middle set. Geshkenbein held the


for the open-ended straight flush draw and turned a flush when the

came down. Josephy seemed destined for defeat, until the the

river made him a full house, vaulting him up to 3,440,000.
Once they got into the top 100, Josephy busted Lenny DiCicco in 99th Place with two kings holding over big slick. Despite Tyler Hancock defying domination to double through him, Josephy still finished the day with 6,175,000 and a spot just outside the top 20 with 80 remaining.
Day 6 was a big one for Josephy. It started with a little needling about his age from table mate Dietrich Fast that ended with a nasty karmic twist. Soon after the friendly needling ended and the table settled down to play poker, Chris Klodnicki raised to 215,000 from the hijack and Fast three-bet to 550,000 on the button.
Josephy four-bet the small blind to 1,350,000 and after Klodnicki folded, Fast shoved for 2,400,000. Josephy called with the


and appeared to be on the wrong end of a classic cooler with Fast holding the


.
A



flop turned things completely upside down; however, giving Josephy a set. After bricks on the turn and river, he suddenly had 11,200,000 and Fast hit the rail. Nobody joked about Josephy's age again.
Later, Sergi Reixach tried to push Josephy off top pair to no avail. Dan Colman tried to bully him off a pot before Josephy fought back, pushing Colman off the pot with an all-in river shove.
Eventually Josephy busted Reixach with a dominating ace and took the chip lead heading into the dinner break with a little over 19 million. In the late levels, he made two small pair to drag a decent sized three-bet pot off Mike Shin. Josephy eventually bagged 23,860,000, good for third heading into the final 27.
The seventh and final day of the 2016 WSOP Main Event's summer session saw Josephy get in on the action right out of the gate.
He raised to 550,000 in early position and called when Kenny Hallaert three-bet to 1,500,000 late. Josephy checked a



flop, then fired in a check-raise when Hallaert made it 1,750,000. Josephy's 5,100,000-chip bet was enough to take it down.
Soon after, he opened to 700,000 and jammed for 8.6 million. This was effective when Jared Bleznick three-bet to two million, forcing a fold and taking another pot down without showdown.
He made a pair of queens on the river to take a pot of Michael Niwinski and move into the lead on 38,175,000. Josephy took the lead heading into the dinner break and ramped up the aggression at the final two tables when play resumed. He soon became the first player to pass the 60,000 chip mark. He would have taken the lead into what would be the final level of play on the day if not for the fact Qui Nguyen eliminated three players to move ahead.
Once they got down to 10 players remaining, Nguyen held a slight lead over Josephy, but Josephy moved out front after a big hand with Griffin Benger. Josephy opened the hand with a bet of 1.1 million. Benger upped it to 3.4 million and Josephy called. Benger bet 3.3 million on the



flop, but could not shake Josephy, who called, then led 5.5 million on the

turn. Benger called, but folded when Josephy bet 13 million on the

river.
He picked up kings versus Nguyen a little later and got a 1.25 million bet called before Nguyen folded to another 1.5 million on a queen-high flop. Finally, when Josh Weiss busted 10th and the 2016 November Nine was set, Josephy was still on top.
"It was like any other day at the office," Josephy said. "The lights don't bother me; the cameras don't bother me. The only thing that bothered me was the stalling and we took care of that.
"It's unbelievable how well things went for me. I don't know if I needed a fold, but the few times that I wanted someone to fold, they folded. I didn't win any humongous pots at showdown. There was really nothing. Everything just went my way. I just had it so many times, and to think I didn't really have any starting hands. Did I get kings at the end of the day? Yes, for a tiny pot. I had some big hands, yes, but I really made some big hands."
Be sure to check out our sponsor AdvancedPokerTraining.com for some of the best poker training in the world.
Get all the latest PokerNews updates on your social media outlets. Follow us on Twitter and find us on both Facebook and Google+!