PokerStars' Lee Jones, Bryan Slick Talk WCOOP $102,000 Super High Roller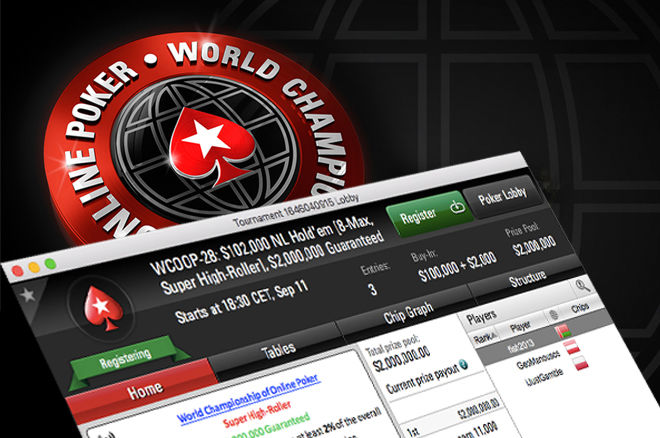 ---
This Sunday, September 11, 2016, will go down in the online poker history books, if there were such a thing. At 12:30 Eastern U.S. Time (18:30 Central European Time), the biggest ever buy-in tournament commences on PokerStars. Players are going to buy in for a whopping $102,000 for the 8-Max Super High Roller event number 28 on the World Championship of Online Poker schedule. With a guaranteed $2,000,000 prize pool, it's the second biggest event on the schedule, only outdone by the Main Event.
Last year, the Super High Roller format debuted online as part of WCOOP 2015 with a $51,000 buy-in event. Ben "Ben86" Tollerene took down the tournament, beating a field of 46 to walk away a $616,518.34 winner after striking a deal with Jose "Cejakas14" Angel Latorre (second, $560,412.13) and Nikita "fish2013" Bodyakovskiy (third, $594,069.53).
We sat down with Head of Poker Communications at PokerStars Lee Jones and Senior Manager of Online Championships at PokerStars Bryan Slick to get all the details on this event.
---
After the $51,000 Super High Roller during SCOOP last year, what made you decide to have a $102,000 this time?
Bryan Slick: When we put the $51,000 out last year, we did so with the intention of upping the ante in 2016, given there was success with the $51K and demand to go higher in 2016. The goal is to continue to push the envelope with the highest buy-in tournament in online history, to have an event that is extremely high-profile and that brings the elite stakes players out to play.
We ran an extensive survey of nosebleed stakes players to determine what they wanted and the $102,000 Super High Roller and $21,000 6-Max Pot-Limit Omaha High Roller emerged.
Lee Jones: The survey was sent to everyone that played a $10,000 or bigger event during TCOOP, SCOOP or WCOOP in the last year. We got 450 responses and those indicated there was really a demand for a $100,000 event. Unsurprisingly, the next popular choice was a PLO High Roller.
Were even bigger buy ins considered?
Slick: We considered $200,000, but only briefly.
Jones: We do what the players want us to do in these kinds of matters. That's the business we're in. We did the survey after last year's event and we did what the players got back to us. I'm sure we'll do a survey after this one. If the players say 'Let's do a million dollar one!,' we probably are going to say no though. I kind of doubt we would do an event that big.
This is the largest event in online poker's history if you're looking at the buy-in. I think that we're uniquely qualified to organize such an event and we're incredibly excited to be running it. The option to be able to run the biggest buy-in event in the history of online poker is a big deal to us.
Will a Super High Roller be a fixture on the WCOOP schedule?
Jones: That's just a question the survey will have to answer for us. I think it will attract huge public attention and people will really enjoy it, so I don't see a reason it shouldn't. I think it will be a fantastic event with a murderers' row of the best players in the business and I'm excited to watch it.
Are there any special precautions for this biggest ever buy-in tournament?
Slick: I've added a special preregistration message to each High Roller tournament, warning players that
that they should be precisely aware of the date and time of the event;
that they should ensure the strength of their connection(s);
and that PokerStars will not be held liable for the stability of connections except in the case of a server crash.
It's noted that they should arrange for a backup connection in order to ensure that they're able to remain connected to the server in order to continue playing at such expensive stakes. An example of this message is as followed, in an approximation of how it will appear within the client:
"Please note the date and time of this tournament. This tournament begins at 12:30 Eastern U.S. time on Sunday, September 11. Refunds will not be issued to players missing this tournament fully or partially due to absence from the server. It is each player's responsibility to ensure that he or she is online and available to play.

By participating in a tournament, a player accepts the risk of Internet disconnection due to problems with the connection between their computer and the servers, lag, freeze or some other problem on the player's computer. PokerStars does not accept any responsibility for a player disconnect except in the case of a server crash.

It is recommended that players arrange for a backup connection in case the primary connection malfunctions for any reason."
Jones: In terms of the mechanics of running the event, you just put a different number into the buy-in amount field. Back in the old days running such an event started with thinking about the total amount of chips in play and problems like that. That obviously isn't going to be a problem anymore in the modern age.
Are there any other security measures in place to prevent cheating in this huge event?
Jones: As soon as this tournament was put on the schedule, I went straight to one of our senior gaming integrity people and asked what the plan was. They're implementing additional measures to ensure the tournament is played fairly, but they're not going into details on those additional measures for obvious reasons.
We're not really concerned about Player A using Player B's account because this is a $100,000 buy-in event and it's a small community. Everyone knows everyone. If someone who no one has ever heard of buys in, I can assure you our security guys are going to be all over that.

Slick: This is the highest buy-in online event in history. As well as PokerStars' usual security checks, which all players on our site are subject to, we will indeed be implementing additional measures to ensure that this tournament is played fairly by all participants. We are not at liberty to let you know everything we'll be checking for reasons of privacy, but we can assure you that this will be the most heavily scrutinized tournament in the history of PokerStars.
How many players do you expect?
Jones: We had 46 runners in last year's $51,000 Super High Roller and I imagine that number will be similar. If you can find $50,000 to put into an online tournament, you can probably find $100,000 right?
We just have to see who signs up. We're not contacting players. I know for a fact that Jason Mercier is playing. I think Daniel Negreanu might play, but some of that, unfortunately, has to do with which country he's in. I expect Daniel is probably going to go back to Toronto to play this event.
Other than that, I don't have any specific names. I think for a $100,000 event you're looking at the usual suspects, though. There's just only so many people who are able to play a $100,000 event and they probably don't want to pass up on the opportunity to do so online. I'm gonna be astonished if you don't see guys like Fedor Holz and Mike McDonald sign up.
Are players allowed to play from the same IP address?
Jones: Yes, they are. Simple as that.
---
The world biggest buy-in online event will likely attract the crème de la crème of poker players and a rail unseen ever before. PokerNews will be covering the event with live reporting so everyone will be able to follow along, even if you don't have the PokerStars' client installed. Follow along starting Sunday, September 11. After the event is on the books, a replay with hole card information will be available for viewing in the PokerStars' client. A $34,680 qualifier Sit & Go regarding two seats runs upon six players signing up.
---
---
Get all the latest PokerNews updates on your social media outlets. Follow us on Twitter and find us on both Facebook and Google+!
---