Crazy Eights: Eight Random Questions With Kara Scott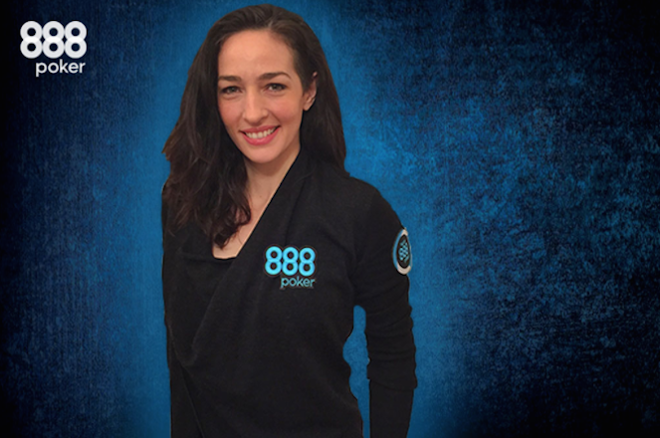 888poker ambassador Kara Scott is one of the most recognizable names in poker as both a player and hostess. She has $658,222 in live tournament earnings and is the face of poker at the World Series of Poker for ESPN. She's an ambassador for 888poker.
In 1999, the dual Canadian and British citizen moved to London to teach at an inner city school. These days she lives in Ljubljana, Slovenia, with her husband Giovanni Rizzo.
PokerNews recently sat down with Scott while she was playing in the 888Live Tallinn $30,000 Guaranteed Main Event to discuss eight crazy and random lifestyle questions.
1) What is the craziest thing that happened while you were a teacher?
A kid tried to light me on fire during a lesson once.
It was a computer lesson and I somehow ended up in charge of an entire room with nearly 60 kids, on my own as a first-year teacher, in what was considered the worst school in England at the time. It was chaos in the room and I couldn't find anyone to come and help me sort it out. One teenager was wandering around using a lighter to set paper on fire at the various printers dotted around, and when I went to stop him, he looked me straight in the eyes with a blank face and tried to set my sleeve on fire. Yeah. That was... interesting. I wasn't cut out for teaching.
2) What is the wildest thing to happen while you were playing poker?
Coming second in the Irish Open. I still can't believe that actually happened and wasn't just a dream. Surreal!
3) What's your favorite movie?
Rocky I. Rocky II is a close second.
4) What is your favorite drink?
Coffee. I have given up all kinds of bad habits in my life in a quest to be more healthy, but nobody better ever try to take my coffee away from me. I will fight you.
If we're talking alcohol, then it would have to be (don't laugh) sparkling rosé wine. I know, embarrassing.
5) Where would be your favorite place to live?
Don't hate me, but I'm lucky enough to live here right now. Ljubljana in Slovenia is a really wonderful city. We've been here over a year and my love affair with this town hasn't slowed down even a bit. It's close enough to Italy so we can drive over and visit family whenever we want, but meanwhile, we actually get to live in the most fantastic place in the world. It's the 10th safest country and the 'Green Capital' of Europe. It's a marvel.
6) What's your favorite place to visit?
Calabria, Italy. My in-laws have a huge farm there and we spend a few weeks with them every summer, just eating the most amazing food and being in the fields or out on the beach all day. Every evening is about making huge amounts of food and sitting outside in the courtyard until the wee hours drinking wine and telling stories. Magic.
7) Dogs or cats?
I love animals in general but I'm more of a dog person. Once I stop traveling so much, I'm definitely going to adopt a dog. There are so many older dogs living out the last years of their lives in shelters and I'd love to be able to give them all homes.
8) Where was the last place you paid too much for a meal but it was worth it?
There's a restaurant on top of the castle in Ljubljana called Strelec. We had a big meal there with some family and although it's pricey for Slovenia, it's not really too expensive until you add in all of the many bottles of wine we drank. Totally worth it.
Need an 888poker account?
If you like free money, a great selection of games and awesome software, 888poker is the right place for you. To get started with some free loot, simply create your 888poker through PokerNews. Doing so will award you a free sign-up bonus of £20 you can use to check out all the amazing action on 888poker without even making a deposit!
What's more is that for a limited time you can get another $20 in free cash just by making a $20 deposit using the POKERNEWS20 bonus code!
If that is not enough, just make another deposit on top of this one to get your hands on a 100% bonus match up to $888!
---
Get all the latest PokerNews updates on your social media outlets. Follow us on Twitter and find us on both Facebook and Google+!
---