The 2016 WSOP November Nine: Seat 2, Vojtech Ruzicka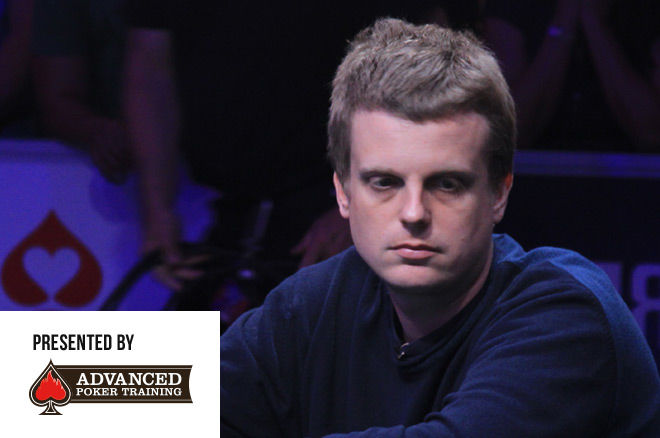 Each week leading into the World Series of Poker final table we'll profile one player who will be vying for the championship. Our profiles are sponsored by Advanced Poker Training, one of the world's top poker training sites. At AdvancedPokerTraining.com you can play up to 500 hands per hour of full-ring, six-max, sit-n-go, or full MTTs against thousands of intelligent computerized opponents, with instant advice, weekly training plans, and much more. It's the fastest way to ignite your game!
Vojtech Ruzicka was having a terrible summer.
Playing a full schedule at the 2016 World Series of Poker, the professional player from the Czech Republic had managed to tally just $5,000 in winnings and was deep in the hole. Then, the Main Event happened.
Now, he's $1 million richer, and it came just in time.
"I didn't expect it," he said with a laugh in an interview with Remko Rinkema. "It not only saved my summer, but it's the biggest thing to happen in my poker life. I'm so grateful."
But who is Vojtech Ruzicka and where did he come from? Unlike the last entrant in the November Nine profile series here on PokerNews, he's a little farther from the spotlight, a lot less known to the average poker fan.
"I'm quite boring," he assured PokerNews' Sarah Herring in an interview, rattling off a typical list of young male poker player interests: good food, golfing, watching sports – he's an especially big NBA fan – and gambling with his friends.
As for his poker career, it began about eight years ago for the now-30-year-old. He was studying math in college when he discovered the game and started grinding online.
"Everything went my way," he said of that time period.
He won his first $50,000 and never looked back, quitting school and embarking on the poker journey that's taken him where is today, on the precipice of perhaps an $8 million jackpot.
After spiking his initial roll online, Ruzicka broke through in a big way in the 2011 World Championship of Online Poker Main Event. There, as"Vojta_R", he finished runner-up to Thomas "Kallllle" Pedersen for $710,000 in a field of 1,627.
Then, he branched out into the live arena with a freshly minted sponsorship from PokerStrategy.com. He first hit the European scene, firing away on the European Poker Tour and other events, such as when he took down the German Championship of Poker in early 2012 for $161,146.
A tantalizing WSOP followed, in which Ruzicka made a habit of running deep but falling just shy of the big score, with four top-60 runs. The following February, he shipped the biggest live score of his life aside from his yet-to-be-determined 2016 Main Event cash. It came in the €10,300 High Roller at EPT Deauville, where he topped a field of 99 for €313,000.
Ruzicka continued to grind out a living in the ensuing years with medium-sized scores, but one thing that always eluded him was WSOP Main Event success. Despite hammering away at the big one for five straight years prior to 2016, he had never so much as cashed.
Now, he finds himself in the hunt for the payday of a lifetime, albeit with some work to do as the sixth-place stack heading to the November Nine. Ruzicka's summer is officially turned around, and his "boring" existence is going to get a lot more exciting when the end of October rolls around.
How He Got Here
| Day | Final Chip Count | Rank |
| --- | --- | --- |
| 1b | 185,900 | 12/1,301 |
| 2 | 243,200 | 147/760 |
| 3 | 714,000 | 121/800 |
| 4 | 1,034,000 | 149/251 |
| 5 | 4,255,000 | 33/80 |
| 6 | 26,415,000 | 1/27 |
| 7 | 27,300,000 | 6/9 |
The tournament that turned Vojtech Ruzicka's summer around in a big way began quite promisingly, as he bagged the 12th-place stack out of 1,301 players who made it through Day1b.
"The first days were pretty good for me," he said, noting he finished with big stacks each of those days and was cruising.
He first hit a rut on Day 4, finding himself down to 10 big blinds and in dire need of help as he got it in way behind with


against the


of Jeff Hakim. He got there on the river and found new life, with his big upswing coming at the tail end of Day 6.
It began with Ruzicka in the big blind, flatting a cutoff raise to 500,000 by David L'Honore at blinds of 100,000/200,000/30,000. A flop of



hit, and a raising war ensued that ended with L'Honore all in for over 9 million holding


and drawing against Ruzicka's


.
"My heart was going to explode during that turn and river," he said of his feeling as he awaited the final two cards, which came first a

to give his opponent more outs and then a

to keep the set mercifully best.
Ruzicka then won a race with


against the


of Elliott Peterman to bag the chip lead heading into the final day of the summer. It's an enviable position, to be sure, but one that ended up being less than pleasant for Ruzicka as he melted away in the early parts of Day 7.
"It's a big responsibility and I didn't handle it so well the first few hours," he admitted. "I was losing basically every pot I played. I started tilting a bit, which was not good."
Indeed, the Czech player had dwindled from more than 26 million down to just over 10 million with blinds at 150,000/300,000/50,000. That's when he woke up with saving grace


with a raise and a call in front of him. Ruzicka made it 2.1 million, and opener Andrew Christoforou four-bet to 5.5 million, calling when Ruzicka jammed. Christoforou had


and Ruzicka held.
"I was really upset I was so close to busting," he said. "That calmed me down. After that, I played much better."
That was one of the last major pots Ruzicka played, and his stack was never again at risk as he admitted he tried to stay out of risky situations with the tournament winding down and a spot in the November Nine within his grasp due to his solid stack.
What to Watch For
Ruzicka's position at the table could help or hurt his cause. Sitting with the sixth-best count and a sufficiently deep stack to avoid marginal situations, the key will be getting an early read on the player on his immediate left, Fernando Pons.
The Spaniard is probably the least experienced player at the table, and he has the shortest stack with only about 12 big blinds. Ruzicka must quickly ascertain Pons' approach. If Pons is playing it tight and looking to ladder up, Ruzicka will be able to open up and play his normal aggressive game. If Pons isn't worried about laddering and is aggressively seeking a double, Ruzicka will be considerably handcuffed and will have to wait things out until Pons either doubles to a playable stack or goes bust.
Another factor will be button-versus-blind battles with big stack Qui Nguyen on his left. Ruzicka will have to tread with caution since Nguyen covers him easily, but he could profit handsomely with position on a less-experienced player.
Ruzicka didn't want to commit to a preparation plan, though he mentioned off-table work and a desire to get back onto the live circuit in short order. The former could be key as Ruzicka said he actually hasn't played much with about half of his fellow November Nine.
One thing he is sure of will not surprise anyone who has seen some of the rowdy crowds that turn up for many European players who make WSOP final tables.
"I think I'll have a big rail," he said. "[The Czech] community is pretty tight, everybody was really supportive. A lot of players have pieces of me.
It's a once-in-a-lifetime shot."
Be sure to check out our sponsor AdvancedPokerTraining.com for some of the best poker training in the world.
Get all the latest PokerNews updates on your social media outlets. Follow us on Twitter and find us on both Facebook and Google+!