Poker Pros Tell You Everything You Need to Know About Playing EPT Barcelona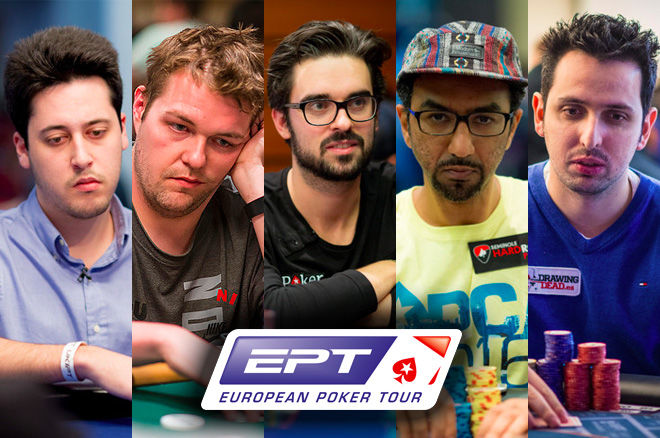 The European Poker Tour (EPT) kicks off Season 13 with its first stop next week. The Catalonian capital of Barcelona will once again be the season opener with huge fields again expected. Last year a record-breaking field of 1,694 players ponied up the €5,300 EPT Barcelona Main Event buy in, and none other than John Juanda took down the €1,022,593 first-place prize. The schedule is once again action packed with a total of 64 different tournaments, ranging from €120 hyper turbo events to a €50,000 Super High Roller.
Barcelona is one of the most popular stops on the tour, and Casino Barcelona is expected to be packed with eager poker players. EPT Grand Final champion Adrian Mateos will play the festival for the fourth time. Despite never cashing in the Main Event yet, Barcelona is a favorite for the high roller sharing that, "Barcelona is without doubt one my favorite cities in the summer. It has all ingredients to be the best city; the parties, the food, the weather is fantastic, the beach is right there. There's a lot of activities to do, and an amazing schedule of tournaments. Marvelous!"
Spanish player Sergio Aido, known online as "zcedrick" and currently the fifth-ranked player on the Spanish All Time Money List according to The Hendon Mob, is a fan of the stop as well with this year being the fifth consecutive time he's competing.
"Barcelona has sites and buildings that really deserve to be seen, besides the beaches, parties, and food," Aldo shared. "The truth is that it's difficult to spend hours playing poker in a city like this that offers so many things to do in your free time."
Matthias De Meulder has cashed in the EPT Barcelona Main Event a record-breaking four times. No wonder the stop is locked in his schedule for months; "The timing and setting of the event are perfect. Summer time in Barcelona alone is great, then on top of it there are poker tournaments all day every day taking place for ten plus days straight. Now tell me a poker player who doesn't like the sound of that? Oh, and if you bust, it takes you roughly a minute or two to make it to the beach. Need more? The tournaments are big and known to be less tough than similar events elsewhere. I have been making pretty good money there."
Jason Wheeler, who has been coming to the event since 2010, has some tips for first time goers: "Going to EPT Barcelona for the first time is quite intimidating. Everything is huge. Registration lines are long and there's less table space this year so utilize online registration wherever possible. Also, register and pick up your tickets at non-peak hours such as late the night before or when the casino opens. If getting a payout in cash the process and line are brutal. Come back later at night when there's no line. Also due to the likelihood of caps on entrants register for tournaments, you really want to register way in advance if possible."
How the Spanish Play Poker
Besides the sunshine, nearby beach, and action-packed schedule, his constant success push Matthias De Meulder to come back every single year. "As we all know, a lot of success or failure can be due to variance, so that's definitely a factor," De Meulder explained. "However, I do think the Spanish playing style suits me. The more Southern you go, the more the ego seems to take over. I haven't done well enough though! Tenth... 28th... So close, I have to go back and do better."
Jason Wheeler concurs sharing that, "They play a higher variance, aggressive style. They take mostly aggressive lines and ignore passive ones."
Home-grown poker player Mateos has his own thoughts on the style of Spanish players, but makes a distinction between professional and recreational Spanish players; "Professional Spanish players are very good because they have emigrated and usually live in flats with other players. It has increased their level a lot. In my opinion, recreational players in Spain are very passionate, a quality that might not help you at the poker table. It could be very harmful when you play poker."
Aido agrees with his peers; "I think that the average Spanish player is pretty aggressive and capable of big bluffs."
Things To Do Off the Felt
Busting a tournament is never fun, but Barcelona is the right city to ease your pain when it does happen. Casino Barcelona is located right at the beach in La Barceloneta and when you bust, distraction is close by. "We spend most of our afternoons and nights out in the places on the boulevard by the beach with CDLC, Shoko, and Opium are all a stone's throw away," says De Meulder. "These places transform from hang out spots during the day, to restaurants in the evening, to clubs at night. They are very close to the casino which makes it really convenient."
Wheeler fully agrees, mentioning the beach and the boardwalk as places to go when busting from an event. "There's lots of posh restaurants that turn into nightclub spots where you can eat and people watch," Wheeler explains. "On top of that I like the second floor restaurant, the pool area and the garden at Arts Hotel around the corner. That's a nice escape from everything." Wheeler also mentions the Barcelona Zoo as a place to visit while you're in Barcelona, and have a drink while you're there.
Faraz Jaka, who has written city guides for poker players but hasn't got one up on Barcelona yet, points to La Rambla as his main tip for tourists visiting the city; "It's the main touristic street with a lot of street performers and cool things to see and do. You should be aware and mindful for pickpockets, especially in front of the casino. Don't let anyone get close to you or hold your hand pretending they are doing some entertainment, be especially aware of younger kids doing these tricks."
"The beaches, the party, and the food. If it is you first time in the city, you must visit the most important tourist places." Mateos adds. Aido mentions Sagrada Familia, Parc Güell (not entirely free accessible anymore, book tickets here), Casa Batlló and Montjuic as must visit spots in the city.
"Last year we stayed in an apartment in the Born area, close to La Rambla: a very vibrant area with a lot of bars and restaurants. A good pick if you want a change from the more mainstream and overpriced places I mentioned before" adds De Meulder.
Where to Eat at EPT Barcelona
Dinner breaks at the European Poker Tour aren't too long, mostly either 60 or 90 minutes. Luckily, there are enough options to eat nearby when in a hurry. There's a buffet set up inside the casino, and the restaurant in the casino itself is quick and decent as well, Mateos says; "You can eat very well in the restaurants inside the casino, they have good service and very good food." Our tip; try the beef on hot stones.
Aido has some tips of his own for people wanting to stay in the neighborhood of the casino: Restaurante Ají, Marina Bay by Moncho's, CDLC, Gino's. Other favorites of Aido are Botafumeiro and Ikibana, but those are a bit farther away from the casino.
Sound Like a Local
"It always makes people laugh when they hear a foreigner knowing the local speak." Faraz Jaka told us, "I learned some useful slang from locals my last time there so you can sound like a local."
| | |
| --- | --- |
| Vamos a hacerlo | Let's do it |
| Montar un pollo | "mount the chicken" Cause a scene in public |
| Pajas mentales | someone who thinks they are greater than they are or creates something out of nothing |
| Tener el mono | "have the monkey" Craving for a drink or smoke or a vacation et cetera |
| Mancho | Dude |
The EPT Barcelona Venue
The European Poker Tour is being held at Casino Barcelona, the only casino in Barcelona. It's located in La Barceloneta, a district right at the beach.
Casino Barcelona
Marina, 19-21
08005 (Port Olímpic)
Barcelona - Spain
casinobarcelona.com
Casino Barcelona offers a wide variety of table games like North American baccarat, French and American roulette, stud poker and blackjack. The casino has a wide variety of slot machines. To enter the Casino you have to 18 years or older. For people from the European Union a National ID card, driver's license, or passport is needed for entrance. For non-EU nationals a passport is obligated. Sportswear is allowed and visitors may enter in sneakers but not in flip-flops or swimsuits. Entering the casino in a sleeveless undershirt ("wife-beaters"), wearing a motorcycle helmet, and/or carrying large backpacks is not allowed according to the casino's website. The rules in the tournament area are a little less strict. Casino Barcelona offers its clients a free coat check service.
To find the tournament room, one must enter Casino Barcelona and make his or her way downstairs. In the far back corner is a passage way to the tournament room. The tournament room is huge, fields are massive, and the place can be a little bit of a maze at first.
Online poker is regulated in Spain with a segregated player pool, not accessible to foreigners. Playing online poker on PokerStars.com or PokerStars.eu is not possible. A lot of the Spanish pro's have hence moved, with the majority of them living in London.
---
More on Barcelona
More on the European Poker Tour Barcelona
---
Adrian Mateos wrote

Enjoy the moment and try to play each hand best. A common mistake players make is they try to recover their stack quickly after losing chips in an event of this caliber they've been looking forward to for a long time. Losing chips and seeing your stack below the initial stack can be painful, but the only thing you have to worry about is to play the next hand the best way you can.
---
Get all the latest PokerNews updates on your social media outlets. Follow us on Twitter and find us on both Facebook and Google+!