Chad Holloway Finds "New Level of Respect" for Pros After Big Summer Shot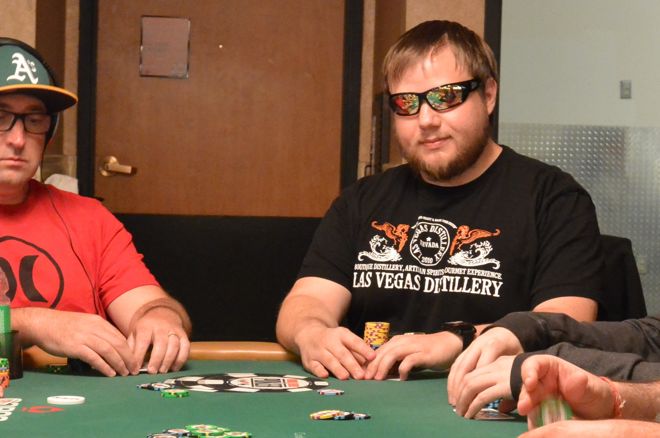 Recreational poker players the world over dream of life as a professional player, traveling the globe and firing away in tournament after tournament, their livelihoods at risk with each bet, raise, and fold.
For about two months in 2016, it's a lifestyle Chad Holloway experienced firsthand as he played his way through a full summer schedule of poker tournaments, mostly at the World Series of Poker. After years of working in the industry, Holloway finally got to do something he's always wanted to do, and it left quite a mark on the man from Reedsburg, Wisconsin.
"It's been a trying experience to say the least," Holloway said. "I never want to play tournament poker for a living — I prefer to have a full-time job and play on the side — and that fact was driven home this summer."
Any time a new online poker wunderkind bursts onto the scene, his or her first WSOP of age is highly anticipated by many, but longtime industry observers often try to pump the brakes on the hype. The WSOP is simply a different animal due to its length, long days, and big fields.
Look no further than the disappointing summer turned in by Dzmitry Urbanovich. The highly touted, highly successful Polish youngster has managed a mere three cashes in 2016 after booking a much buzzed-about triple-bracelet bet with Vanessa Selbst.
It could simply be a wave of negative variance slowing him down, but nobody would blink if the uniquely arduous WSOP grind was a factor, least of all Holloway.
"Don't get me wrong, it's been a blast playing a full schedule at the WSOP, which was on my bucket list, but I don't have the mental fortitude to do it day in and day out all summer long," he said. "I've got a whole new level of respect for pros like Mike Leah, Scott Clements, and Shannon Shorr who've been doing it successfully for years."
Holloway had long observed such players, initially entering the industry in 2009 as an intern for BLUFF at the WSOP. The next year, he joined PokerNews as part of the reporting team for the summer, working his way through the ranks to the position of managing editor.
In late 2015, Holloway decided it would be best for his career to relocate to Las Vegas, the center of the poker world as far as live events are concerned. He and a couple of roommates signed a one-year lease, and Holloway said goodbye to his native Wisconsin, driving across the country and settling into a new life in the desert.
Just a few months later, he received an job offer to become media director of the Mid-States Poker Tour. Holloway decided to accept, ending a long, fruitful run with PokerNews. It was far too late to back out of the lease, so while most of Holloway's work was back home in the Midwest, he planned to maintain a home base in Las Vegas for the time being.
That left him with an interesting vantage point as the 2016 WSOP rolled around. Like most poker tours, the MSPT essentially shuts down during the WSOP, with only one major event scheduled, but that's still just a few days of work for Holloway.
How would he spend the rest of the summer? Holloway weighed offers for summer gigs working at the WSOP, something he had done each of the past seven years, but he sensed a rare opportunity to live out a lifelong dream. With only a light work schedule and a house and car already in Las Vegas, he would never have a better, more economical opportunity to play a full summer schedule, so he decided to pull the trigger.
He put together a package of 44 tournaments for $46,154, starting with Jason Somerville's Run It Up Reno series. He took to social media in an effort to sell half of the action and did so without trouble.
Holloway was even able to round up a sponsorship, as those who have played with him this summer may have noticed. He approached George Racz of the Las Vegas Distillery, a favorite spot of the whiskey aficionado, and asked about working out a deal.
"Fortunately for me, George was all about it and hooked me up with some shirts and free bottles of whiskey," Holloway said. "It's not your traditional sponsorship deal, but it's one tailor-fit for me."
Things started off relatively promising as Holloway scored a nice cash with a second-place for $2,479 at Run It Up Reno in a side event and then charged into the $565 Main Event final table as chip leader. However, he finished a disappointing ninth and then started the WSOP in a two-week rut.
He built just five days off into the schedule, something he admitted was a mistake.
"It's been a grind for sure," he said. "The most trying part has been dealing with the ups and down of tournament poker. It is not easy busting day after day and continuing to play your A-game. It's frustrating and mentally draining."
Feeling burned out, Holloway took some extra days off and ended up only playing 20-25 events. He managed to recover somewhat after a steady stream of early bricks and put together decent string of cashes for about $21,000, highlighted by finishing 81st out of 6,927 runners in the Monster Stack for a payday of $11,942.
And there have certainly been some moments he'll always remember.
"I did something that over 6,000 people couldn't do in the Main Event last year: knock out Joe McKeehen," Holloway said, recollecting a hand in the Monster Stack where a short-stacked McKeehen jammed


and Holloway woke up with


behind him. "That was definitely a highlight, and just getting to play with some of the big-name pros that I've reported on for years. Foremost among them is Daniel Negreanu."
Unlike Holloway's encounter with McKeehen, this one didn't have such a happy ending. As he recalled, Negreanu jumped into the tournament late and the two got in a confrontation on a jack-high flop with the Canadian superstar holding


and Holloway


. The chips went into the middle with Negreanu saying after the hand he thought Holloway held a flush draw, but a queen on the turn sent Holloway packing.
Now, Holloway's bucket list summer comes down to one last shot, his third career crack at the WSOP Main Event. He played Day 1b and bagged 89,000 from the 50,000 starting stack. If he can book even a min-cash, he will turn a profit on the package and walk away from the 2016 WSOP with not only some amazing memories, but a wad of cash to show for his troubles.
After that, it's back to real life and the media grind, with work keeping him busy for the remainder of July and then August. Holloway is leaving the door open for a different itinerary the rest of the year though, should fortune smile upon him in a big way.
"All that could change if I can somehow make the November Nine," he said with a laugh.
As the 2016 WSOP rolls on, be sure to stay tuned to PokerNews for continued coverage, brought to you by our sponsors, 888poker.
Get all the latest PokerNews updates on your social media outlets. Follow us on Twitter and find us on both Facebook and Google+!