Cate Hall Talks About Taking the REG Charity Pledge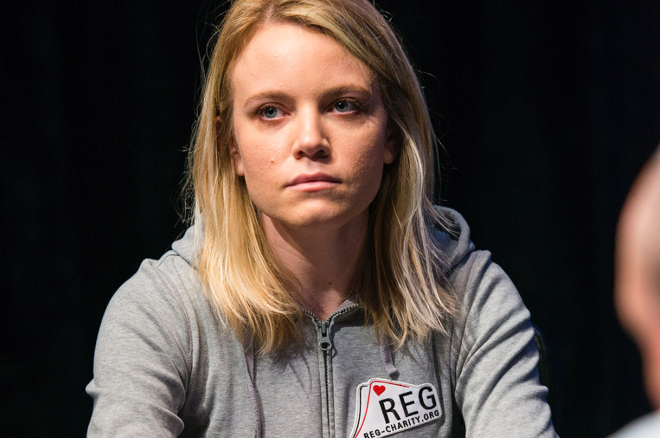 The poker world is no stranger to REG Charity, but for the World Series of Poker Main Event they are organizing a special pledge, and PokerNews spoke to Cate Hall, who took the REG pledge last year to donate three percent of her yearly poker winnings.
With Raising for Effective Giving, the minds of the poker community have been refreshed on the benefits of effective altruism and how to join #WSOP4Charity. #WSOP4Charity asks of players to pledge three percent of their potential WSOP Main Event final table earnings, and by taking the pledge they enter themselves in a draw to win a poker coaching session with Igor Kurganov, a dinner with Liv Boeree and Kurganov, or a helicopter ride over the Grand Canyon.
Poker pros Boeree, Kurganov, and Philipp Gruissem stood at the base of REG Charity that has gotten support from a plethora of poker players over the years, but it's of the utmost importance to keep this transparent charity at the forefront of the minds of poker players.
With the Main Event already down to just a few tables, the #WSOP4Charity calling might be too late for you, but support for REG Charity could change the lives of many all over the world.
"We're trying to encourage other poker players to take the same pledge, and it's a very small overall percentage of your winnings but it can make a big difference in the world," Hall said. "The standard thing for REG is to pledge a percentage of your overall income from poker, and that's what I've done. I donate three percent of all my tournament winnings to REG, but during the WSOP they are running a special campaign around the Main Event because it's such a huge event in the poker community. People sign up specifically to donate three percent of their WSOP Main Event final table earnings, and that has the potential to be a really big fundraiser for the organization overall."
Over the years, November Niners such as Martin Jacobson and Jorryt van Hoof supported REG patches on the biggest final table in all of poker, with the former donating $250,000 after winning the $10,000,000 first-place prize.
Hall joined REG last year, and she explained how she decided that this was the right charity for her.
"I've been aware of effective altruism as a concept and a movement before I got involved with REG back from my time as a lawyer," she said. "When I switched over to poker, I found out that there was this great charity for people in the poker community, and structured around the financial considerations poker players have.
"I took the pledge nine months ago when I was really just starting out as a professional poker player, and it's been a super easy thing for me, because you hardly even notice donating a small part of your winnings. You don't notice the little bit of money that it's not there, but it's really good for the organization and the world. It's an easy thing to do that's great."
An important characterization of REG Charity is that you're not just donating to a big organization that then decides to spend your money how they see fit.
"One of the nice things about REG is that you have the ability as a donor to channel your money into causes that are most important to you," Hall said. "It's not a typical charity that's focused on one cause. There are a number of different branches they are focused on and you can pick from within those branches what's most important to you. The common theme is that these charities are more effective; they do more with your money in the same space.
"The thing that I have primarily decided to donate to are cause building, and what are called meta charities that spread the word on effective altruism. Inform people about the fact that some charities are much better on a per-dollar basis, improving the world and alleviating suffering. My money has primarily gone to those organizations that have a pyramid effect on effective altruism, and they are less necessarily focused on specific causes."
Since its inception REG has done tremendous work in poverty alleviation, animal welfare, climate change, and supporting meta charities that research the best strategies to improve the world.
The Main Event pledge for the World Series of Poker is still ongoing, and you can click on this link to learn more about REG Charity. To learn more about Hall and her life as a poker player, click on this link to check out the podcast she's created with fellow poker professional Dan O'Brien. In the podcast Fighting Chance, O'Brien and Hall chronicle their 2016 WSOP adventures with an honest look at their summer in Las Vegas.
*Photo courtesy of the WPT.
Get all the latest PokerNews updates on your social media outlets. Follow us on Twitter and find us on both Facebook and Google+!