888poker's Sofia Lövgren Rolls On Through the 2016 WSOP Main Event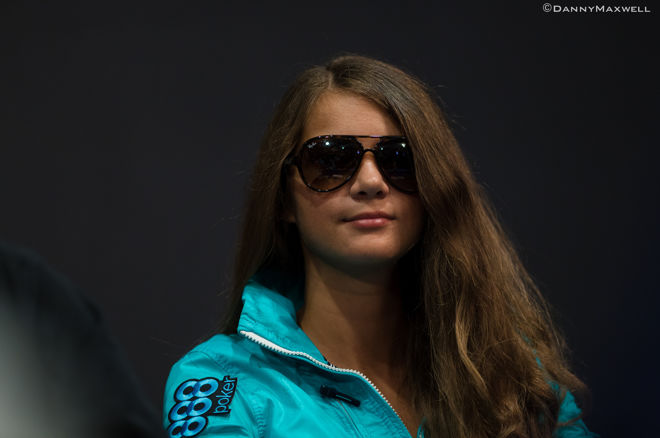 By all accounts, 888poker ambassador Sofia Lövgren is enjoying a successful summer in Las Vegas, and it continued on Wednesday as she was grinding a deep stack on Day 2 of the 2016 World Series of Poker Main Event.
"I'm mainly a cash-game player, so I combine live cash games with tournaments here in Vegas," she told PokerNews. "I've played 10 WSOP events so far. I cashed in the Colossus and I made a deep run in the Millionaire Maker. I finished in 12th place and pretty much bubbled the final table, so that was a bit annoying. I lost a coin flip just before the final table, but yeah, that's poker."
The young Swedish pro has also booked two other cashes in WSOP events, collecting a total of $88,043 in live tournament earnings — a profitable haul in what was a comparatively light tournament schedule. The cash games have apparently been lucrative as well.
"Four cashes out of ten tournaments is good," Lövgren said. "So yeah, I'm happy with that, and the cash games have been going very well as well. I've played mostly $5/$10 at Bellagio and there has been lots of good action. It's been going very good in the cash games."
The deep-stacked nature of WSOP Main Event has long been seen as advantageous to players used to a deeper cash-game grind. Lövgren said she certainly enjoys it.
"I love deep stack play, so I love the early stages of tournaments like this," she said. "I love when it's a deep-structured tournament, because you get to play more post flop. It's real poker when you get to play the opponents as much as the cards. You get much more room to play, make plays and play more pots."
While it has been a bumpy ride, Lövgren said she's happy with the way her 2016 WSOP Main Event is shaping up.
"It has been going well so far," she said. "I've been grinding lots of small pots actually. [On Day 1], I was down to 30,000 at one point, then I grinded up to 120,000, and finished the day with around 80,000. It was kind of a roller coaster day, but I was very happy with where I finished anyway, because I got away from some really tricky spots where I could have lost big chunks of my stack.
"It's really all about survival and not making any big mistakes. The first few levels, and the first few days, of this tournament are really about trying not to make big mistakes and getting maximum value when you do make big hands."
Lövgren said her approach includes putting maximum effort into adjusting to the players around her, and protecting her tournament life.
"I try to play against the right players all the time, attack the weaker players and play small ball, avoiding big pots," she said. "At this stage of the tournament you don't really want to be taking coin flips. It's better to play small ball, and small pots, than risk going out in a 50-50 situation. It's such a long tournament, so you want to just grind your stack, avoid big pots a lot of the time and just stay in the tournament."
She also tries to live in the moment and enjoy the WSOP Main Event experience.
"I just love it," Lövgren said. "I enjoy every moment being here. I think it's so fun to play. We really must remember to have fun when we play. Yes, it's also important to try to win a braclet, but whatever."
As the 2016 WSOP rolls on, be sure to stay tuned to PokerNews for continued coverage, brought to you by our sponsors, 888poker.
Get all the latest PokerNews updates on your social media outlets. Follow us on Twitter and find us on both Facebook and Google+!