Glaser Grabs Second Omaha Hi-Low Bracelet in Less Than a Week at the 2016 WSOP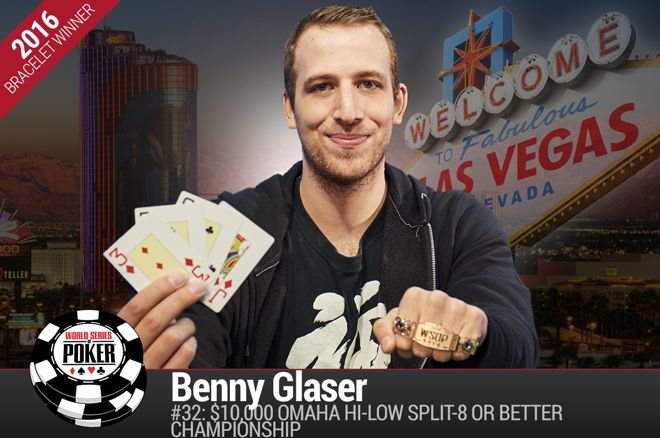 If it's a dream, everyone should probably just let Benny Glaser keep sleeping.
Just one day ago, the British pro, sitting in the middle of the pack at the $10,000 Omaha Hi-Low Championship final table, said it would be a dream summer if he captured his second bracelet inside of a week. That's exactly what he did Wednesday afternoon, banking $407,194 just days after winning the $1,500 Omaha Hi-Low event for $244,103.
Final Table Results
| Place | Player | Hometown | Prize |
| --- | --- | --- | --- |
| 1 | Benny Glaser | Southampton, U.K. | $407,194 |
| 2 | Skippy Lorgeree | Buffalo Grove, IL | $251,665 |
| 3 | Matt Glantz | Lafayette Hill, PA | $175,754 |
| 4 | Grzegorz Trelski | Middletown, CT | $125,125 |
| 5 | Robert Campbell | Warragul, Australia | $90,846 |
| 6 | Per Hildebrand | Marsta, Sweden | $67,291 |
| 7 | Todd Brunson | Las Vegas, NV | $50,872 |
| 8 | Jason Mercier | Davie, FL | $39,269 |
| 9 | Felipe Ramos | Brazil | $30,965 |
"It feels amazing right now," he said. "I think it will take some time to set in for sure. It's just been a crazy week of grinding and focusing, so now I'll get some time to enjoy it."
Glaser had to contend with a very tough final table that included Felipe Ramos (9th), Jason Mercier (8th), Todd Brunson (7th), Matt Glantz (3rd), and Chicago mixed-game grinder Doug "Skippy" Lorgeree, whom Glaser beat heads up.
Mercier, of course, was in pursuit of his third bracelet of the summer, but instead it's Glaser joining he and American limit hold'em specialist Ian Johns as two-time bracelet winners in 2016 with plenty of time still left on the schedule.
It didn't come without at least one harrowing moment, as a post-dinner slide left Glaser sitting in eighth place with eight players remaining. He manged to battle back and went into an unscheduled Day 4 as the chip leader, with Skippy just behind him and Glantz bringing up the rear.
At that point, limits were massive, swings were swift, and everything was over in a matter of a couple of hours. Skippy grabbed the lead early but quickly ceded it back to Glaser, who scooped four pots in a short window to take hold of two-thirds of the total chips and rolled that advantage into the win.
The 27-year-old pro from Southampton, U.K., said he is a regular at 8-game tables online, citing that as the reason he has had so much success in limit events at the WSOP. In a previous interview, he ranked Omaha hi-low as one of his three best games along with limit hold'em and 2-7 triple draw.
Omaha, he said, is probably the game he has put the most hands in online, but he wouldn't divulge his alias when asked.
"I'd kind of rather not," he said with a small smile.
Glaser ranked this as a more satisfying win than the $1,500 for a number of reasons. For one thing, it came against a tougher $10K field. For another, it was streamed — the last one came at a secondary featured table — so all of his friends and family could watch his victory. There's the fact that the money was just much bigger.
Plus, not many just fire off two bracelet events one after the other and win them both, essentially riding a week-long winner's high.
"Going back to back just makes it feel even more crazy and amazing," Glaser said.
Now, with his 2015 win in the $1,500 2-7 Triple Draw for $136,215, Glaser has a total of three pieces of WSOP hardware. Countless players have grinded away dozens of summers without reaching those lofty heights, and Glaser smiled when asked what that meant to him.
"I don't think it's sunk in yet," he said.
As the 2016 WSOP rolls on, be sure to stay tuned to PokerNews for continued coverage, brought to you by our sponsors, 888poker.
Get all the latest PokerNews updates on your social media outlets. Follow us on Twitter and find us on both Facebook and Google+!