Real Life Rags To Riches: Ben Keeline's Unlikely Path to WSOP Colossus Glory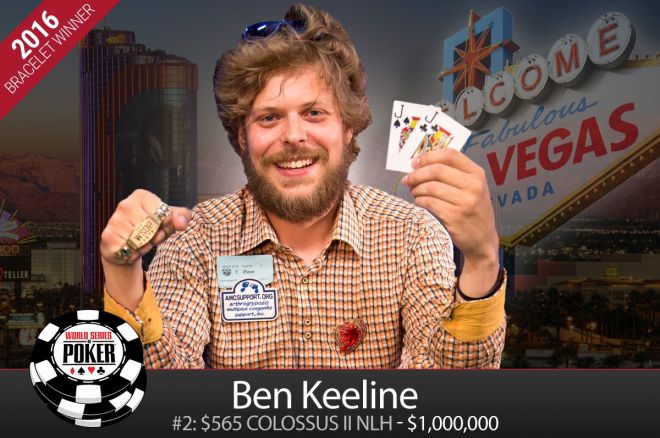 A down-on-his-luck poker pro, who recently turned to driving for Uber to make ends meet, won $1 million at the 2016 World Series of Poker on Tuesday night, capturing the massive Colossus II crown.
Thirty-year-old Ben Keeline took down the 2016 WSOP $565 Colossus II No-Limit Hold'em, making a unbelievable comeback to survive through the second of two shots he took on the event's first day flights, ultimately defeating a massive field of 21,613 entries to capture his first WSOP gold bracelet and the $1 million first-place prize that came with it.
Originally from Oswego, Illinois, but now living near Boulder, Colorado, Keeline banked his previous biggest score of $218,762 for a runner-up finish in the January 2015 WSOP Circuit Main Event at Choctaw in Durant, Oklahoma. He had since run through his share of the money and was dropped by a backer in January of this year. Keeline said he tried to play on his own and sell action, but that did not go well, forcing him to start driving for Uber to pay the bills.
"The two biggest scores in my life have come at my lowest points," he told reporters, welling up with tears after the win. "I've had a really hard time lately, and I've just tried to stay positive. I can't believe it. It's an amazing feeling. I'm elated. It's unreal.
"I play this stupid game all the time and get fucked. I was ready to quit. I almost didn't come to the Series because I couldn't pay my bills if I didn't have a winning Series."
Keeline said he was forced to take a loan from his father to come out to the 2016 WSOP.
"I wouldn't be here if I didn't have a lot of people behind me with faith in me," he added.
After running kings into aces and


into


, Keeline was down to a single ante with blinds at 1,500/3,000, nearing the end of the day on his second bullet in the event. He miraculously survived that hand with rags, and an orbit an a half later, he had picked up at least three big pairs and a ton of run good to get back over 100,000 in chips.
However, it wasn't then that Keeline felt he might win the tournament. He actually came in with a little extra confidence on his side, and always had a inclination it was possible.
In 2015, he was involved in a $250 Colossus last longer bet that saw and amazing three out of 92 people make the final six of a record-breaking 22,374-player event, including eventual winner Cord Garcia.
They only got 30 people for the last longer this year, but amazingly had two people at the final table, including Keeling and eighth-place finisher Jonathan Borenstein. Keeline said he feels like he can win any tournament he enters, but getting in the last longer again made him think even the seemingly impossible task of coming out on top of one of the largest live tournament fields in the history of the game, could be accomplished.
"Maybe after two wins in a row everybody will want in," he said. "Maybe it's the key to winning."
Looking towards his future, Keeline said he would like to work towards marrying his current girlfriend, and hoped his newfound wealth would help bring some stability to his life.
While he "swung for the fences" after his big score at Choctaw in 2015, taking shots in bigger tournaments, he said he's going to make an effort to manage his bankroll better this time around. In fact, he said he might keep driving for Uber, only play poker occasionally, and look to invest in some kind of business he can run himself.
For the immediate future, however, Keeline said he's going to enjoy having reached a goal he set for himself when he was just a young boy: Winning a WSOP bracelet.
"It has been my goal of mine since I was a kid," he said. "I can remember vividly watching poker on TV in the basement with my Dad, explaining to him how the cards worked. We were watching the old WSOP stuff and he asked me if I ever thought I'd play someday.
"The bracelet is an amazing trophy, but I really can't believe I have a million dollars. My dad is going to be so proud. [My parents] have really been by my side my whole life, even when I didn't think they were."
Get all the latest PokerNews updates on your social media outlets. Follow us on Twitter and find us on both Facebook and Google+!