Five Thoughts: Finding Ferguson, Colossal Success, and the GPL Cube Debuts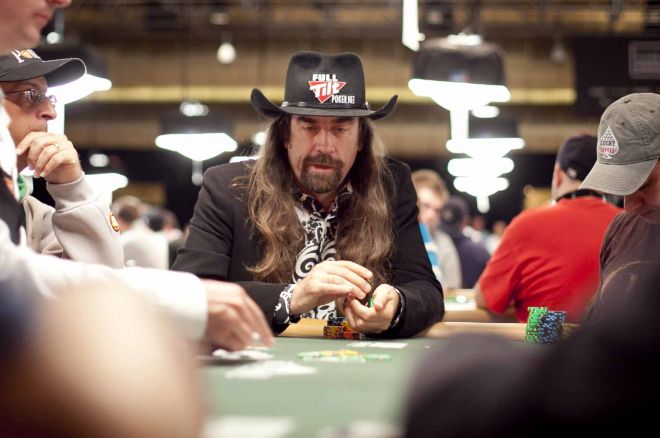 The World Series of Poker brings the poker community together like no other event on the calendar.
Every year, players refer to it as a kind of summer camp for gamblers, with people coming to Las Vegas from all over the world, happy to renew acquaintances, catch up with old friends, make new ones, and play a little, or a lot, of poker.
It's a great time of year and one that provides poker with a real sense of community.
That community appeared truly upset last week when former Full Tilt board member Chris Ferguson turned up at the tables after a five-year absence. To make matters worse, Ferguson pretty much refused to answer any questions. I'm hoping eventually he will, and we can all find a way to put this ugly chapter in poker history behind us.
1. Finding Chris Ferguson
Chris Ferguson was one of the architects of Full Tilt Poker's software. He sat on the company's board of directors, and perhaps more than anybody outside of Phil Ivey, appeared on the site's many popular TV commercials. For all intents and purposes, Ferguson was the face of Full Tilt Poker.
Then, when the shit hit the fan and the U.S. Department of Justice shut the site down, accusing him and others of running a ponzi scheme, pilfering the players' funds they failed to segregate, that face simply disappeared.
In the five years since, there's been little heard from Ferguson, outside of one of his lawyers spitting out a relatively standard denial. PokerStars bailed the company out and negotiated a plan to pay players that played out over the next few years, with the sting of poker's Black Friday finally starting to wear off for most, as the site was folded into the PokerStars client earlier this year.
Then suddenly, with the only warning being an apology letter from fellow Full Tilt principal Howard Lederer released last month, Ferguson turned up at the 2016 World Series of Poker last week, and he's been there playing, every day since.
I tried talking to him. Gently offering him the opportunity to reply to some questions I'm sure the poker world wants answered, but I was essentially rebuffed by his "I'm just here to play poker," answer, to anything I asked.
When players like Daniel Negreanu and others turned up the heat a little on Twitter, saying Ferguson owes the poker world at least some explanation, I tried again. I approached Ferguson at the Rio a second time, asking if he had thought about making some kind of statement, and if he would at least consider a reply to all that the community is saying about him right now. He said he would think about it.
Here's the thing: I don't know what, if anything, Ferguson was guilty of here. I was not privy to the inner workings of this company. He may not have known a single thing about the books, or been involved in any financial decisions that led to the company's downfall at all. But I do know that if you disappear in the wake of a scandal of this magnitude, when you walk back into the world you left behind five years later, you're going to have some explaining to do.
I'm willing to give Ferguson the benefit of the doubt, listen to what he has to say and present it to the public as is, letting PokerNews readers, and the entire poker community, decide for themselves what to believe. But in order for that to happen, he's got to have to step up and speak up. The longer he waits, the more guilty the community is inclined to think he is, so the time is clearly now.
I'm going to ask again, and hope this time Ferguson comes up with the right answer.
2. Et Tu, Brute?
No one expected Ferguson to be the first of the former Full Tilt directors to show up again at the WSOP. That spot was clearly reserved for Howard Lederer, who recently attempted to apologize through Negreanu's blog for his role in the whole sordid Full Tilt affair.
Lederer may think that Ferguson's return cuts a clear path for his, but he should really think twice. The community's anger towards Lederer, who, at least on face, appeared to be in more of a decision-making role with Full Tilt, is quite strong.
At the very least, if he does show up, Lederer should come prepared to answer a few questions, because one relatively self-serving apology doesn't even begin to address all the questions the community, and thereby the press, will have for him.
3. If Not Bigger, Better
Despite the fact entry numbers were lower than last year's record-breaking event, the second incarnation of the WSOP Colossus was a success. No, not because the spin masters in the WSOP public relations department touted the event as a record-breaker with more players paid out than any other tournament has before. Colossus II was a success because all the changes made to the structure, including the addition of two more starting flights, allowed the WSOP to run the tournament free of some of the logistical nightmares organizers experienced in 2015.
If only the WSOP had not spent the months leading up to the event promoting the fact it was going to be bigger than last year, the entire poker community would be simply applauding the effort they made to make run better this time around. It's a perfect example of how hype can sometimes hurt, as promising to break records, then failing to deliver, gave some pundits the opportunity to criticize the event.
The bottom line is the WSOP just needs to focus not so much on record-breaking numbers, but rather customer experience. By continuing to do whatever they can to improve the player experience, poker's largest and most prestigious festival will continue to succeed and grow organically. Something as great as the Colossus is really hard to screw up, but when you're constantly pushing it as a record-breaking event and then it fails to get there, it's going to be judged in that regard. Here's hoping they avoid letting all the hype, and spin, do exactly that.
4. Into the Mystic
Ben Keeline, the winner of the 2016 WSOP Colossus II, has a great story.
A year after a big score in January 2015, Keeline was practically broke and dumped by his backer. His run bad continued after he started playing on what was left his own money and selling action. Before long, he turned to driving for Uber to make ends meet. Begging and borrowing to get to the 2016 WSOP, right out of the gate, the poker gods blessed Keeline with what it appeared he needed the most: A $1 million Colossus win.
Outside of the uncanny coincidence that Uber is a WSOP sponsor this year, there's was even more going on.
Keeline was in a $250 last-longer bet with 97 people in the original Colossus. Three people in the bet made the final six in that record-breaking 22,374-entry event, including eventual winner Cord Garcia. Only 30 people got in the bet this year, but incredibly, two of 21,613 players made the final table, including Keeline.
Two years in a row this last-longer bet has proved as tough to win as the event itself, and without being able to really explain why, Keeline said it may just be the key to Colossus victory. There's obviously something mystical going on here that truly defies explanation, and while it would be crazy to predict the winner of this very same bet will win the Colossus next year, it's a sure bet the number of entrants will go up exponentially. I'm also predicting there will be a rise in last-longer bets community wide, because superstition runs deep in these parts, and any edge a poker player can find, no matter how mystical, is one they are going to take.
5. The GPL Shines
The Global Poker League took a fair bit of heat when the league kicked off with a series of online six-max and heads-up matches earlier this year. For the most part, it was warranted.
The broadcast was amateurish at best, and certainly didn't change the game the way the league and its founder Alexandre Dreyfus had promised to.
Coming out of the gate with that dud left the GPL in the unenviable position of having to make a big splash with it's summer series of events planned for Las Vegas during the 2016 WSOP, or drown into obscurity.
Well, the GPL did a whole lot more than just stay afloat this this week with it's first matches inside "The Cube." The GPL's Summer Series was a massive hit with a much more polished broadcast led by industry veteran Joe Stapleton, an innovative product in "The Cube" that appears to be an intense hybrid between TV game shows like Who Wants to be a Millionaire, and stand-up heads-up turbo sit-n-gos, and the smashing debut of budding Hollywood star Aaron Paul, who exudes cool, loves the game, and showed he's pretty good at it, booking a 2-1 heads-up win over Fabrice Soulier in the show's premiere on Twitch.
I'm still not sold on how it's going to fill arenas, but the GPL has certainly brought a fun, intriguing, and fresh new product to the poker broadcast landscape. One that should appeal to poker people and layman alike, helping to push the GPL's "sportify poker" agenda further forward than anything else it has done to date.
Get all the latest PokerNews updates on your social media outlets. Follow us on Twitter and find us on both Facebook and Google+!