Daniel Negreanu Starts His 2016 WSOP Grind in the Present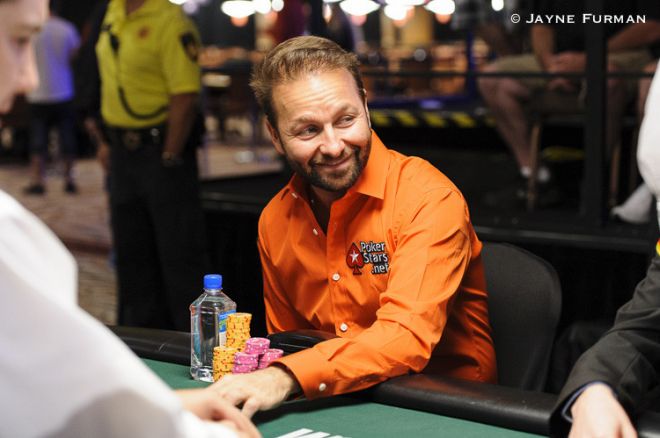 When the 2016 World Series of Poker's $10,000 Seven-Card Stud Championship kicked off at 3 p.m. local time in Las Vegas on Saturday, poker's biggest superstar was in his seat in the Amazon Room, raring to go.
"I'm super excited," Daniel Negreanu told PokerNews, right before his first event of the 2016 WSOP kicked off. "I've been waiting for this for like 300 days. It's fun. I love the grind. The last three days I've just been wanting to play."
Negreanu always plays a ton of tournaments on the WSOP schedule, and traditionally registers late, but due to a number of changes, including earlier start times and faster Day 1 structures, he made sure he was going to be on time today.
"My schedule ends up being the same is it always is," he said. "The only difference is I'm not going to be late regging nearly as much. I plan to show up right on time and put in a few extra hours of grinding, because the structures have changed and it just makes more sense to show up on time.
"I'm actually excited about the structure changes, because I think it's going to take a lot of people time to adjust to the fact Day 1s are a lot quicker and Day 2s a lot slower. I'm excited."
Last year, Negreanu famously finished 11th in the 2015 WSOP Main Event, narrowly missing out on a seat in the November Nine, but coming back to the scene of that disappointment doesn't seem to phase him at all.
"I haven't even thought about it until you mentioned it right now," he said. "It doesn't dawn on me. It's not a thing. Last year is last year. It's totally different now, a brand new start and my first event is the $10,000 Stud. Really, there's nothing that happened last year that is relevant today.
"Let me ask you? Is there any value in holding on to negative things that happened in the past and letting them effect your future or your present? If you're thinking about the past, or if your head is in the future, guess what your not being? Present to what's happening now.
"The goal for all of us should essentially be to be present in the moment we're in. Are you focusing on all the things you're doing? That's what being present is. Being aware and being clear about what you're doing in the moment. Not what's happened before. We use it as a crutch sometimes. People carry the baggage of what's happened in the past and they let it effect the future they are creating for themselves. That's not me."
Negreanu is famous for setting lofty goals for himself at the 2016 WSOP and this year will be no different.
"I took myself on my 25K Fantasy team, so my first goal is going to be to score a lot of frickin' points for the fantasy team," he said. "I have a lot of side bets as well, and of course my goal is always three bracelets. I have a ton of goals that I set for myself in January and I don't look at them again until the end of the year, but there are a lot of World Series goals in there in terms of number of cashes and three bracelets as well."
A few years ago, Negreanu partnered with fellow poker great Phil Ivey on a number of bracelet bets. Negreaunu has six WSOP bracelets and Ivey 10, and for a while it seemed the two good friends were linked together, motivating one another in the bracelet chase, both among only a small group of players with a realistic chance at catching Phil Hellmuth and his record 14.
These days, it seems Ivey has less interest in the WSOP, but Negreanu says his friend will return, and for now, he's happy to focus on his own hunt for WSOP gold.
"He'll be back," he said. "It's just a temporary thing. The last couple of years he's found himself in some games in Asia that he needs to be in, but I expect him to be back. He'll be back at the World Series, maybe not this year until very late, but he loves the World Series and he loves the grind.
"Who knows, maybe next year people will want to come in with some big numbers and make some bracelet bets and that will motivate him to be here even more."
To be honest, though, Negreanu is only focused on one player right now.
"I don't think about anybody but me," he said. "Me and only me. That's all I think about. I don't root for or against anybody else, except maybe people on my fantasy team. But me, I have my own personal goals, and I am my own harshest critic, and I focus on what I want to accomplish. That's all that matters."
This time of year, the Team PokerStars Pro and poker ambassador also makes sure no distractions get in his way.
"The only time I have a distraction is when I'm walking through the back hallways and Marty Derbyshire happens to grab me right before a tourney. So we chill in the trailer for a few minutes and we chit chat," he joked. "But really, I'm not doing a whole lot of other things. PokerStars understands the World Series is important to me, and I did all the media stuff I needed to do yesterday and the day before. The World Series is about playing and that's it, other than that, leave me alone."
Get all the latest PokerNews updates on your social media outlets. Follow us on Twitter and find us on both Facebook and Google+!