Five Thoughts: Too Late for Lederer, Twitter Beefs Heat Up, and SCOOP Booms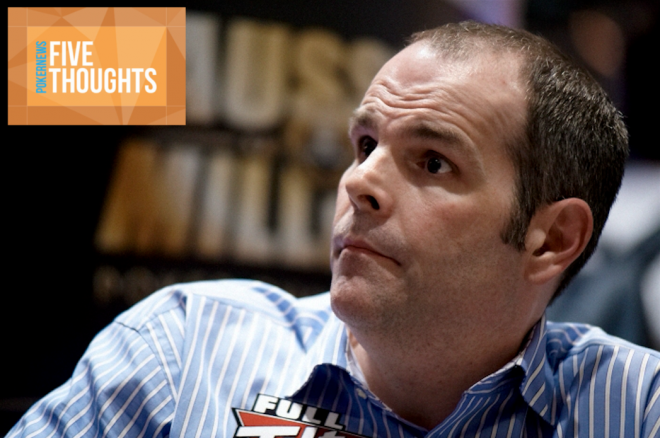 Admittedly, I was one of those people who told Daniel Negreanu that releasing Howard Lederer's apology statement on his blog was a bad idea.
I just couldn't see a reason why poker's most popular figure would want to be seen as endorsing one of the community's most vilified. After reading over the personal thoughts Negreanu included in the post, I feel differently now.
When Black Friday hit and it was discovered that Full Tilt Poker had not only failed to segregate player funds, but freely dispersed them among Lederer and its other shareholders, leaving players out hundreds of millions of dollars, Negreanu was one of Lederer's most vocal and public critics.
Now five years on, I understand his need to be a part of Lederer's apology to the poker world, not as someone endorsing the former Full Tilt founder, but as a man desiring to rise above his venomous feelings of the past, close a chapter in his life, and move on in a healthy manner.
Kudos to Negreanu for finding the high road here and understanding that posting Lederer's statement on his blog really doesn't change much for anybody but him, nor should it.
1. Too Little, Too Late?
Five years too late, Howard Lederer issued a statement to the poker community last week, taking "full responsibility for Full Tilt's failure to protect player deposits leading up to Black Friday," and apologizing for breaching players' trust.
While his apology was originally released via Daniel Negreanu's blog at FullContactPoker.com, PokerNews and various other media outlets also ran it, and if the public comments on the article are any indication, his apology was not accepted.
All signs point to Lederer issuing the statement as a way to pave the road for his return to play at the World Series of Poker this year. I can't think of a worse idea. Clearly, the poker community is not ready to accept him back. While one would hope that many of the threats issued his way through some of these public comments are not backed up — considering the poker kitchen at the Rio has enough issues without a grease fire — Lederer's return to the WSOP felt will surely be met by a lot of angry people.
If Lederer does show up, there's bound to be at least a few heated players willing to exchange more than just a few choice words. The WSOP will undoubtedly beef up security around him and it could very well cause quite the scene.
If Lederer's apology is truly sincere, and not just a self-serving statement aimed at smoothing over his return to the WSOP, wouldn't he want to avoid such a spectacle?
Sitting out at least one more year, showing some respect to the community he admits to letting down, letting the anger subside a little instead of confronting it and creating that scene would surely go further towards proving the sincerity of this apology than the statement alone ever will. And while he's at it, Lederer may even want to consider coming out of pocket in some way to the estimated 1,500 players whose claims weren't resolved in the last round of payments from the Garden City Group and still haven't been paid.
2. Twitter Beefs
It was the rematch of 2015 WSOP Main Event champ Joe McKeehen versus the media, Jason Mercier versus Doug Polk, the rest of the Evil Empire taking on Samantha Abernathy and Olivier Busquet, and Kevin "Kevmath" Mathers versus math in just a few of several heated Twitter exchanges last week that appear to be ramping up among pro players and pundits in the lead up to the 2016 WSOP.
While they were certainly entertaining to follow, most of those weighing in from the sidelines suggested little will come of these beefs in person, once the Series kicks off. Here's hoping they are wrong.
No, I'm not advocating a rumble at the Rio, or any physical or verbal altercations for that matter. I would just like to see some of these players put their money where thier virtual mouths are.
Few things are more exciting than personal challenges and prop bets. Some players even thrive on them, bumping up their level of play just to meet them and beat them. The community is already geared up to watch Mercier's and Dzmitry Urbanovich's triple bracelet bets with Vanessa Selbst play out. A few more additions to the summer plot would only add to the WSOP hype.
Got a Twitter beef? Challenge your foe on the felt, make it public, talk trash freely knowing you've backed it up with a bet, and earn the respect of the entire poker community as they get the chance to watch it all go down.
3. SCOOP Booms
PokerStars' latest Spring Championship of Online Poker set a new record, becoming the richest online poker series in history with a total prize pool of $90,984,283.44.
In fact, all three 2016 main events set participation records as well.
A special congratulations goes out to to Talal "raidalot" Shakerchi, who won the $10,000 Main Event and continued to prove he's more than just an infinitely rolled recreational player, and of course, the venerable Shaun Deeb, who took down the overall SCOOP leader board and proved, once again, he's the most consistent force in online poker history.
But the real winner here might be poker itself.
PokerStars' Director of Corporate Communications Eric Hollreiser said in a press release that the record-breaking prize pool is testament to the enduring popularity of online poker.
It's hard to disagree with him. Setting a prize pool record in 2016 showed online poker is still peaking more than a decade after the game's original post-Chris Moneymaker boom, and is truly more than just the passing fad so many once suggested it was.
In fact, by offering more ways for fun and recreational players to qualify for both live and online events, specifically through its Spin & Go tournaments, PokerStars seems to have unlocked the key to a resurgence in tournament poker across the board, continuing to solidify the fact this game is no pet rock.
Plus, this year's record-setting affair was done without the large US market being involved. Could you imagine what numbers would have been like for SCOOP if the PokerStars global platform was available throughout the US as it once was?
4. In for a Penny, In for a Pound
Congratulations to the UK's Andrew Jankowski, who qualified for the $1 million guaranteed WPT National Nottingham Main Event through partypoker for just a penny, incredibly going on to win the entire $1,100 buy-in tournament at Dusk Till Dawn for $192,210.
Jankowski told the World Poker Tour's Tony Dunst he used a bit of a Muhammad Ali rope-a-dope style in an effort to get the rest of the players in the final to think he was a soft spot before releasing the hounds. It appears he won that meta game as well.
But again, the real winner here has to be poker. The more the masses start believing they can turn a single cent into $192,210, the better for the growth of the game.
Things like partypoker's penny satellites and PokerStars' Spin & Go qualifiers keep rags-to-riches poker dreams alive, have mass appeal, and are exactly what this industry needs to attract more recreational players, more money and move towards an even brighter future.
5. For the Love of the Game
With some 2.5 billion people in the market and gambling in the blood, there's little doubt poker has long looked to Asia as its greatest opportunity for growth.
That's why it was solid to see the Asia-Pacific Poker Tour (APPT) announce a new addition to it's APPT Manila schedule coming up this July in the Philippines.
As the more and more of the big festivals proves every year, poker is more than just no-limit hold'em and those who come to truly love the game often enjoy its many different variants as well. Admittedly, the adding of a ₱50,000 No-Limit Hold'em/Pot-Limit Omaha event is a bit of a soft start for mixed games in the region, but at least it's a start.
The more poker variants this tour and others introduce to the Asian market, the more opportunities there will be for those who like the game to learn to love it. And when it comes to growth, love is all you need.
Get all the latest PokerNews updates on your social media outlets. Follow us on Twitter and find us on both Facebook and Google+!