Five Thoughts: Copag Comes Back, Bonomo Takes a Stand, and Nice Guys Finish Seventh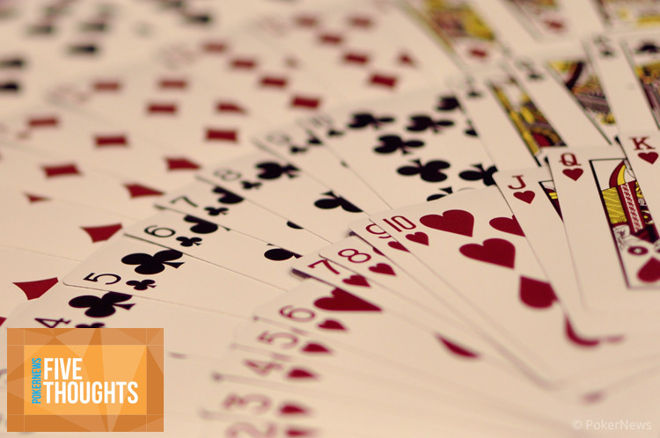 While there were several player complaints and issues surrounding the 2015 World Series of Poker, the cards were by far the biggest.
Some players complained the first-place prize of Colossus should have been bigger and the limit game structures should have been better, but the largest and loudest voices were heard when it came to new decks introduced after the WSOP struck a deal with Italian card manufacturer Modiano.
Apparently the cards were too thin and too easily marked, eating away at the integrity of the game. It took the WSOP a minute or two to react, but they eventually gave in to the players' demands for new decks.
And now, heading into the 2016 WSOP, after already announcing a bevvy of fan- and player-friendly changes to all sorts of things surrounding poker's biggest and most prestigious tournament series, they are even getting ahead of the curve on the cards.
1. Know When To Fold 'Em
The WSOP announced last week it had inked a multi-year deal with Copag to bring the card manufacturer's product back to the WSOP, a year after a deal with another card company gave them nothing but headaches.
Last year, the list of players complaining about the decks supplied by Italian card manufacturer Modiano read like a poker who's who, with almost the entire community agreeing they were too easily bent and marked.
WSOP Executive Director Ty Stewart said in a press release that putting quality playing cards on the tables at the WSOP is one of the most important elements of the entire event. Kudos to Stewart and the entire organization for realizing this, and getting out ahead of things in 2016.
2. Nice Guys Finish Seventh
UK pro Max Silver took the lead into the final table of the 2016 PokerStars and Monte-Carlo® Casino EPT Grand Final €25,750 High Roller last week. However, a terrible run of cards and horrible luck saw him fizzle out seventh.
Sometimes that's the way the cookie, or stack, crumbles, but I can't help thinking Silver deserved better.
Deep into Day 2, I witnessed a hand that highlighted Silver's true integrity — an admirable quality in this world of edges and angles. He had raised and another player three-bet, when a third player peeled back his cards to take a look. Glancing over, Silver accidentally saw the

.
Instead of keeping this valuable information to himself, Silver immediately spoke up, doing the right thing by sharing it with the rest of the table.
Despite having one card exposed, that player pushed in and both Silver and the other raiser folded. The outcome of the hand seemed rather insignificant at the time, except for the fact it highlighted Silver's integrity, confirming he's one of the nice guys in this game, and is willing to play by the rules no matter what the cost.
Unfortunately, sometimes nice guys finish seventh.
3. Turning €10 Into €305,660
Asan Umarov did it.
No, Umarov did not win the 2016 PokerStars and Monte-Carlo® Casino EPT Grand Final €5,300 Main Event. EPT veteran Jan Bendik did that. Instead, the Kazakhstani player qualified for the event through a €10 Spin & Go on PokerStars, defied the odds to make an improbable run all the way to fourth place, and turned that €10 investment into €305,660.
Umarov was one of 120 players who qualified for the Grand Final Main Event through Spin & Go satellites, helping the event break attendance records. Considering that, and Umarov's success, it's a good bet PokerStars will run a similar campaign for future EPT events. The numbers are sure to grow and it won't be long before we're talking about an EPT champion who qualified for a measly €10.
It's an eerily similar story to Chris Moneymaker's. In 2003, he won an $86 satellite on PokerStars that eventually led to a seat, and the win, in the 2003 WSOP Main Event. That story helped ignite the original poker boom, and all indications are, that while it might not be on that same scale, this one could do something similar.
4. Bonomo Takes A Stand
Justin Bonomo took a stand against PokerStars last week. First he told the Twitterverse he would be refusing all media requests from PokerStars and the EPT, seeing no reason to do unpaid promotional work for "a company that has defrauded many thousands of players."
Then, when he made a heads-up deal that gave him the title and the trophy in a €2,000 event at the PokerStars and Monte-Carlo® Casino EPT Grand Final, he refused to allow a winner's photo to be taken. Details of the kerfuffle included Bonomo claiming the EPT was refusing to pay if he didn't pose, then backing off when he offered to do it with a sign outing their refusal to pay and claiming PokerStars stole $50,000 from its SuperNova Elite players.
Later, Bonomo claimed the EPT said they would never withhold winnings, but would ban him from all PokerStars live events if he didn't take the photo.
At the risk of further alienating a segment of the high-stakes community that has already publicly called for my head, I'm going to disagree with Bonomo's stand here. Yes, Bonomo is right, PokerStars pulled the rug out from underneath anyone who put in the countless hours it takes to reach SuperNova Elite last year, making changes to the program at what was surely the eleventh hour, and costing those players thousands in bonuses. Unfortunately for them, it was likely well within the site's rights to do so.
But either way, refusing media requests and winner's photos is not the right way to go about protesting this, considering players essentially sign a release agreeing to do these kinds of things when they register.
My clearly unsolicited advice to Bonomo would be to take your money elsewhere. If you truly believe PokerStars "defrauded many thousands of players" then sue, and if you don't want to do "unpaid promotional work" for the company, don't play in its events. Vote with your feet, and if you are truly righteous, others will follow and an impact will be felt.
5. Keep Running It Up
Jason Somerville's next Run It Up event is set to take place in Reno, Nevada at the Peppermill Resort Spa Casino from May 24-30, 2016.
In the week before the 2016 WSOP kicks off, Somerville will once again be bringing fun back to the game with a series of affordable buy-ins and eclectically structured events, and of course, PokerNews has partnered with the game's newest every-man to provide live coverage.
In 2013, after five years of working in poker media, I grew tired of watching spoiled brat millionaires shrug and mug their way through winner's photos and took a sabbatical. When I returned a year later, the poker economy had changed. Gone were the weekly $10,000 buy-in events that had always filled the poker calendar, and in their place were new and emerging tours with affordable buy-ins all across the poker landscape.
When I went to cover these events, I found an enthusiastic grassroots poker community who played as much for the love of the game as they did for the money. It certainly renewed my interest in the game and reporting on it.
Somerville's Run It Up events appear to be all about that as well, and when it returns to Reno later this month, I will be rooting hard for numbers to grow and hoping this segment of poker's new grassroots community continues to set the pace for others, putting fun first and running it up for the good of the game.
Get all the latest PokerNews updates on your social media outlets. Follow us on Twitter and find us on both Facebook and Google+!