Five Thoughts: The GPL Picks Paul, The WPT Juices the Pot, and Polk's Legacy Changing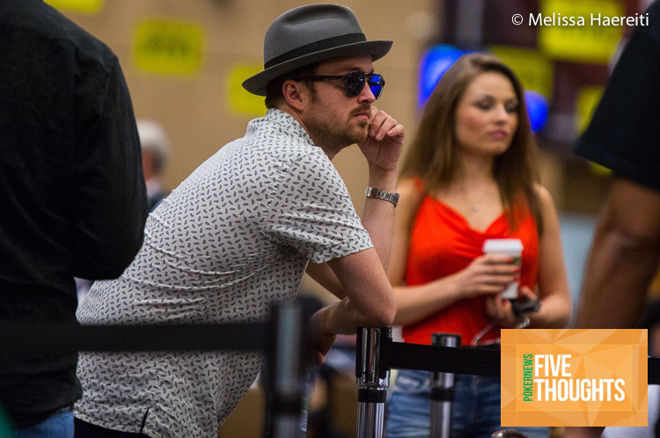 Those that did not sleep through the first couple years of the post-Moneymaker poker boom will no doubt remember Bravo's Celebrity Poker Showdown.
The show aired for almost three years featuring the highlights of a series of sit-n-go tournaments with celebrities like Ben Affleck, Don Cheadle, Matthew Perry, Cheryl Hines, Jason Alexander, and a host of other recognizable names from the entertainment industry squaring off for charity. While Kevin Pollack was the original host and Phil Hellmuth took over as color man in the final season, funnyman Dave Foley was partnered with boom benefactor Phil Gordon for the majority of the episodes. The show added a little glamour to the game and played a major role in bringing poker to a whole new audience of potential players and fans as it boomed in North America.
On the eve of its second week in action, the Global Poker League took a step in a similar direction with the announcement a big-time celebrity and eager poker hobbyist has joined the league. The product itself may have done very little to wow the audience thus far, but L.A. Sunset Manager Maria Ho's announcement that former Breaking Bad star Aaron Paul was one of her wildcard picks should put at least a few more eyeballs on the GPL.
1. Aaron Paul Joins The GPL, Bitch
When the Global Poker League kicked off its first week of action without Ho's L.A. Sunset roster complete, those in the know could smell something big was in the works. Poker's soothsayers were proven correct this week when Ho named herself and actor Aaron Paul as the team's two wildcard picks.
This move ensures two things: First, the word "bitch," the catchphrase moniker used for friend and foe alike by Paul's Jesse Pinkman character on the hit show Breaking Bad, will be overused by anyone and everyone associated with the GPL throughout Paul's involvement with the league. Second, Paul's popularity is likely to elevate the league to new heights, increase viewership, and bring new fans to the game.
Make no mistake about it, Breaking Bad was a huge hit that was averaging 4.3 million viewers per episode by the end of its final season. Paul has spun the show's massive success into a series of increasingly bigger budget film and TV roles and appears to be on the verge of something big in Hollywood. He also appears to love the game of poker, and the game of poker will soon love him, as he will likely aid the GPL in its efforts to bring poker to a whole new crop of fans and "sportify" the game.
2. Polk's Legacy Changing Gears?
On a break from the the final table of the 2015 World Series of Poker $10,000 No-Limit Hold'em 6-Handed Championship last summer, Doug "WCGRider" Polk told me he wanted to be remembered for playing the toughest, most competitive forms of online poker versus the best in the world, and not what tournaments he ran hot in.
In fact, he said he hoped people will remember his six-figure success in his heads-up no-limit hold'em challenge on Full Tilt against Ben "Sauce1234" Sulsky in 2013, rather than his bracelet win in the 2014 WSOP $1,000 Turbo No-Limit Hold'em.
However, this past Sunday, Polk took down PokerStars' new Mountain Series Kilimanjaro $700 Freezeout event. As he ran deep, he also made the last-minute decision to start streaming the action on Twitch, and when it was all said and done, he took down the title and it's $162,000 first-place prize.
Polk's challenge against Sulsky cemented his status as one of the best heads-up no-limit hold'em players on the planet, and the poker world is not likely to forget it anytime soon. But, if he keeps winning tournaments at the pace he's on, and streams the action live like he did this time, the legacy Polk leaves behind when his time in the game is done may be more about tournament success than he ever bargained for.
3. The WPT Juices the Pot
The World Poker Tour announced last week that sponsor Monster headphones was adding a 2016 Corvette to the already more than $100,000 in overlay awaiting players in its inaugural Tournament of Champions.
The event, set for April 22 at Seminole Hard Rock in South Florida, has a $15,000 buy-in and is open only to members of the WPT Champions Club. This season's winners are automatically in and others who are eligible can enter rake-free for a chance at the prizes added to the pool, including the car, $100,000 in cash, a Hublot watch, an Aurae Solid Gold Mastercard, a pair of gold Monster 24K headphones, a custom-made poker table from BBO Poker Tables, a round of golf at Shadow Creek, and a seat in the Tiger's Poker Night charity event hosted by Tiger Woods.
Despite recent proclamations by Global Poker League founder Alex Dreyfus, the move to "sportify" poker started long before the GPL was even a glimmer in his eye. It really began with longstanding members of the poker media contemplating poker's place in the sporting universe by comparing the game to tennis and golf — other games where individuals compete. These sports have a ton of tournaments around the globe, but each has a set of four majors, recognized as the game's highest level of competition. And so, a debate ensued as to which four tournaments would be considered Poker's majors, with most agreeing they would have to include the the WSOP Main Event, the European Poker Tour Grand Final, the Aussie Millions Main Event, and the WPT World Championship.
One more early move to "sportify" poker came in the form of the now-defunct Epic Poker League promising to add sponsor money to the prize pool, much like they do in tennis and golf, and this recent announcement by the WPT seems to be in line with that.
However, I can't help but think that the WPT Tournament of Champions replacing the open WPT Championship with an invite-only affair, a move that removes one of poker's majors, is one I would have to consider a step backwards in the effort to "sportify" the game, not a step ahead.
4. Super High Roller Bowl Full, Cash Game Seats Open?
Poker Central and the ARIA Resort & Casino announced in mid-March the 2016 Super High Roller Bowl had reached its 49-player cap, selling out three months in advance of its May 29 start date.
According to a press release, among those committed include superstars Phil Hellmuth, Daniel Negreanu, and last year's winner Brian Rast. It will be fun to watch these guy's compete for a $5 million first-place prize, with another $10 million guaranteed to be up for grabs at the final table.
However, I also hope they also bring back the Super High Roller Cash Game. These high-stakes sessions and the stream that followed them was one of the highlights of the summer of 2015, particularly the wild bluffing and ultimately flipping war between live gamblers Andrew Robl and Aussie Matt Kirk.
The tournament is sure to be great, but another cash game stream evoking memories of the glory days of GSN's High Stakes Poker could be epic.
5. The WSOP Circuit's Tallest Midget
Florida pro Maurice Hawkins captured his fifth and sixth World Series of Poker Circuit rings at the Horseshoe Council Bluffs stop on that tour last week. He won both the $365 Monster Stack and the$1,675 Main Event, collecting $19,477 and $113,152 in prize money respectively, while climbing to within three rings of Alex Masek's record of nine.
Of course, the mid-stakes buy-ins and regional locales make the WSOP Circuit akin to poker's minor leagues, and, in my humble opinion, make Hawkins' considerable accomplishments there comparable to winning a tallest midget award.
Hawkins' biggest poker score remains his fourth-place finish for $220,258 in the 2015 WPT Borgata Championship Main Event, he collected $128,150 for his final table finish in the WSOP Millionaire Maker event in 2014, and his career tournament earnings of just under $2 million is anything but small. However, Hawkins has yet to earn a breakthrough win in the big show.
It would seem he's heating up at the right time, however, and with the 2016 World Series of Poker just a mere six weeks away, if the regs in the Series don't have him on their radar yet, I'm betting they soon will and that big-time breakthrough win is just around the corner.
Get all the latest PokerNews updates on your social media outlets. Follow us on Twitter and find us on both Facebook and Google+!