Kevin MacPhee Talks Surprise GPL Draft Selection, PokerStars Back in the US, and More

Giovanni Angioni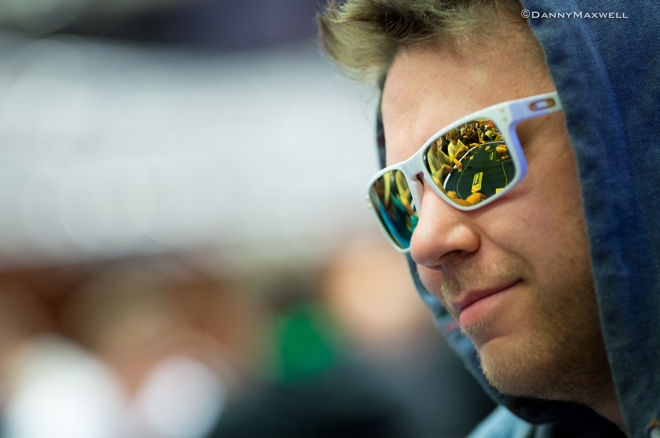 When Bryn Kenney called his name during the draft for the first-ever Global Poker League (GPL) on Feb. 25, the selection came as surprise for Kevin MacPhee, the two-time World Series of Poker (WSOP) gold bracelet winner.
"I didn't chat with Kenney about that prior to the draft, and I knew that he was not going to waste his first pick on me," MacPhee told PokerNews while in Tallinn, Estonia, to play in the Kings of Tallinn event. "I wouldn't have done that as well."
Nonetheless, Kenney selected MacPhee in the third round of the draft, and MacPhee is now a member of the New York Rounders. At the time, he joined Kenney's previous selections of Jason Mercier and Tom Marchese.
"I believe Jason Mercier was an obvious first pick, and I think Kenney managed to form a great team with four very good poker players," MacPhee said. "As for myself, I am pretty high ranked on the Global Poker Index (GPI), and I figured that if Kenney would not pick me, I'd probably get selected by one of the other teams like the Las Vegas Moneymakers."
The Moneymakers, as you might've guessed, are the franchise managed by Chris Moneymaker.
I am not sure where the GPL will end up, but I am onboard, and I am ready to support it however I can.
Before the draft took place, MacPhee admitted that he would have liked to be a part of the adventure.
"I think poker is hurdling right now, and we need something to revitalize the interest in the game," he said. "In my opinion, Alex Dreyfus has an interesting vision, and I support that."
MacPhee's support to the GPL comes from that fact that he sees this as the venture poker needs to regain popularity and survive a decline that started to endanger the survival of the game as we know it today.
"For poker to get a jumpstart, we need an entrepreneur with an outside perspective and who can set up something new," said MacPhee. "I believe the GPL can make poker more engaging, and I believe Twitch will help to bring it to a lot of new people. All in all, I find it to be a pretty cool idea. I am not sure where the GPL will end up, but I am onboard, and I am ready to support it however I can."
Online Players Will Do Better In the GPL
"I don't mind the idea to do heads-up matches standing up," MacPhee explained when we asked him about some of the elements that are set to differentiate the GPL games from others. "To be completely honest, this particular part is not going to make a significant difference to me because, when I play online, I stand for most of the time already."
When Dreyfus announced that the GPL live games would see the players standing up, some took to Twitter and Facebook and voiced their opinion against it. Others, like PokerNews Editor-in-Chief and American Poker Awards Media Person of The Year Donnie Peters, explained that even a small detail like that one could take some players out of their comfort zone and create new dynamics at the table.
We have a great team. Bryn Kenney, Jason Mercier, Tom Marchese, and Jason Wheeler are all very strong and accomplished players.
While we now need to wait to discover whether Peters is correct or not, this should not be the case for MacPhee, since he confessed being already used to playing fast-paced poker games standing on his feet.
"When I moved into my place in Montreal, I started to play standing at my high kitchen table," MacPhee said. "To be completely honest, I hate sitting while I play poker, so I don't think this new format will be a problem for me. I am used to standing up, and I usually act pretty quick. My decision-making process is very fast, so the fast-paced action of the GPL won't be much of an issue for me."
The habit to play while standing up is also not the only advantage MacPhee feels to have on the competition, as he believes the GPL to be a competition more geared towards online players.
"I think there are a lot of aspects of the GPL that make it more for online players than live players," he explained. "This is why I believe the Los Angeles Sunsets, guided by Maria Ho, have a very strong team. They have Olivier Busquet, and I am sure he is the kind of all-around player who has everything to succeed and do well in a competition like the GPL."
But that doesn't mean MacPhee is selling his squad short, as he likes the chances of the Rounders, as well.
"However, we also have a great team," he said confidently. "Kenney, Mercier, Marchese, and Jason Wheeler are all very strong players, and I believe we have all it takes to fight for the win."
Besides the L.A. Sunsets, MacPhee confessed fearing the teams put together by Liv Boeree for the London Royals and the one Marc-Andre Ladouceur built for the Montreal Nationals.
"Those are the teams that stand out," he said. "Others, like Celina Lin's team, had a different task and tried to create something that could introduce poker into new marketplaces. However, even if some of the players she picked are lesser known than others, it doesn't mean that they are not as strong as everyone else in the league. After all, the fact they were draftable is a testament to their skills."
Also, in MacPhee's opinion, skills alone are not be enough to create a winning franchise, as team spirit could make a real difference in the long term.
"I always thought it was going to be very interesting to see how the draft played out to be because there are a lot of social dynamics in poker," MacPhee said. "What we have seen with the GPL is that friendships are relationships made a difference: players like Mustapha Kanit, Dario Sammartino, and Walter Treccarichi hang out together a lot and are a natural fit in a team. Others have gone to the Burning Man together and are very close to each other, while players like Kenney, Mercier, and myself are all good friends. I believe this can help to get a better result."
Not Too Excited To See PokerStars Back in the United States
If the live side of the game is now getting ready to see what the GPL is all about, the biggest news from the online realm is undoubtedly the return of PokerStars to the United States.
Online poker used to be my bread and butter.
"I am sure it is a big deal for PokerStars, but I am pretty indifferent to it," MacPhee said about the world's largest poker site finally getting ready to offer online games in the U.S. for the first time since the Black Friday. "I am not sure this will be much different from partypoker being back in New Jersey. It's not a thing for the whole country, it only about New Jersey."
But MacPhee's sentiments could be a result of his transition more to more live poker, which he did add.
"Online poker used to be my bread and butter, and I used to qualify online for every European Poker Tour stop," he said. "Now I just don't. I don't put a priority on playing online anymore, so I guess that's why I am not too excited about PokerStars getting back in the U.S."
On top of that, MacPhee explained that some of the decisions that were taken by PokerStars after Amaya Inc. took control of the Rational Group have pushed him away from the poker room.
"I think PokerStars have been mismanaged quite a bit since Amaya took over, but I believe one day they will probably wake up and realize that the online games are going down, and something needs to be done about that," he said.
"Phil Galfond's Op-Ed Is a Dangerous Precedent"
Recently, Remko Rinkema and high-stakes pro Jason Mo debated issues on Joey Ingram's Poker Life Podcast. Involved in that discussion was the op-ed written by Phil Galfond to out an unpaied poker debt[/B], and MacPhee voiced his opinion on that.
"It's probably a dangerous precedent to publicize things like that on a major poker site like PokerNews, especially as I know that almost immediately after Galfond's piece was published, Shaun Deeb came out with something similar, and nobody published his story," MacPhee shared, although Deeb took to the Under the Gun Podcast hosted by David Tuchman to share his story.
"I also had somebody who owed me more than $100,000, and I know they are not going to pay me back even if I have never outed them," MacPhee went on to explain. "The truth is that it is a little weird to see how poker is like. Sometimes, people seem to pull a sheet over their eyes. Just think about the GPL. Sorel Mizzi has been drafted in the midst a serious controversy that he has not even responded to. To me, it is a bit ridiculous to see how things work in the poker world, and I think events like the GPL should consider adopting something like an ethics committee. I understand that it would be pretty funny if something came up during the play. People talking crap to Mizzi would be good for ratings."
Get all the latest PokerNews updates on your social media outlets. Follow us on Twitter and find us on both Facebook and Google+!