Chris Moneymaker Introduces DUEL by PokerStars

Mark Bonington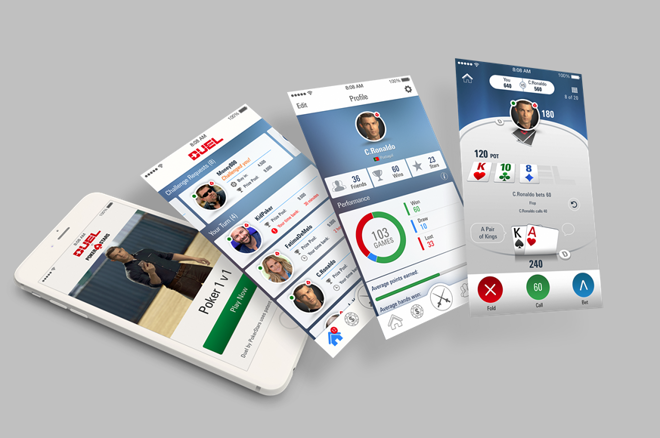 I confess: I don't play poker as much as I used to. And I suspect, when it comes to the casual player, I'm not alone. As jobs, commitments, and forming some semblance of a social life creep in, those precious hours spent at the PokerStars tables, or around the felt with friends, start to feel like distant memories of simpler college days.
Which is why I was excited to hear about DUEL by PokerStars, the new online offering for the smartphone-addicted iGeneration. Along with everyone else who feels like the modern world is taking up more of their poker time than it should.
And who better to introduce a poker game for the modern digital world, than the man who kick-started it all: Chris Moneymaker.
"There needs to be ideas and concepts that capture the interest of the casual player," emphasises Moneymaker. "People today want a game they can play on their own time and DUEL by PokerStars is a game designed specifically for those people. It will allow people who are otherwise too busy a chance to learn this great game."
But with so many poker variants, sub-variants, and other invaders to the online gaming space on offer, what is it that sets DUEL by PokerStars apart?
"The biggest thing is the fact that you can pick it up and put it down at your leisure, and can play multiple games effortlessly," says Moneymaker. "The other differences are the fact that it is strictly a heads-up format, only on mobile devices. It has more a video game feel to it than the typical PokerStars online client."
Yet, as PokerStars pioneers the next-gen of online poker gaming, it's impossible to resist taking a look back to the past. I'm curious: How does Moneymaker himself feel about the "Moneymaker effect"?
"Surreal" is his initial answer. "It took some time for me to get comfortable with. Now, I think it is pretty awesome and I'm proud of my place in poker history."
Although he remains proud of his place in poker's archives, Moneymaker remains humble about his position as director-general and instigator of poker's online revolution.
"It was more of a case that I happened to be the right person, at the right place, at the right time," he says. "People could relate to me and believed they could accomplish the same feat I had achieved. The poker boom gave people jobs as players, dealers, writers, and introduced a whole new generation of people to the game that we love. We created a vibrant poker economy that had previously been looking depressed and was shrinking quickly."
It would seem PokerStars, who Moneymaker describes as an "amazing partner," is about to unleash a second poker revolution, and Moneymaker is again at the forefront of it. Yet, even 13 years since he first showed the world how to play, he's still got some tips up his sleeve for the smartphone-powered player.
"Similar to normal heads-up poker, position is key," he says. "I keep the pot small in all of my hands till I see where the big hands will develop. Once you are all in, the action is paused, so you need to figure out what your equity is, versus your opponent's range, and either gamble more on other tables or play conservative based on the all-in equity. For example, if you flop top set on a dry board and get it all in, you could fold most of your other hands and win a play-money match just by winning that all in. Unfortunately, it is rare to know when you are in that dominating of a position, and 20 hands with real money will make it more difficult to use this strategy."
So after making over $3.5 million in tournament earnings, bringing poker to the masses and representing the world's biggest online poker room, what is left to achieve for Moneymaker?
"As a player, I do not really have any goals," Moneymaker says. "My goals are really two-fold: Support my family and grow the game of poker, make it enjoyable again. My goal when I play poker is to try and make everyone have an enjoyable experience and want to play again."
Check Out DUEL by PokerStars
Get all the latest PokerNews updates on your social media outlets. Follow us on Twitter and find us on both Facebook and Google+!