888poker Revamps Its Loyalty Scheme With the 888poker Club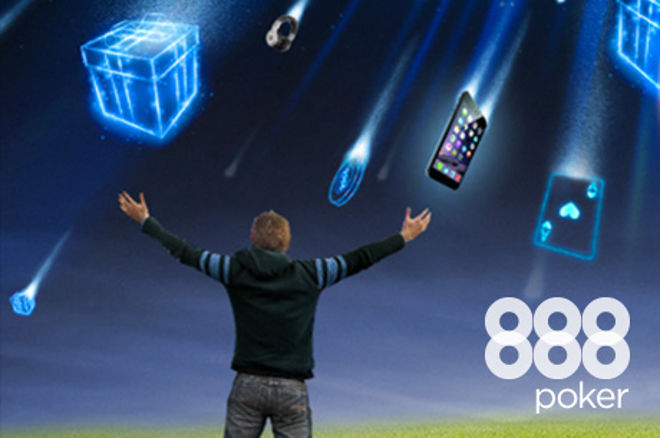 The world's second largest online poker site, 888poker, is revamping its loyalty program on March 28 in a move that sees it move away from a rakeback model to one revolving around challenges, tokens, and climbing the scheme's various levels.
Known as the 888poker Club, the new loyalty program at 888poker rewards players with points when they complete challenges at the poker tables, on casino games, or 888's sportsbook. Once players hit a target amount of points, they move up levels and receive Gold Tokens, which can then be redeemed for prizes.
Players also receive a Club Scratchcard each time they climb five levels and will never be moved down a level if they decide to play less poker, casino games, or bet less. The opposite is true for the majority of online poker VIP programs where you have to maintain a certain level of play in order to continue receiving rewards.
There are also 888poker Club Free Tournaments running every day with combined monthly prize pools of $100,000.
Current Cashback Will Be Honored
888poker's old loyalty scheme was top-heavy with few financial rewards at the bottom of the scale, although high-volume grinders could receive 36 percent of their rake back. This will no longer be the case once the changes come into play, but an 888poker representative posted on the Two Plus Two poker forum that the company is happy to honor its cash-back commitments under the current scheme.
"We'd like to assure you that despite these major changes, 888poker will fully honor its cash-back commitment to all players, including its VIPs, who are currently entitled to yearly cash back in the existing rewards plan," the post said. "Moreover, any reward points players accumulated in the current rewards program will be automatically transferred to Gold Tokens, with equal value, in the new 888poker Club and will continue to be redeemable any time."
Current 888 players will be boosted to a level within the new program that matches their current rewards level as closely as possible, but those players are being warned that the new system will probably have less yield than the current system.
"The cash back available in our current rewards program will likely not correspond to that offered in the new 888poker Club," the statement added. "Therefore, in the event that the cash back earned by a VIP player within the 888poker Club structure is lower than that which the player would expect from our current program, we'll make sure to grant a monthly compensation of any difference in these amounts up until each player's VIP status expires. We've emailed each VIP player the expiration date of his VIP status."
Focus On Recreational Players
Those playing high volumes used to be the players of choice for online poker rooms, but there has been a shift in strategy in recent times with the likes of partypoker, PokerStars, and Unibet Poker focussing their attention on recreational players.
888 has always been thought of as a "softer" site due to many of its casino customers frequenting its poker tables. Over the past few years, 888poker has catered for recreational players via its many promotions including Gift Showers, Free Spins, and more recently the launch of Live the Game.
If you're interested in getting in on the action at 888poker, click here to get started today!
Get all the latest PokerNews updates on your social media outlets. Follow us on Twitter and find us on both Facebook and Google+!