Six-Plus Hold'em Hits Bet365 And the iPoker Network on Feb. 22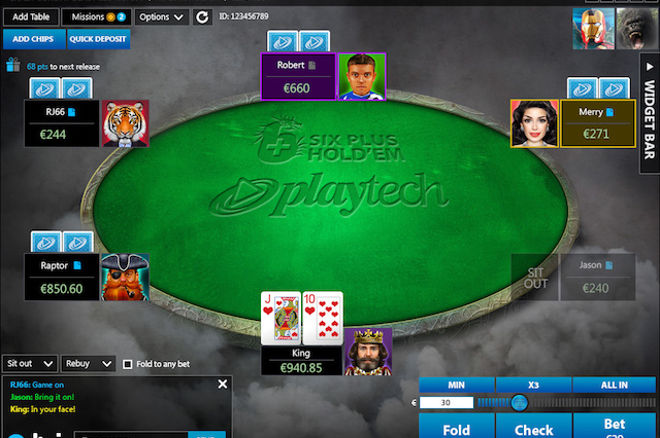 One of the poker variants played by the likes of Phil Ivey and Tom "durrrr" Dwan when they are in gambling havens of Asia is six-plus hold'em, a relatively new variation of the ever-popular Texas hold'em.
This exciting variant is no longer being confined to select poker rooms of casinos, because as of Feb. 22, 2016, it will be available to play on sites hosted on the iPoker Network, the second-largest poker network in the online poker world.
What is Six-Plus Hold'em?
Six-plus hold'em looks like standard Texas hold'em from a distance, but it is played with only 36 cards instead of 52. The reason for the shorter deck is because the

,

,

and

cards are removed, leaving only

through

.
Aces can still be high or low, as in regular hold'em, which means that the lowest possible straight in six-plus hold'em is





.
The short deck aside, the other notable difference between six-plus hold'em and the regular version of the game are the hand rankings, and this is where some players new to the game may be confused.
In six-plus hold'em, three-of-a-kind beats a straight and a full house is beaten by a flush. That's right, it's different. The full six-plus hold'em hand rankings can be seen below, in order of weakest to the strongest holdings:
High card
One pair
Two pair
Straight
Three of a kind
Full house
Flush
Four of a kind
Straight flush
Royal flush
For a complete breakdown of six-plus hold'em rules, check out the PokerNews six-plus hold'em rules page.
Six-Plus Hold'em in Action
Where Can One Play Six-Plus Hold'em?
Six-plus hold'em makes its debut on the iPoker Network on Feb. 22, and PokerNews expects it to be a major hit with poker players from around the globe.
Talking to PokerNews, the Performance Marketing Manager at Bet365 Poker, Alex Smith, shared that the poker room is "really excited about this new version of Texas hold'em released by iPoker. bet365 feel it fits within their poker strategy very well as it will appeal to the recreational poker player. This new version will add a lot more action to online poker and hopefully get more people wanting to play."
If you do not play at Bet365 Poker yet, you can try six-plus hold'em by opening an account at the poker room right now through PokerNews and get ready to play the great deposit bonus this iPoker site gives to all out players. If you reside in a country where Bet365 legally operates, make sure to click on this link, open a free account, and use the bonus code PNEWS when you make your first deposit, as by doing so you will snap a 100-percent match bonus of up to €100.
Also, if you reside in the United Kingdom or Ireland and have your language set to English, you will receive €5 free when you create your poker nickname.
Where Can I Find More Information About Six-Plus Hold'em?
As always, PokerNews has you covered if you're wanting to learn more about six-plus hold'em. Click this link to be whisked away to a dedicated six-plus hold'em page where you can discover more about the rules and learn about some strategy to help you gain an edge over your opponents.
Get all the latest PokerNews updates on your social media outlets. Follow us on Twitter and find us on both Facebook and Google+!