Five Thoughts: One for the Good Guys, O'Dwyer and Kornuth Shine, Obrestad Sells Out

Mo Nuwwarah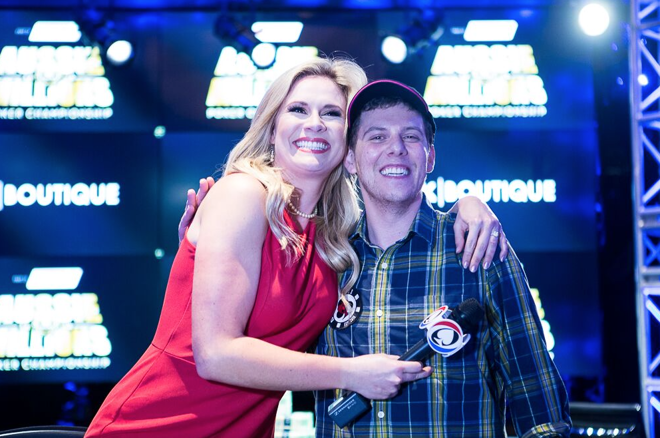 Covering poker tournaments for a living has enabled me to meet a lot of people in the poker world. Especially working reporting shifts on smaller tours like the World Series of Poker Circuit, you see a lot of familiar faces who faithfully travel from stop to stop, grinding out a living with cash after cash without even necessarily hitting many huge scores.
One such player is, or was, Alan "Ari" Engel, formerly a very successful and well-known online grinder under the name "BodogAri" who had chosen to turn his attention to the live arena after Black Friday crippled the online poker sphere. Go to almost any Circuit stop or smaller WSOP event during the summer, and if you look around, you would eventually find a curly brown mini-fro atop a face that usually bore a friendly smile in between raking pots. That face belonged to Engel, and once he learned your name, he would greet you warmly every time you ran into him.
Engel quietly grinded out a living without any huge scores, but his long-awaited big moment finally came at the 2016 Aussie Millions, and boy was it a big one.
1. Ari Engel Wins Aussie Millions Main Event for $1,120,110
Before this year's Aussie Millions Main Event, Engel had racked up over $2.2 million in lifetime cashes despite a personal best of just $177,045 for first-place at the Punta Cana Poker Classic in 2014. He had only five cashes bigger than $100,000. Instead, he made his bacon consistently putting up cashes in the four-figures and low five-figures, waiting patiently for his breakthrough moment.
It finally came in Melbourne, where Engel lived for eight years when he was younger, as he took the chip lead into the final table and defeated the respected Tony "bond18" Dunst heads up for the biggest cash of his career by leaps and bounds, over $1.1 million when converted to USD (AU$1.6 million). Dunst and Engel had by far the two biggest stacks when the final table began, and Engel only emerged victorious after hours of heads-up play.
There are so many solid grinders out there who, like Engel, put together solid cashes in one tournament after another, piecing together enough to make a decent living without hitting that elusive life-changing score. It has to be heartening for them to see Engel break through, as he's living proof that with enough perseverance, your edge will eventually manifest itself as variance goes your way in a big spot, even if it takes years to get there.
Even better, it truly couldn't happen to a nicer guy. I've met lots of great people in the poker world, but even among them, Engel stands for how friendly he is, particularly at the table. He's definitely not of the "headphones and stone-faced silence" breed, often engaging in friendly banter with his tablemates between hands. Players are of course free to act as they please within the rules at the table, but I think we can all agree that an attitude similar to Engel's fosters a better environment for casual players, making the games better for everyone in the long run.
Big congrats to Engel. I think the phrase "won one for the good guys" was made for times like these.
2. O'Dwyer, Kornuth Shine in Recent High Rollers
The high roller circuit has continued in full swing, and two names have stuck out to me in recent weeks.
One, of course, is Steve O'Dwyer. I know right? Yawn. The year is barely a month old, but look at what he's done so far this year: fourth in the Triton Super High Roller Series $200,000 Cali Cup in the Phillipines for $953,700, first in the $50,000 Single-Day High Roller at the PokerStars Caribbean Adventure for $945,495, fourth in the $25,000 Challenge at the Aussie Millions for $182,625, and first in the $250,000 Challenge at the Aussie Millions for $744,829.
That's nothing short of astonishing. And that's coming on the heels of a 2015 that saw O'Dwyer bank a career-best $4,879,829 and nearly win Global Poker Index Player of the Year honors. It seems safe to assume he'll best that this year, and one can only wonder where O'Dwyer goes from here. He's already 14th on the all-time money list despite recording his first live cash in 2007.
What's driving this insane run? Maybe O'Dwyer is just the best there is, maybe he's running supernova-hot, or maybe it's both. PokerNews Editor-in-Chief Donnie Peters, on the PokerNews Podcast, credited an intense focus and unwillingness to take a single hand off. Given the caliber of competition in these events, it does seem like something like that would be needed to maintain an edge.
And speaking of nice guys, how about Chance Kornuth? Kornuth has been a successful tournament player for years, breaking through in the live game with a WSOP bracelet win in 2010, but he has stepped things up big time since April 2014 with five six-figure scores, highlighted by a third-place finish in the PCA Main Event last year.
This year, he has graduated to the high roller circuit and immediately put up a couple of impressive results. He made the final table of what will likely be one of the year's biggest $25Ks, finishing seventh in the PCA $25,000 High Roller for $192,780. He did even better in the $25,000 Challenge at the Aussie Millions, shipping the whole thing for $547,874.
Kornuth might be one of the few who can rival Engel in the nice-guy rankings. The RunGood Team Pro's success is just as easy to root for, and hopefully we see him maintain a presence in the bigger buy-in events for the rest of the year.
3. Full Tilt Poker On the Ropes?
According to the online traffic rankings at PokerScout, Full Tilt (FTP) is currently the 12th-most popular poker provider. It's sitting just behind Winning Poker Network and just ahead of Adjarabet. That's a shocking fall for those of us who remember FTP as the undisputed No. 2 site in the industry, and a site many preferred over the leader PokerStars for software and cash games.
Over at the excellent OnlinePokerReport, Robert DellaFave provided a useful graph in his breakdown of FTP's fall. We can clearly on the graph see that after an early 2015 uptick, FTP slid precipitously to eighth place in July, when a full-blown overhaul of the cash-game tables hit that did away with heads-up games and table selection.
The changes were an attempt to fix what FTP representatives called a "broken poker economy."
It seems they've not been enough to fix a broken FTP economy. We'll see if the upcoming Full Tilt Online Poker Series and the newly-launched connection with video game giant Steam help things.
4. "Annette_15" Signs On with Venetian
On Jan. 26, Annette Obrestad told followers on her Twitter that she had "a pretty exciting announcement." Two days later came the big reveal, and a whole lot of facepalming followed.
Obrestad announced that she had signed on with the Venetian as an ambassador for the Sands Poker Room. That is, former Lock Poker-sponsored player Annette Obrestad is now an ambassador for the poker room owned by Sheldon Adelson, who has worked tirelessly for the last several years to stop us from playing poker online.
They say mistakes are supposed to be learning experiences, but clearly accepting sponsorship from a shady company that scammed poker players out of countless dollars taught Obrestad little, if anything about using sound judgment in the sponsorship game.
Or, maybe her financial situation is desperate enough that she can't afford to be discerning. This is a player with about $10,000 in cashes the past two years in live poker. Of course, she made her name online, but a glance over her PocketFives profile reveals... not a whole lot more.
Everyone's got to make a living, but man, this is an ugly look. Obrestad was one of my favorite online players back in the day after her legendary hole card-free tournament win. Sad to see where her career has gone.
5. Travel Horror Stories
The past few weeks since the PCA have seen a couple of notable threads emerge on the News, Views, and Gossips section of the Two Plus Two poker forum.
One thread, which contains a truly terrifying story — vouched for by none other than Mike "Timex" McDonald — ends with the subjects being holed away in a refugee camp. I won't spoil the rest, but it's certainly worth a read.
The other story isn't nearly on the level of the first and is a more run-of-the-mill customs in a third-world country tale.
The point of highlighting these stories isn't to suggest that you should hole up in your home and never travel to PCA, or anywhere else for poker tournaments, because traveling for poker can be awesome and I had a blast my first time at PCA. Seeing the world and playing a game we love in exotic places can be an incredible experience, and one well worth having.
At the same time, traveling abroad in general can be dangerous. Traveling abroad with large sums of money is many times so. The common thread through the above stories is ignorance or downright defiance of plainly stated customs laws regarding currency.
The point I'm trying to make is to urge you that if you're traveling for poker, lay out in advance a sensible, coherent plan of what to do in the event you hit a big score. Online deposits, wiring, trading with trusted friends for electronic transfers, absolutely anything besides trying to sneak the money through customs. That's a no-no. These are among the last people on Earth you want to cross, so why even risk it? Be smart.
Get all the latest PokerNews updates on your social media outlets. Follow us on Twitter and find us on both Facebook and Google+!