Daniel Negreanu Lets You Into the High Stakes Poker World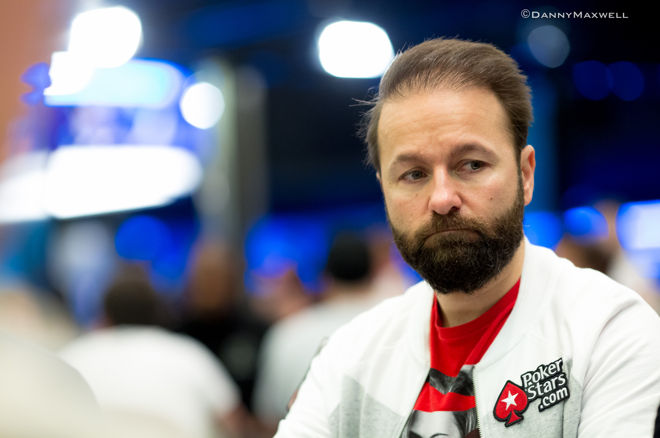 The world of live high-stakes cash games is generally off limits to us mere mortals. Either the sums of money exchanging hands represent several years of our income, or the games are played in a roped-off, private area of the casino, away from our prying eyes.
High Stakes Poker was a hugely popular TV show because it gave poker fans a view of this off-limits world. We saw massive pots won and lost, pots we could only dream of raking in during our lifetimes. One of the stars of the show, Team PokerStars Pro Daniel Negreanu, continues to frequent the biggest cash games in Las Vegas, and thanks to his blog we can relive some of the action through Kid Poker's eyes.
$250,000 Profit in 200 Hours
As 2015 was drawing to a close, Negreanu penned a blog at Full Contact Poker recapping his year and highlighting his 2016 poker goals. One of his targets for 2016 is to play at least 200 hours of live cash games and win in them to the tune of $250,000. Thankfully for us poker fans, Negreanu has kicked off the year by detailing his exploits in the Las Vegas cash games.
Negreanu got off to a flying start. On Feb. 4, he sat down in a big-bet mixed game at Aria with $100,000 and another $400,000 behind to play a mix of:
Pot-Limit Omaha flips
Very Crazy Pineapple
Pot-Limit 2-7 Razz
Pot-Limit Double Draw 5-Card Draw High
Pot-Limit Badugi
Pot-Limit 2-7 Triple Draw
No-Limit Hold'em
2-7 No-Limit Single Draw
Pot-Limit Omaha
Pot-Limit Omaha Hi-Low
According to Negreanu, the base blind structure was $300/$600 with $600 in antes in the middle for a seven-handed game, meaning there was $1,500 to be won before any player received their cards. After six hours of action, Negreanu left with $134,100 profit, thanks in part to a big hand of no limit 2-7 single draw.
"Early on in a hand of no-limit 2-7 single draw, I was lucky enough to get dealt





on the button and raised to $4,000," Negreanu wrote. "The small blind made it $13,000, and I decided to reraise to $30,000. He called and drew one. After his draw, he put me all in for about $60,000, which is all I had left on the table. I called and won the pot as he made a 9-7."
An $84,700 Loss
Negreanu hit the tables again on Feb. 9, this time heading to the Bellagio for mix of 13 different games, with blinds in the fixed-limit games being $1,500/$3,000, and pot-limit/no-limit games featuring $500/$800 blinds, $1,200 in antes, and a $30,000 cap on the betting.
The 13 games Negreanu and his fellow high rollers played were:
Hold'em
Omaha Hi-Low
Razz
Stud
Stud Hi-Low
No-Limit Hold'em
Pot-Limit Omaha
2-7 Triple Draw
Badugi
No-Limit 2-7 Single Draw
2-7 Razz
No-Limit 2-7 Triple Draw
Pot-Limit Omaha Hi-Low
Eight hours and several capped pots later, Negreanu headed home nursing an $84,700 loss for his efforts, such is life in the high-stakes world.
High-Stakes Politics
One area that Negreanu touched upon, which has resonated through the high-stakes community, is the politics of the high-stakes cash-game world. While Negreanu claims the Bellagio mixed game is free of politics and allows anyone to play within reason, the Aria and Macau cash games are extremely political and it appears to be a case of who you know rather than what you know if you want to play in those games, creating a landscape far different from when Negreanu first started out in Vegas.
"The way in which games happen has changed from the days when I was a grinder," Negreanu wrote. "Back then, if there was a seat open and you had the buy-in, you could sit down and play. Last night there were three high-stakes games going at both Aria and Bellagio and each of them were essentially based on invite only.
"It isn't legal to have 'private games' in Las Vegas, but they have found a clever way around that. There is a set time that the games start and the players all show up at that time and fill the seats as well as the waiting list. If you are a 'nit' or play excessively slow, you won't ever get a seat in these games. I have absolutely no problem with the politics involved in this. I think it works out the way it's supposed to. If amateurs don't want pros in their games, they can shut them out by starting a full game with no seats available."
Negreanu's problem isn't necessarily with the games these days essentially being private, but the fact floor staff are manipulating waiting lists. He believes that if a player turns up and is the only person there and the table is full, they should be the first on the waiting list. What is frequently happening, however, is the waiting player is being bumped down the list, which basically means they will not get in on the action.
You're a Winner? Sorry, You Can't Play
Another interesting point that Negreanu points out is that if a high-stakes player wants to play, they better be good at building relationships with the regulars, especially if they are solid winners. Otherwise, they stand little chance of getting a seat in the biggest games in town.
"The days of these high-stakes games being an open opportunity for anyone who has the buy in, are in jeopardy," he wrote. "If you are both a jerk, and a winning player, this combo of death will ensure that you just never get an invite to one of these games.
"For a lot of the online poker geniuses making the transition to the live arena, these relationshipping skills aren't necessary and aren't learned online. Typically, tighter, slower, winning players aren't welcome.
"There are a few professional players that have positioned themselves well as mainstays in these lucrative games through creating relationships with the right people. As a result of that skill, make no mistake, relationshipping is a skill, they will ultimately play in softer games and have a bigger earn per hour."
Along these lines, 2012 World Series of Poker Main Event champion Greg Merson joined the PokerNews Podcast back in 2013 to discuss the "private public cash games" held at Aria. You can check out that interview in the episode below.
Do you think that this system, which is almost a secret handshake one, is fair or do you think that if you have the funds available you should be able to walk into any casino, put your money on the table, and rub shoulders with the big boys? Let us know with a comment below!
Get all the latest PokerNews updates on your social media outlets. Follow us on Twitter and find us on both Facebook and Google+!