Colin Gillon Wins 2016 GPS Star City; Become First Double GPS Champion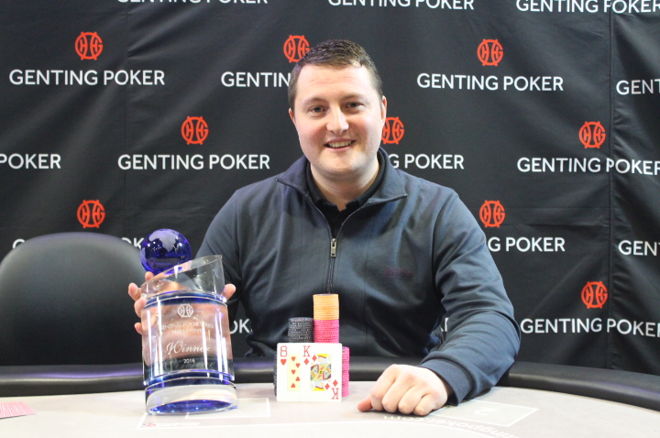 Scotland's Colin Gillon became the first-ever double Genting Poker Series Main Event champion on Sunday when he emerged victorious in the Star City, adding the GPS trophy to the one he secured in Edinburgh in September 2015.
2016 Genting Poker Series Star City Final Table Results
| Place | Player | Chips |
| --- | --- | --- |
| 1 | Colin Gillon | £26,150* |
| 2 | Kiat Lee | £19,300* |
| 3 | David L'Honore | £18,800* |
| 4 | Cai Cai Huang | £7,900 |
| 5 | Leo McClean | £6,090 |
| 6 | Peter Ryder | £4,960 |
| 7 | Mark Wates | £3,840 |
| 8 | Miroslaw Jagielo | £2,980 |
| 9 | Mark Hester | £2,150 |
*reflects a three-handed deal
A total of 282 players turned out for the £400+£40 buy-in GPS Star City Main Event, a far cry from the 404 who bought in last year when Chris Johnson won, but a figure that saw the £100,000 guarantee beat by £12,800.
Only 15 players made it through to the final day, each of the guaranteed £1,130 for their efforts as the bubble burst during Day 2.
Mick Fletcher, who recently won the Grosvenor 25/25 at Leeds, was the first Day 3 casualty, with Yiannis Liperis, Brandon Moore, Steve Butcher, James Lee, and Junnut Mir joining him on the sidelines soon after, the latter's exit setting the final table.
2016 Genting Poker Series Star City Final Table
| Seat | Player | Chips |
| --- | --- | --- |
| 1 | Colin Gillon | 1,288,000 |
| 2 | Kiat Lee | 1,221,000 |
| 3 | Peter Ryder | 301,000 |
| 4 | David L'Honore | 644,000 |
| 5 | Leo McClean | 496,000 |
| 6 | Mark Hester | 265,000 |
| 7 | Miroslaw Jagielo | 402,000 |
| 8 | Mark Wates | 916,000 |
| 9 | Cai Cai Huang | 1,517,000 |
With blinds starting at 8,000/16,000/2,000a, Mark Hester was in push or fold territory as play began, and he chose to do the former over the top of a Gillon raise. Gillon called the shove with


and Hester's


needed some help from the community cards. That help failed to materialise when the board ran





, sending Hester home in ninth place.
It took almost an hour more for the eighth-place finisher to be decided, with Miroslaw Jagielo being that player. Blinds had increased to 10,000/20,000/3,000a, and Jagielo made it 45,000 to play, a bet that only Cai Cai Huang called. Jagielo checked on the



flop, Huang bet 55,000, and Jagielo called.
Jagielo checked again on the

turn only to see Huang instantly move all-in. After around a minute of deliberation, Jagielo called and turned over


, which was ahead of Huang's


, but only until the

landed on the river to improve Huang to a flush.
Another two and a half hours passed by without an exit, a fact altered when Huang raised to 65,000, Gillon three-bet to 150,000 and Mark Wates four-bet all-in for 550,000. Huang folded, but Gillon called to put Wates at risk. Wates' tournament rested on how his


performed against the


of Gillon, which was not very well because the five community cards ran





. Game over for Wates.
Peter Ryder then fell in sixth-place, with Gillon once again sending an opponent to the rail. Gillon opened to 105,000 with


from the button and then pushed all-in when Ryder re-raised to 230,000 from the big blind. Ryder called with


and looked set for a double-up until the



flop left him drawing to two outs for the win. The

was no help to Ryder, and neither was the

river, sending him home in sixth place.
Gillon continued to send people to the rail, his next scalp being that of Leo McClean. Down to only 125,000 chips (2.5 big blinds), McClean moved all-in and was called by both Gillon and David L'Honore. The two active players checked down the





board, Gillon showing


for trip tens and the pot.
A few hands before McLean exited, Huang lost almost all of her stack and was left in a desperate situation. Huang made a move with


and Gillon called with


. The





board hinted at rescuing Huang, but it ultimately didn't, leaving only three players in the hunt for the title, two of those being former GPS champions.
The last remaining trio of players decided to chop what was left of the prize pool using ICM and leaving £155 for the eventual champion, which wasn't to be L'Honore as he was the next player to bust.
Kiat Lee raised from the button with


, L'Honore three-bet all-in for nine big blinds with


, and Lee called. The



flop hit both players hard, with the

turn improving L'Honore to two pair. However, the

river completed Lee's flush and sent the tournament heads-up.
Gillon went into the one-on-one battle with Lee holding a 4,270,000 to 2,780,000 chip lead, and improved his situation during the early exchanges. Lee fought back, claiming the chip lead on more than one occasion, but the final hand went Gillon's way and saw him become the first double winner of a GPS Main Event.
The final hand saw Gillon push all-in with


and Lee call with


. Lee stayed ahead on the



flop, then went behind on the

turn. The

river kept Gillon's pair of eights as the best hand, bust Lee and left Gillon to write himself into the history books.
GPS Sheffield Starts February 24
Next up for the GPS is a trip to Sheffield on February 24 for one of its popular mini events. Sheffield has traditionally seen large crowds and this event should be no different, even if the Sky Poker UK Poker Championships are running at Dusk Till Dawn at the same time.
Get all the latest PokerNews updates on your social media outlets. Follow us on Twitter and find us on both Facebook and Google+!