William Hill Net Revenue Falls; Business Booming for GVC Holdings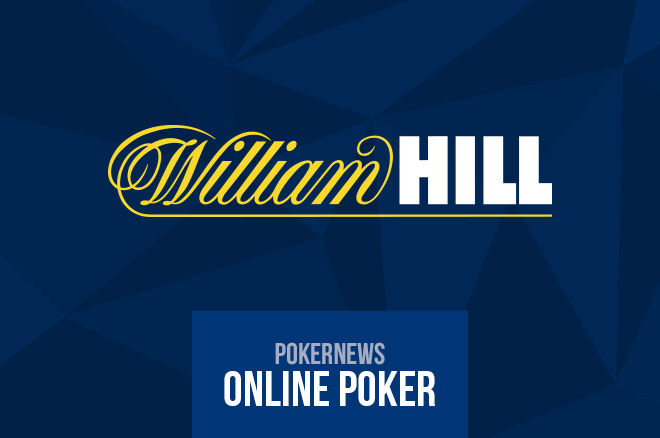 William Hill has reported a fall in net revenue of 1% to £1,590.90 million for its 2015 financial year despite a strong Q4 2015 performance.
Year-on-year, the online operation of William Hill saw net revenue increase by 4%, its USA-facing arm increase by 12%, and telephone betting improve by 5%, but its retail betting shops revenue fell by 2% and its Australian fall some 20%. Full operating profit is set to be in the region of £290 million, which is in line with market expectations yet substantially down on the £372.2 million reported in 2014, figures not helped by paying £87 million in additional UK gambling duties.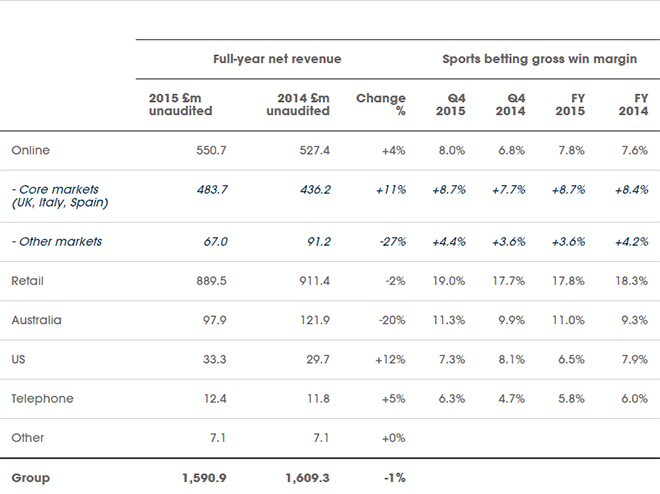 In a trading update to investors, William Hill revealed Andrew Lee is leaving his role of Managing Director Online to be replaced by Crispin Nieboer during 2016. The British gambling giant also announced Kevin O'Connor is joining the management team in the role of Group Chief Information Officer.
James Henderson, William Hill's Chief Operating Officer, said of the results and management changes:
"I am pleased that we have delivered results in line with the market's operating profit expectations for 2015. Online has seen some disruption around the implementation of Project Trafalgar but we are rapidly addressing that. I am optimistic the advantages that Trafalgar gives us will drive growth, particularly as we gain flexibility and increase our ability to differentiate. Retail has delivered another resilient performance, our US business continues to grow strongly and I am encouraged by the performance of the William Hill brand as the growth engine of the Australian business.
"Technology remains a key pillar of our strategy and the leadership changes announced today are about building a team who will deliver product innovations and continue to ensure technology is a major competitive advantage for William Hill. This will allow us to further build on our brand and scale, and be best placed to compete. I would like to thank Andy for his contribution in recent years and to wish him well for the future.
"Looking forward, 2016 is an exciting year for us. With EURO2016 ahead, we will capitalise on the investments we have made on Trafalgar, the SSBTs and the William Hill brand in Australia to bring customers a differentiated and more personalised William Hill experience"
GVC Revenue Soars as bwin.party Takeover Approaches
Earlier this week, GV Holdings gave the London Stock Exchange a trading update for Q4-2015 and it showed Net Gaming Revenue increased by 21.3% compared to Q4-2014.
Net Gaming Revenue for the year was up 10.2% on 2014's figures at €247.7 million, with sports wagers for the year amounting to €1.68 billion, an increase of 14.9% from the previous period.
Chief Executive of GVC Holdings plc, Kenneth Alexander, said he is delighted with the strong trading update and exciting for the takeover of bwin.party, which is scheduled for February 1, 2016.
"I am delighted to report yet another set of strong numbers as 2015 year ended very positively for GVC. The Board and I would like to thank all our staff for their hard work and continued focus. With the shareholders of both GVC and bwin.party digital entertainment plc ("bwin.party") having voted overwhelmingly for the acquisition of bwin.party on 15 December 2015 and with completion expected on 1 February 2016, and the enlarged GVC Group expected to be admitted to the Main Market on 2 February 2016, we are enthusiastic to commence the integration of the businesses and to continue to drive shareholder value for investors in the enlarged Group."