PokerStars Caribbean Adventure Retrospective: A Look at the Main Event Since 2004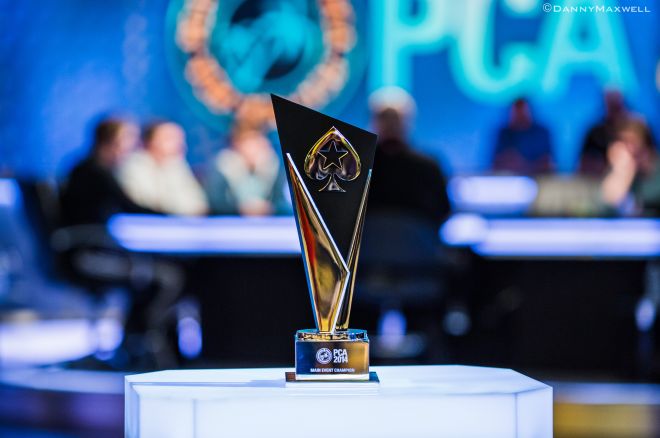 Following the "Moneymaker Boom" that caused a sweeping growth in the popularity of poker in 2003, the game began to spread like wildfire. Tournament series popped up here, there, and seemingly everywhere as the industry reset itself and adjusted to its new reality.
In early 2004, the World Poker Tour was in the midst of its second season and had already booked a successful event on international waters with the Party Poker Million II Cruise in Season 1. The WPT teamed up with PokerStars for another event on a cruise ship, and the PokerStars Caribbean Adventure was born, slotting in as the ninth tournament of Season 2 and the first of the 2004 calendar year.
In this latest retrospective, we'll look back at the PCA Main Event and see how it's evolved and which players have found success.
2004: Gus Hansen Earn PCA's First Crown
In one of our most recent retrospectives, we looked back at the WPT Five Diamond, the very first WPT event and one that was won by Danish star Gus Hansen. Amazingly enough, Hansen also shipped the inaugural PCA, which was in those days a $7,500 buy-in tournament. In his third WPT victory inside of two years, Hansen bested a field of 221 for a $455,780 first-place prize.
Hansen had to deal with some tough competition, as three other players whose faces would soon be familiar to poker fans everywhere made it to five-handed play. John D'Agostino got fifth for $99,450, future all-time money leader Daniel Negreanu got third for $192,270, and Hoyt Corkins fell to Hansen heads up and took home $290,065.
2005: John Gale Wins In First Career Live Cash
Seeing demand for the tournament growing, PokerStars moved the PCA to its now-permanent home at Atlantis Resort & Casino on Paradise Island in the Bahamas. The buy-in increased slightly to $8,000 for the second running of the PCA, and attendance shot up to 461 for a prize pool of $3,487,200, more than double the previous year's $1,657,500.
Again, a European man prevailed over an American, this time as England's John Gale topped Alex Balandin for $890,600. Balandin got $484,700 for second. The very first live cash of Gale's career is still the biggest as he's gone on to amass just under $3.8 million in winnings and collected two World Series of Poker bracelets.
2006: Paul-Ambrose Wins Largest Field Yet
The PCA continued the next season with essentially the same format, slightly dialing down the buy-in to $7,800. Attendance leaped again, this time to 724, for a prize pool of $5,647,200.
First prize would be seven figures for the first time in PCA history, and the $1,388,600 went to the first of two Canadian champions in the event's history. Steve Paul-Ambrose topped a largely anonymous final table, with bracelet winner and noted mixed-game player David Singer (third - $436,200) by far the most accomplished player.
2007: Ryan Daut Becomes First American PCA Champion
Poker's boom years continued to be kind to the PCA's numbers, as 2007 saw the field increase yet again to 937 entries for $8,000 apiece as part of Season 5 of the WPT. Of course, that meant another record prize pool of $7,063,042, with $1,535,255 earmarked for the winner.
Paul-Ambrose mounted a spirited defense of his PCA title but fell in 20th for $36,026. The story this year was American domination as Ryan Daut became the first American champion, with his countrymen sweeping the top 13 spots and 16 of the top 17. Daut defeated Isaac Haxton ($861,789) in a memorable heads-up battle, with Robert Mizrachi (fourth - $409,703) and Jonathan Little (fifth - $317,873) also making the final table.
2008: "ElkY" Wins After Event Switches from WPT to EPT
The second major shift in the PCA — after moving from sea to land — occurred in 2008 when the event was ported from the WPT to the European Poker Tour. Though it may seem a less natural fit on the surface as the Bahamas are just off the coast of the U.S.A., it's one that's proven to have staying power as it's remained on the EPT ever since.
The buy-in remained at $8,000, and a tournament monster would taste live victory for the first time as Bertrand "ElkY" Grospellier topped 1,136 runners for $2 million in prize money, still a personal record in a career that's seen him cash for just shy of $11 million. He has remained a staple of the EPT ever since, ranking fourth in career money earned on the tour with over $5.8 million.
2009: Nazari Wins Largest PCA Main Event First-Place Prize Ever
The unprecedented prize taken down by "ElkY" at PCA paled in comparison to the $3 million that would be awarded to first in 2009, still a record for the event. An increase in both field size (1,347) and buy-in ($10,000) saw the prize pool balloon to $12,674,000.
Poorya Nazari, a satellite qualifier whose biggest live score was under $30,000, became the second Canadian champ in PCA history when he beat Tony Gregg heads up. Gregg has gone on to have one of the most lucrative tournament careers in recent years with nearly $10 million in cashes, while Nazari has largely faded from view with just a handful of small cashes.
2010: Americans Shine at Final Table
The PCA continued to grow in 2010, drawing 1,529 runners for a prize pool of $14,831,300. The buy-in was goosed once more to $10,300, a number that would hold for the next few years.
Americans returned to glory as one of the tougher final tables in PCA history saw tough American pros finish in the top five spots. Ryan D'Angelo (fifth - $700,000), Ben Zamani (fourth - $1 million), Barry Shulman (third - $1.35 million), and Ty Reiman (second - $1.75 million) all grabbed big scores but it was Harrison Gimbel taking down $2.2 million as part of a flattened payout structure.
2011: Galen Hall Tops PCA'a Largest Main Event Field Ever
It would be fair to say the PCA peaked in 2011 as a record 1,560 entries created a $15,132,000 prize pool in the final year pre-Black Friday PCA that saw Americans able to qualify on PokerStars.
In a tournament that, like 2007, is remembered for a memorable heads-up duel, Galen Hall prevailed over fellow American Chris Oliver for $2.3 million in first-place prize money after laying down a straight when Oliver held a full house.
Former WSOP Main Event champ Chris Moneymaker also made a notable run in the tournament, finishing 11th for $130,000.
2012: Amateur John Dibella Beats Out Pro Kyle Julius
Like almost everyone else, PCA tournament organizers felt the pinch of Black Friday as the U.S. market had been a hub of online qualifiers due to its proximity and the opportunity to escape cold American winters for a sunny vacation in the Bahamas. Numbers plummeted to 1,072 in 2012, with the prize pool a shade under $10.4 million.
Gregg made a bid to finish what he came agonisingly close to doing in his 2009 second-place run, but he got sixth for $364,000. Xuan Liu busted fourth for $600,000, ensuring there would be a third straight American winner, and after Faraz Jaka went out third ($755,000), Kyle Julius and unknown amateur John Dibella made a deal heads-up, with Dibella winning $1.775 million and Julius taking second for $1.5 million.
2013: Danchev Wins After Numbers Dip Once More
Numbers dipped back to three figures for the first time since 2007 as 987 turned up for PCA in 2013.
The trend of American winners ended as Europe returned to the throne. It was Bulgaria's all-time money winner Dimitar Danchev who put a stop to things, as he beat Joel Micka ($1.19 million) heads up to lay claim to $1.859 million, about half of his career earning to date. Owen Crowe (5th - $435,000), Andrey Shatilov (6th - $325,000), and Ryan Fair (9th - $120,000) also made the final table.
2014: Dominik Panka Denies Mike McDonald Second EPT Title
A small resurgence hit in 2014 as the turnout rebounded slightly to 1,031 runners for just barely over $10 million in prize money.
Despite the increase, first-place winner Dominik Panka of Poland took home just $1,423,096 due to a three-handed deal. There are those who detest chopping, but if there's a time for a deal, it's when facing three-handed play with two of the world's finest tournament players, and that's what Panka was looking at in Mike "Timex" McDonald and Isaac Baron. The former officially got second for a little over $1 million, while Baron officially finished third but pocketed just over $1.2 million.
2015: The Quiet Kevin Schulz Makes Loudest Noise
The rebound of 2014 proved short-lived as 2015's PCA saw a drop to numbers not seen since 2006 as just 816 entries were logged for a prize pool of $7,915,200.
Canadian online crusher Shyam Srinivasan had finished sixth the year before for $328,020, and he again made the final table before busting 10th for $91,420. Praytush Buddiga (seventh - $203,420), Rami "arbianight" Boukai (sixth - $285,740), and Chance Kornuth (third - $641,140) all made deep runs but it was their fellow American, Kevin Schulz, who bested Diego Ventura of Peru ($907,080) heads up to claim $1,491,580 in first-place payouts.
Want to stay atop all the latest in the poker world? If so, make sure to get PokerNews updates on your social media outlets. Follow us on Twitter and find us on both Facebook and Google+!