Carl Pilgrim Interview: APAT Legend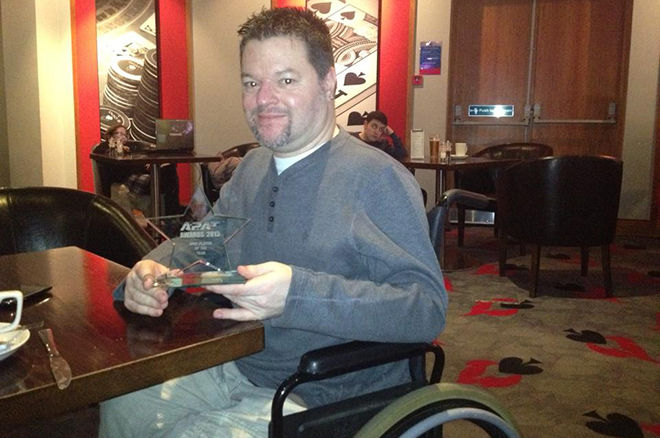 One of the appealing features of poker is that almost any person can play it. It doesn't matter if you're male or female, nationality isn't an issue, and able-bodied or physically impaired people can still enjoy the thrill of the game.
Carl Pilgrim, 45, falls into that final category, a talented and devoted poker player who happened to be born with Muscular Dystrophy, a hereditary and incurable muscle-wasting disease.
"I was born in 1971 in Colchester, and born with a type of Muscular Dystrophy (MD) called Limb-girdle Type 2i, which is basically a muscle wasting disease."
It became apparent that something wasn't quite right when Pilgrim was a child as his movements and development were slower and different to other children, but there wasn't much research into MD at the time so information about the condition was limited.
"During the past 20 years, they've made some major breakthroughs, but when I was diagnosed, it was a case of saying you have MD, and that was it."
The degenerative disease causes muscles to become weaker over time, often resulting in a person with MD needing a wheelchair for getting around.
"When I was younger I could walk, get up stairs, but at a slower pace than the other children. My form of MD affects my lower body muscles such as my legs and my hips, so I have a tendency of bad balance. I had a normal childhood, although without the running and playing football because that wasn't something I could physically do to a level that the other children could."
Doctors told Pilgrim that he had a form of MD called Becker's then changed their minds after more investigations, including a muscle biopsy. The same doctors told Pilgrim to expect to need the use of a wheelchair by the time he was 20. Pilgrim last 15-years more than the doctors predicted, putting this down to the fact he worked as a chef in a busy kitchen, which kept him extremely active, and physiotherapy.
"I lasted until I got to around 35-years-old and then I decided if I had a bad fall it would be worse for me, so I started to use a wheelchair. MD affects my arm muscles a bit more now, but it doesn't affect my brain or anything like that, but the muscles in my body are weakened, making things like dressing, etc. difficult."
Pilgrim's long-term partner and mother to his six-year-old daughter acts as his carer and is quite well-known to Pilgrim's friends, not least because she's often the butt of his daily jokes, which he posts on Facebook, although she knows it's all in jest.
Poker is now a large part of Pilgrim's life, particularly the Amateur Poker Association & Tour (APAT), but he has the games of pool and snooker to thank for discovering poker; he even used to play at the same club as current world number one, Mark Selby.
"I used to play snooker and pool to quite a high standard until I started finding it difficult to bend over the table. I had a lot of friends in the pool scene, and we also used to enjoy playing cards in the evenings and someone said that I should play poker online, but I'd never heard of it, and I wasn't very good at poker, but I created an account at Paradise Poker around 15-years ago."
Pilgrim found he had a knack for the game, and his enjoyment of the game started to increase, as it tends to do when you're winning more than you lose! As the player pools were smaller back then, Pilgrim remembers a lot of the names he used to tangle with on a regular basis, one of which is now one of poker's most recognisable names.
"I was playing NL200, and I always used to play against this person called "durrrr," who I later discovered was Tom Dwan! To be honest, he wasn't that good at the time because I found out in an interview with him a few years later that he was just starting out back then."
In 2006, Pilgrim won a package to the World Series of Poker (WSOP) Main Event at Bodog Poker, and although he didn't make it into the money places, it was an experience that has stayed with Pilgrim and one that made him determined to improve his poker skill set.
"To be honest, I wasn't that good back then, but I'd like to think if I had the opportunity again I would give a much better account of myself."
Being unable to work has left Pilgrim with more spare time, and he now plays more poker than he has done previous years. One of the reasons for his increased volume is due to his sponsorship with Bankroll Supply, a staking community owned by Paul Jackson, of which Pilgrim speaks highly. Pilgrim was accepted to Jackson's stable immediately thanks in part to his exceptional results on the APAT circuit, a popular tour aimed at recreational players and one that has one of the most family-like communities of any organisation.
Recently, APAT combed through its extensive database of results and created an All-Stars Top 200 ranking. Amazingly, despite a lack of volume in the live arena (due to needing assistance in some day-to-day aspects of his life), Pilgrim came out in 10th place from everyone who has ever played an APAT event and is currently the all-time leader regarding prize money won. He was also the first player to win two consecutive APAT Main Events that they've played.
Carl Pilgrim's APAT Results
| Season | Event | City | Field | Place | Winnings |
| --- | --- | --- | --- | --- | --- |
| 4 | WCOAP Omaha Championship | Nottingham | 71 | 6 | £150 |
| 5 | WCOAP Omaha Championship | Nottingham | 121 | 11 | £91 |
| 6 | ECOAP Stud Championship | Nottingham | 34 | 5 | £119 |
| 6 | WCOAP World Amateur Championship | Nottingham | 449 | 41 | £225 |
| 6 | WCOAP World Amateur Team Championship | Nottingham | 10 | 1 | £600 |
| 6 | APAT UK Amateur Championship | Stoke | 167 | 1 | £4,285 |
| 6 | APAT European Amateur Championship | Nottingham | 254 | 1 | £7,714 |
| 7 | WCOAP Antes Only Championship | London | 50 | 3 | £375 |
| 7 | APAT UK Amateur Championship | Nottingham | 251 | 15 | £334 |
| 8 | WCOAP PLO Hi Low Championship | London | 80 | 5 | £300 |
| 8 | WCOAP Shootout Championship | London | 66 | 3 | £445 |
One thing that stands out is Pilgrims love for the APAT community and their love for one of their more colourful characters. They'll all be meeting up on the weekend of January 30-31 for the UK Team Championship, where Pilgrim is captain of his team, in Luton.
Pilgrim has always been keen to give something back to the APAT community and raise awareness of muscular dystrophy. During 2012, Pilgrim won a £440 seat to a Genting Poker Series (GPS) that he gave away in a freeroll to APAT members in exchange for a small donation to the MD charity. A few months later, in April 2013, he did something similar when he won a seat to the International Stadiums Poker Tour (ISPT).
That typifies who Pilgrim is. A kind, generous, well-respected, and much-loved member of the poker community and one hell of a poker player. If you're in Luton this weekend, be sure to say hello to him, and if you want to read some quite appalling jokes on a daily basis, follow him on Facebook.
Carl Pilgrim, the APAT legend.