Six Spin & Go Millionaires In Just One Week at PokerStars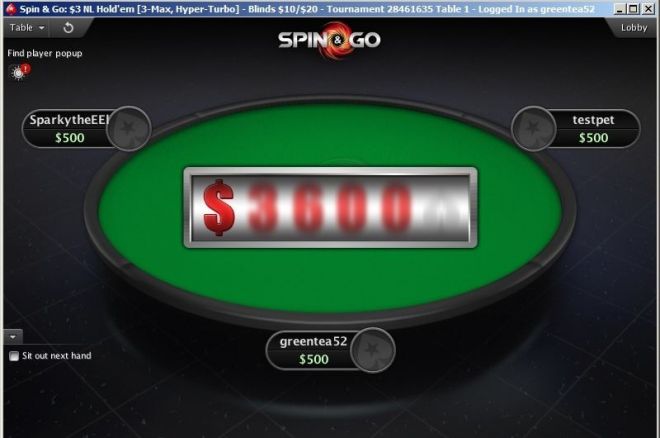 PokerStars, the world's largest real-money online poker room, has been awarding winners left and right in its popular Spin & Go games. In fact, shortly after introducing a top prize of $1 million in these games, the site has made six different players millionaires in one week.
For those of you not familiar with Spin & Go tournaments, the games are in a three-player hyper-turbo format where the prize pool is randomly determined. While most of the time entrants will be playing for two times the prize pool, but it is possible for dreams to come true and play for $1 million as well. Players that are lucky enough to play for the top prize, are guaranteed to win $100,000 with hopes of becoming an almost-instant millionaire.
The buy-ins for the games are offered at nine different price points: $0.50, $1, $3, $5, $7, $15, $30, $60, and $100. At the moment, even the low-stakes games provide the possibility of dreams coming true and randomly playing for $1 million.
The latest $1 million winner came in the early hours of Oct. 28, when a $5 buy-in Spin & Go randomly caused celebration for the three players in the tournament. After just 12 minutes of play, Australia's "ifipushud325" outlasted Germany's "ModusPonen7" and Russia's "FlyEko" to quickly become a millionaire. Although his two opponents weren't able to secure the top prize, they still walked away with a six-digit prize of $100,000 just for being randomly selected to play for the game's top prize.
Here is a look at the other $1 million winners during the record-breaking week:
| Date | Player | Country | Buy-in |
| --- | --- | --- | --- |
| Oct. 26 | "handbt1" | Germany | $5 |
| Oct. 26 | "barrakuuda4" | Estonia | $100 |
| Oct. 25 | "prophethicks" | England | $5 |
| Oct. 22 | "wrawras" | Brazil | $100 |
| Oct. 21 | "Samara Lúcio" | Brazil | $5 |
PokerNews' Sarah Herring was interviewing Director of Poker Communications at PokerStars Lee Jones in Malta where the latest European Poker Tour (EPT) is taking place when the news hit about the sixth winner. Jones was excited that this past week had more $1 million Spin & Go winners than the entire previous year.
"We've actually had six [$1 million winners] this week as opposed to five in the previous year," stated Jones.
It appears Spin & Go tournaments are here to stay as they have proven to be very popular by both recreational and professional poker players alike. Jones elaborated on this by sharing with Herring that, "We've been running an average of 2.8 million Spin & Gos per week, and we've awarded over $3 billion in prize money in the Spin & Gos."
You can check out the full interview with Lee Jones in the video below:
Image courtesy of PokerStars.
Get all the latest PokerNews updates on your social media outlets. Follow us on Twitter and find us on both Facebook and Google+!