Isabelle Mercier Joins Tonybet Poker, Launches Strategy Series on PokerNews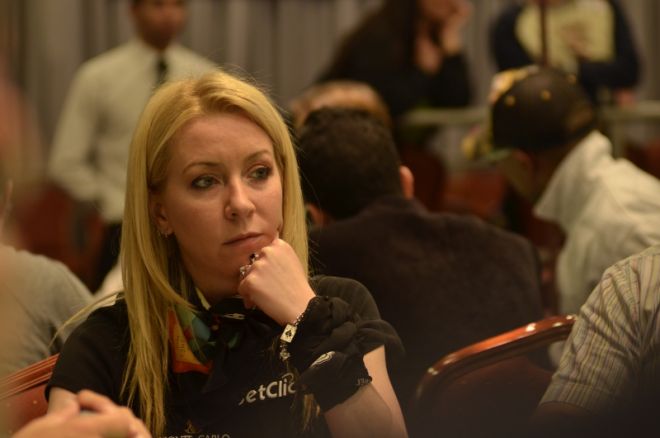 The world's largest open-face Chinese (OFC) poker room, TonyBet Poker, recently added Isabelle "No Mercy" Mercier as its newest team member. In light of this news, Mercier also began providing PokerNews an exclusive series of OFC strategy articles.
Mercier has already released two articles on PokerNews as part of an extensive series about OFC strategy, including Open-Face Chinese Poker by Isabelle "No Mercy" Mercier, Part 1: OFC Poker Basics.
Both articles not only provide a great introduction to the game and precious hints for some of the more seasoned players of the game. Future articles are expected to give recreational and hardcore players a better feel for the game.
Mercier commented to PokerNews readers in the opening article that, "In order to maximize my knowledge, I did some research on OFC, and since the available material is scarce, here is my personal little guide to the game. Over the next few weeks, I'll go over the history of the game, basic rules, starting strategy advice, recommendations for every OFC format (pineapple, progressive, and 2-7), anecdotes from players, and finally, some more advanced strategies. Enjoy the Fantasy Ride!"
Mercier is one of the most well-known female poker players for over a decade, amassing over $1,216,830 in live tournament cashes according to The Hendon Mob. Her best live tournament performance came in April 2009, when she won the winner-take-all European Poker Tour Charity Event for €260,000 ($341,862) at Monte Carlo Bay Hotel & Resort.
Back in 2004, Mercier received her "No Mercy" nickname by Poker Hall of Fame member Mike Sexton after she won the Ladies Night Out — WPT Invitational for $25,000 at the Bicycle Casino in Los Angeles. Although this was over a decade ago, players at Tonybet Poker and readers at PokerNews should expect her to deliver no mercy in her play or in her writing of OFC poker strategy articles.
Mercier is understandably excited about becoming a Tonybet ambassador. In addition to representing OFC to the world, she will also be hosting a weekly tournament on the site.
"Just as Giorgio Moroder knew that the synthesizer would be the sound of the future, I am more than convinced that OFC is the game of the future, and the Tonybet Poker site is totally innovating by offering this form of poker in cash games and tournaments," Mercier commented in an interview after joining Tonybet Poker as the site's latest ambassador. "That's why I am really proud to join the Tonybet Poker team and to be part of this adventure. Now, all I need to do is to spread my passion with the world, so people can fall in love with this game as much as I did!"
Mercier maintains she has had an avid love of OFC for many years, well before it was available online at Tonybet Poker.
"My history with OFC goes a long way back, way before you could actually play it online," commented Mercier. "But it's the new pineapple fantasyland variation that brought me back to OFC, therefore I naturally landed on Tonybet Poker. This new form of OFC is so exciting and refreshing. This is what the poker world needed."
She also added that since being introduced to the game, she is less likely to play other forms of poker due to the amount of action on each and every OFC hand.
"Personally, since I have discovered OFC, I'm much less inclined to play regular poker, as this new game is so much more exciting!" explained Mercier. "You get to play every hand, you're always thinking, time goes by without you seeing it! We are very far from a poker table where we play 2-3 hands per round."
Mercier also loves OFC due to the ever-changing and quickly developing poker formats. She commented about some of the new OFC formats stating, "I got hooked on the game really quickly, and then went on to discover the progressive variation, which I liked even more than the original. And then... I started to play in 2-7 format, and realized how often you actually make it to Fantasyland in this variation. So it became my favorite game, I play it all the time; I can go for hours non-stop. Which reminds me of my first years in poker… It has been a long time since I felt this way for a card game!"
You can play alongside Isabelle Mercier at Tonybet Poker, while learning from her some of the best strategies for the many different types of OFC games exclusively on PokerNews.
Get all the latest PokerNews updates on your social media outlets. Follow us on Twitter and find us on both Facebook and Google+!