2015 WSOP Europe 888 Hand of the Day: Barny Boatman Needs a Miracle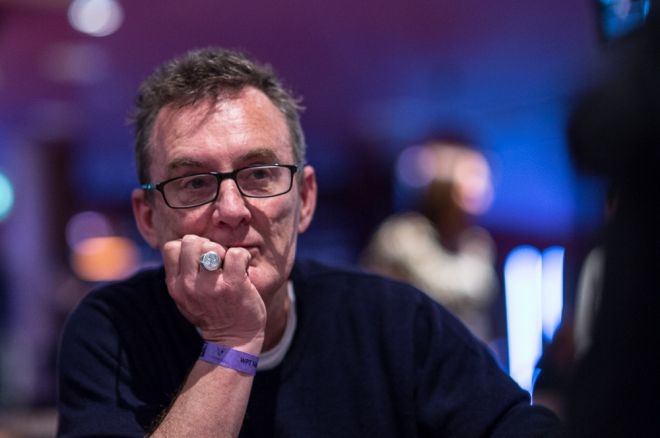 The 2015 World Series of Poker Europe continued in Berlin, Germany, Monday with Day 2 of Event #3: €3,250 Eight-Handed Pot-Limit Omaha.
PokerNews was on hand for all the action and will be in Berlin for the duration of the 17-day series. As a part of our coverage, that is brought to you by 888poker, we will be bringing readers a special "888 Hand of the Day" every single day throughout the entire WSOP Europe schedule.
With just 12 players remaining midway through the day, Canadian WSOP bracelet winner Mike Leah was ripping through the field and had built himself a massive stack and healthy chip lead.
Playing at two six-handed tables, fellow WSOP bracelet winner Barny Boatman was in the middle of the pack, looked down at




and made a decision to loosen up a bit.
"I decided it was time to open up my range of hands," Boatman told PokerNews. "So I called under the gun. As soon as I had done it, I asked myself, what have I done this for? I haven't been playing hands like this all day. But I hadn't limped under the gun the entire day, so I wanted to see a flop. I fancied playing it and frankly, it was the best thing I'd seen in a while."
Leah came along for the ride from the button and the blinds did as well. The flop came



and it checked to Leah, who bet 12,000. The blinds passed, but holding both flush and straight draws, Boatman decided to check-raise, making it 58,000.
"I know that a lot of the time he's betting the position and he doesn't need that much to do it with," explained Boatman. "So a lot of the time a check-raise is going to take it and if it doesn't take it, I'm prepared to get it in."
Leah was going nowhere and bet pot, with Boatman then getting it in for the 184,500 left in his stack. Leah showed




, having flopped middle set.
"Obviously there are a lot of hands I'm going to be in a lot worse shape against," said Boatman. "If he had bigger hearts with his set, for example. And then he's got a tough decision with middle set. We're both very deep and I'm going to play top set the same way."
With all the money in the middle, the turn came the

, giving Leah a full house and leaving Boatman drawing as good as dead, with just one card in the deck that could save him.
"I'm walking away thinking. 'why did I pick this time to open up my range?'" he said. "I'm left with a single card in the deck and I didn't expect to see it, but there it was."
The

miraculously turned up on the river, giving Boatman the straight flush, a double up to a spot near the top of the counts, and the 888 Hand of the Day.
While he rode a wave of emotions throughout the hand, and the outcome was rather exciting, in the end, Boatman said it was really just a flip.
"In the end it was a race," he said. "Often what happens in Omaha is you get it in in races, top set versus a flush draw or a wrap, and it runs out a funny way. In the end, when you look at what the prices were when the money went in, it was just a cooler. Ace-king against queens really."
Boatman would soon give a lot of those chips back to Leah in a similar spot where his straight and flush draws missed and eventually he bowed out ninth, bubbling the final table.
Regardless, the affable UK native left with a smile on his face.
"I love this city," he said. "I love Berlin. If you ever get knocked out, you're in one of the three greatest cities in Europe in my opinion, along with Madrid and London."
As the 2015 WSOP Europe rolls on, be sure to stay tuned to PokerNews for continued coverage, including regular 888 Hand of the Day articles.
Get all the latest PokerNews updates on your social media outlets. Follow us on Twitter and find us on both Facebook and Google+!