Former Manchester United Star Roy Keane Sues Paddy Power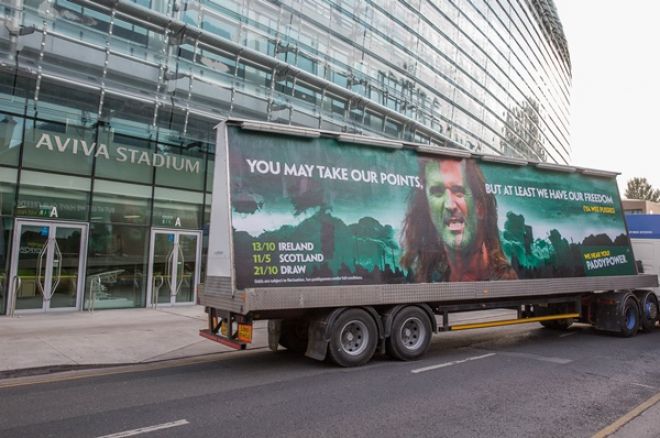 Irish bookmaker Paddy Power is embroiled in a legal row with former Manchester United and Ireland football star, Roy Keane.
Keane, the current Republic of Ireland assistant manager, took offence at a match-day bill board that Paddy power created which depicted Keane as William Wallace from the 1995 hit film Braveheart, claiming the advertisement infringes his image rights.
Paddy Power placed the billboard on the back of an articulated truck close to the Aviva Stadium on the day of the Euro 2016 qualifier where the Republic of Ireland faced Scotland, a match that ended in a one-one draw.
It's with the lawyers, so obviously we can't talk about it, but hopefully they won't take our freedom to have a bit of craic
The billboard was a reference to Scotland rejecting independence in a referendum in September 2015 and showed the message: "You may take our points but at least we have our freedom (ya wee pussies)."
Keane filed a High Court action in Dublin on Monday and has hired A&L Goodbody to represent him.
A spokesman for Paddy Power said to The Irish Times: "It's with the lawyers, so obviously we can't talk about it, but hopefully they won't take our freedom to have a bit of craic."
This isn't the first time, nor will it be the last, that Paddy power has found itself in hot water over its advertisements.
In March 2014, the UK Advertising Standards Authority rapped the Irish gambling giants when it offered to return bets to customers if South African Olympian Oscar Pistorius was found not guilty of murdering his girlfriend Reeva Steenkamp. The advertisement attracted a record 5,200 complaints from the public.
Then in June 2014, in the run up to the 2014 FIFA World Cup, Paddy Power leaked an image that appeared to be a good luck message to the England football team created by felling of trees in the Amazon rainforest. Although this turned out to be fake, the advertisement initially caused outrage in both the gambling and non-gambling communities.
More recently, a TV campaign poking fun at the influx of foreign owners of Premier League clubs showed a team of footballers dressed in Middle Eastern robes tripping over their clothes with a mock commentary team describing the kit as "not too Abu Shabby" and saying how "new owners can really sheik things up sometimes."
Even if Keane wins his case, it is unlikely to stop Paddy Power pushing the boundaries of taste with its advertising. It is, after all, what the company is infamous for doing.
Lead image courtesy of Joe.ie
Get all the latest PokerNews updates on your social media outlets. Follow us on Twitter and find us on both Facebook and Google+!