The Online Railbird Report: Nearly $750,000 Losses For Phil Ivey This Week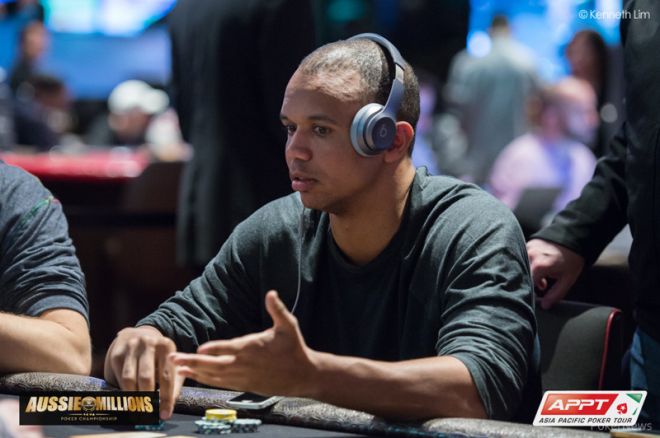 With the 2015 World Series of Poker in full swing, many of online poker's biggest names have opted to get out from behind their computer screens and venture to the scorching Nevada desert. However, one man who has yet to make the journey is Phil Ivey.
In last week's Online Railbird Report, we mentioned that Ivey was still in Macau and putting in some time on both PokerStars and Full Tilt. He even took down PokerStars' biggest pot of the year, but ultimately lost $285,762 last week.
Well, things didn't get any better this week as Ivey dropped $719,135 in 3,350 hands over six sessions, which was more than enough to make him the week's biggest loser. Others who finished in the red were "asthma" (-$161,184 in 10 sessions/3,102 hands), Ben "Sauce123" Sulsky (-$115,385 in 12 sessions/936 hands), and Viktor "Isildur1" Blom (-$87,484 in 4 sessions/392 hands).
As for the week's biggest winner, that was likely Cort "thecortster" Kibler-Melby, who was the beneficiary of Ivey's misfortune. Unfortunately, Kibler-Melby has opted out of having his results tracked, so exact numbers escape us. As it is, "fjutekk" gets credit for topping the weekly board with $118,054 in profit, which came from 3,397 hands over 15 sessions. Not far behind was Ilari "Ilari FIN" Sahamies, who was $113,609 winner in 1,507 hands over 17 sessions.
Phil "OMGClayAiken" Galfond is at the 2015 WSOP and says "nosebleeds have gotten a lot worse." Read what he had to say by clicking here.
Kibler-Melby Gets the Best of Ivey in a Big Way
Last weekend, Phil "RaiseOnce" Ivey and Cort "thecortster" Kibler-Melby put in some hours at PokerStars' $1,000/$2,000 2-7 triple draw tables. On Saturday, June 6, the duo played more than 1,600 hands at a single table, which lasted half the day. Within the first four hours, Kibler-Melby pulled out to a $300,000 lead, but somehow Ivey managed to get a bunch back before logging off a $115,000 loser.
Then, on Sunday morning, they were back at it for another 13 hours, during which time Kibler-Melby took Ivey for a massive $411,000! Oh, but it got even better. After a short break, Ivey returned for more punishment, and Kibler-Melby obliged by relieving the 10-time bracelet winner of an additional $110,3000 in 86 hands. According to HighStakesDB, that put Kibler-Melby up $521,800 over the weekend while Ivey was down $637,130.
Sahamies Tops the Daily Leaderboard in Back-to-Back Days
On Wednesday, June 10, Ilari "Ilari FIN" Sahamies finished as the biggest winner of the day with a modest $37,500 in profit, which came after playing two hours of $100/$200 pot-limit Omaha on PokerStars. On Thursday, he captured the title again, this time by winning $127,300 playing the same game.
The majority of that — $86,100 to be exact – came from 105 minutes against Joao "jricardosc" Fernandes, which is where the biggest pot of the day went down. It began when Sahamies ($48,693.09) raised to $600 from the button and Fernandes ($37,201.48) three-bet to $1,800. Sahamies responded by four-betting to $5,400, Fernandes called, and the flop came down



. Fernandes led out for $10,798 and then called off his stack after Sahamies raised to $43,192.
Sahamies:





Fernandes:




Fernandes was ahead with two pair, but the

turn and

river run out ended up giving Sahamies a bigger two pair. Ship the $74,402.96 pot to the Finn.
The Biggest Pots of June Thus Far...
Seeing it was a rather slow week on the virtual felt, we thought we'd take a look at the three biggest pots of June thus far, all of which took place at the $200/$400 no-limit hold'em tables on Wednesday, June 3. Check them out.
Hand #1: At a three-handed table, Phil "RaiseOnce" Ivey ($98,800) raised to $1,000 from the button, "OtB_RedBaron" ($204,769.12) raised to $4,288 from the small blind, and Alex "Kanu7" Millar ($130,241.39) folded the big. Ivey called, and then called a bet of $7,625.35 on the



flop.
When the

appeared on the turn, Ivey called a bet of $14,775.23 and then called off his last $72,111.42 after "OtB_RedBaron" moved all in on the

river. Ivey tabled the


for a flopped two pair, but he watched the $198,000 pot pushed to "OtB_RedBaron," who tabled the


for Broadway.
Hand #2: In the same game, Millar folded the button and Ivey ($98,918.07) raised to $1,200 from the small blind, which "OtB_RedBaron" ($107,759.55) called from the big. The



flop saw action explode as Ivey led out for $1,600, "OtB_RedBaron" raised to $5,012.95, and Ivey three-betting to $18,400. "OtB_RedBaron" just called and then called a bet of $28,000 on the

turn.
When the

completed the board on the river, Ivey moved all in for his last $51,318.07 and "OtB_RedBaron" called to create a $197,836.14 pot. Ivey tabled the


for a full house, but it was no good as "OtB_RedBaron" had made a bigger boat on the turn.
Hand #3: In a heads-up match, Millar ($137,704.46) limped the button and then called when Ivey ($63,762.88) raised to $1,200. Both players checked the



flop, and then Ivey checked the

turn. Millar bet $791.34, Ivey check-raised to $3,600, and Millar called to see the

river.
Ivey returned to checking, Millar bet $14,397, and Ivey check-raised all in for $58,962.88. Millar called with the


for a ten-high straight, but it was no good as Ivey held a jack-high straight with the


. Ship the $127,525.76 pot to Ivey.
Biggest Winners/Losers from June 5-10
| Winners | Profit | | Losers | Loss |
| --- | --- | --- | --- | --- |
| "fjutekk" | $118,054 | | Phil "RaiseOnce" Ivey | $719,155 |
| Ilari "Ilari FIN" Sahamies | $113,609 | | "asthma" | $161,184 |
| "Debline_Ucho" | $60,425 | | Ben "Sauce123" Sulsky | $115,384 |
| Jens "Jeans89" Kyllönen | $45,515 | | Viktor "Isildur1" Blom | $87,484 |
Year's Biggest Winners/Losers
| Winners | Profit | | Losers | Loss |
| --- | --- | --- | --- | --- |
| "bbvisbadforme" | $965,770 | | Viktor "Isildur1" Blom | $1,681,816 |
| Ben "Sauce1234" Sulsky | $743,015 | | Phil "Polarizing" Ivey | $1,227,809 |
| Viktor "Isildur1" Blom | $678,530 | | Phil "RaiseOnce" Ivey | $953,315 |
| Ilari "Ilari FIN" Sahamies | $553,306 | | "Sanlker" | $925,239 |
| Elior "Crazy Elior" Sion | $533,902 | | "natalie724" | $508,015 |
| Ike Haxton | $479,211 | | Dan "w00ki3z." Cates | $497,599 |
Data, hands, and replayer obtained from HighStakesDB.com
Get all the latest PokerNews updates on your social media outlets. Follow us on Twitter and find us on both Facebook and Google+!