Sunday Briefing: Big Scores for Combes, Trigg and Spinks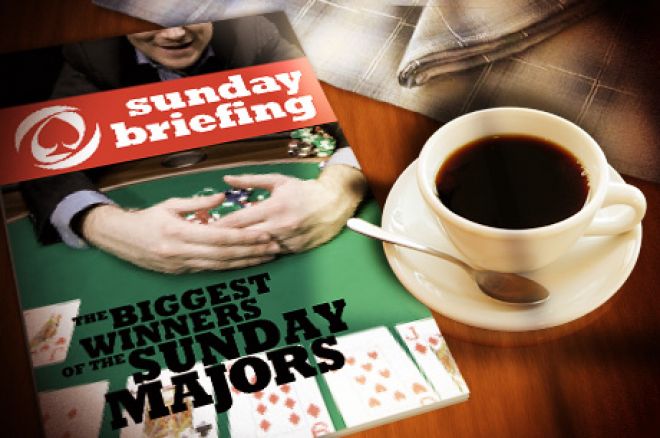 It's easy to forget that the online poker world is still turning during World Series of Poker (WSOP) proceedings, but some of the players mentioned in this week's Sunday Briefing won't forget it in a hurry.
The biggest score had by one of our players this weekend weighed in at an impressive $89,712.09, which was the prize collected by "JaMmYsTyLe7" when he finished third in the PokerStars Sunday Million.
Looking at JaMmYsRyLe7's past results, it appears he is a low-stakes player who has had varying degrees of success, but this Sunday will go down as one of the best in his career because in addition to winning that huge sum of money, he also finished third in The Bigger $33 and walked away with $4,566.23 after a four-way chop.
Two of the UK's most prominent stars were involved in chops this Sunday, too. Charlie "JIZOINT" Combes chopped The Bigger $162 then finished second to collect $27,531.01 while Rick "ThEcLaiMEer" Trigg finished second in the Sunday Supersonic for $29,005.68 after a three-way deal.
Rounding out the high-stakes action at PokerStars was Jon "LUFCBas" Spinks' fourth place finish in the Sunday 500 that banked him a cool $23,653.75.
Of course, it is not only the high stakes tournaments at PokerStars that yield huge scores because their mid-stakes events, particularly on a Sunday, also award big prizes.
"A PINKFreud?" won the Hotter $55 after a three-handed deal and collected $15,644.72, while "fuzzybrush" finished in fifth place in The Bigger $55 for an $8,298.12 addition to his bankroll.
James "jamesg777" Graham is now $9,031.54 richer after becoming the runner-up in The Hotter $33 and Dan "judgedredd13" Charlton collected $7,089.61 after busting in fourth place in The Bigger $75.
There were also some solid results over at Full Tilt where "milli89uk" won the Turbo Multi-Hundo for $10,509.00 and Mat "checktrap11" Cuthbertson won $12,600.00 for his fourth place finish in The Sunday Major.
Also boosting their Full Tilt roll were the likes of "PhilRoyal888" who finished in third place in the Super Sized Sunday for $8,160.00, Ireland's "fishhookn1" who finished in seventh place in the same event for $2,354.10 and "Flop_Me_HappyOK" who came fourth in the Big Ben for $3,535.56.
Lastly, congratulations to "babazee1" who collected $13,620.00 for his third place finish in the 888poker $100,000 Mega Deep and a mention for Marc "icallyamet" Wright who finished in fifth place in the $50,000 Turbo Mega Deep for a $3,397.20 score.
Get all the latest PokerNews updates on your social media outlets. Follow us on Twitter and find us on both Facebook and Google+!