Five Thoughts: 25K Fantasy Draft, WSOP Colossus, WPT Schedule, and More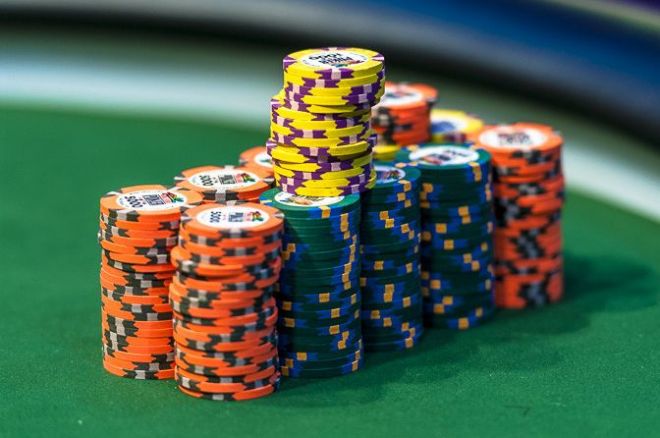 For me, summer is synonymous with poker. That means cross-country flights, or road trips, to Las Vegas; late-night sessions in a game that's just too juicy to leave; sweating friends and fantasy players deep in tournaments; and cursing off your losses when Martin Jacobson misclicks from under the gun at the unofficial final table of the World Series of Poker Main Event.
Yes, summer and poker go together like a Southern California driver and a brand new, leased Tesla.
Even before my group of friends was of age we spent our summer nights in basements and at kitchen tables, playing silly games like Follow the Queen and Criss Cross. Our poor parents must've cringed when it was their turn to host the poker game, especially on a week night, because bad beats were usually accompanied by friendly verbal spats. Those of us who worked summer jobs pulled many an all-nighter to play in these games.
Thankfully, by my senior year of high school, I had graduated to pushing shopping carts outside of the family-owned grocery store in our small New Jersey town. The job paid the same as a cashier or bagger, but instead of interacting with customers and working non-stop I was able to throw my iPod on (yes, iPod) and corral the carts at a leisurely pace.
For me, summer will always be synonymous with poker. So, whether you're playing in cash games in tournaments, sweating your friends while they grind, or simply living vicariously through your favourite professional poker players in Vegas, enjoy it. We won't be able to do this again until next year.
1. 25K Fantasy Draft
Thanks to the wonders of advanced telecommunication, and Skype, I was able to join PokerNews Editor-in-Chief Donnie Peters remotely for the 25K Fantasy draft. If you didn't catch it, PokerNews Podcast co-hosts Jason Somerville and Remko Rinkema covered the action on RunItUp.tv. Let me quickly say that it's an honor to have Jason back on the podcast this summer, and dammit Remko's beard is glorious.
Going into the draft, Donnie and I were quite confident. We've been studying the league's format for years, we were robbed of a cash in 2014, and this year we compiled more data than ever. Our Google Doc was something that you would find in a PhD thesis for Advanced Statistics. We quickly purchased our top two players, Phil Hellmuth and George Danzer, for much less than we anticipated.
One of our theories as to why Hellmuth tends to go for a smaller amount ($38 in 2011, $50 in 2012, $88 in 2013, and $54 in 2014) is that players just don't respect his game. Many of the poker players that draft teams are terrific cash-game players who would lick their lips if Hellmuth sat down at one of their high-stakes mixed-game tables. Even his tournament play is unorthodox, but somehow it works. Since the 25K Fantasy league was launched in 2011, Hellmuth is the leading scorer by more than 40 points per year.
The sample size is small, but if you expand it to include previous years, then Hellmuth stands to benefit. It's not like he captured all 13 of his bracelets this decade, and he's the all-time leader in WSOP cashes.
Danzer, like Hellmuth, has been very consistent over the last few years, and is very strong in all of the games. We also love Danzer and Hellmuth because they really, really care about doing well at the WSOP. When others might punt a 10-big blind stack after a long, frustrating day, these two will grind it out and do whatever they can do chip up. That type of mentality goes a long way.
The rest of our squad looks like this (grades provided by the great Mickey Doft from his recap article):
| Player | Price Paid | Grade |
| --- | --- | --- |
| 1. Phil Hellmuth | $81 | A- |
| 2. George Danzer | $86 | B- |
| 3. Chris George | $8 | B |
| 4. Adam Friedman | $10 | B- |
| 5. Shannon Shorr | $1 | A |
| 6. Richard Ashby | $1 | B |
| 7. Bart Hanson | $1 | B |
| 8. Dominik Nitsche | $1 | A |
It was difficult to spend that extra $18, because players like Dylan Linde, who we thought was a terrific sleeper, were going for $26 and up. Luckily, we nabbed Chris George and Adam Friedman, two very strong stud players, using that extra cash.
Our biggest scare of the night was Richard Ashby. According to our data, he was the 11th-ranked player available, but no one threw his name out and we didn't know his schedule. We got him for $1, and after the draft we were told that he just had a child.
We thought we were Alexander Kostritsyn'd, but then a day or two later Ashby was spotted in the O8 tournament. Thank goodness.
Now, all we have to do is sit and wait. And pray. And hope that no one misclicks on the bubble of the November Nine.
2. Colossal Hubbub
We, as a society, are so good at reacting, and social media has only amplified this ability. Anytime there is a big moment on television that involves a bit of unintentional comedy, the gifs and Vines come rolling in. Take Roxanne Chalifoux, who went from senior piccolo player at Villanova to global Internet meme. For a few brief seconds, after her school was eliminated from the NCAA Tournament as a one-seed, CBS caught Chalifoux crying while playing the Wildcats' fight song.
A few days later, she was on The Tonight Show with Jimmy Fallon, among other programs.
We are experts at consuming new information and exploding with our opinions, regularly swinging from one extreme to the next.
So, when the WSOP announced the Colossus prize pool on Sunday, and the first-place prize was less than $1 million, there was a lot of this:
Personally, before the tournament began, I thought the first-place prize in the Colossus was going to be north of $1.1 million. A total of 22,000 entries felt right, and 10 percent of an $11 million prize pool is $1.1 million. The WSOP opted to flatten the payouts in order to beef up the prizes awarded to the players who bust in the middle stages, resulting in a first-place prize of $638,880.
There are many valid reasons for flattening the pay structure. Spreading the wealth amongst a field of mostly amateurs is a good thing for the poker economy, because it creates return customers and ensures a more positive experience for more players. If someone finishes in 594th place, turning $565 and a dream into $5,000, there's a good chance they're going to reinvest a good chunk of that money into another tournament or even a cash game. Not all of the money will return to the WSOP either, which is good because we want these players to spread the wealth in their local cash games and tournaments as well.
From a player's standpoint, I can certainly understand the frustration with the smaller first-place prize. When you're in a tournament, only one thing matters: First place. If you don't aspire to be the last player standing, winning every single chip in play until your sitting behind a castle of checkers cheesing for photographs, then you're in the minority. Or you're Allen Kessler. Even the first-time players, who have been saving up all year for their one and only shot, lose sleep at night during a tournament because they're envisioning the mountains of cash they'll be presented once they win.
However, poker is a long-term game. Sacrificing tomorrow's successes for today's headlines is a losing strategy.
Rather than freak out about the prize pool debate, which has valid points on both sides and is at least somewhat subjective, let's look at things that actually deserve pointed criticism. The late waves in Colossus were horrible for amateur players who didn't know about or were unable to pre-register. Nothing says "WSOP experience" like sitting down at a table in the poker kitchen with 12 big blinds after waiting for hours to get a chance to play your first, and likely only, tournament of the summer. Running events around Colossus was a huge disservice to first-time players, and I'm sure many of the players who waited in long lines will take their business elsewhere moving forward. There were also cash tables running in the Pavilion room when the Colossus began, sometimes up to 16 of them, according to Rinkema. It feels as though all space should have been made available for the Colossus and its players.
The long lines continued during the payout process, thanks to a computer issue. According to Chad Holloway, more than 1,000 players were unable to get paid for several hours, including those who were scheduled to fly out early Monday morning. Professionals who will be in Las Vegas can pick up their money whenever, but this large field of mostly amateurs needed to get paid immediately.
Some good, some bad from Colossus. The event met expectations, with a few bumps along the way.
3. World Poker Tour Announces Season XIV Schedule; Kicks Off WPT500 at ARIA
Season XIV of the World Poker Tour began on May 1 with the partypoker.net WPT Canadian Spring Championship, where Sheraz Nasir topped a field of 370 entries to win $197,025, and now the entire first-half schedule is available. The WPT made history right after Nasir's win with WPT Amsterdam, the first Main Tour stop ever in the Netherlands, and for the first time will be taking the WPT Champions Cup to Choctaw Casino Resort, Maryland Live!, and the Europe-bet.com Poker Room in the country of Georgia.
WPT Choctaw is the first televised event of Season XIV, and we've seen massive fields on the WSOP Circut in Durant, Oklahoma. In January, Ray Henson topped a massive field of 4,053 entries in a $365 buy-in ring event, earning $197,588. T.J. Cloutier, yes, that T.J. Cloutier, finished runner-up for $122,040. WPT Maryland Live! should also attract a massive field, with poker booming in the DMV. There are a ton of great notables that hail from the Atlantic Region, including Greg Merson, Christian Harder, and Champions Club member Tony Gregg.
Overall, the WPT will hit 19 countries on four different continents over the next seven months, including Montenegro, Austria, South Africa, China, the Philippines, and South Korea, to name a few.
On Sunday, the second-annual partypoker presents: WPT500 at ARIA Resort & Casino kicked off, featuring a $2 million guaranteed prize pool. Day 1a attracted 333 entries, with the top 40 players earning a minimum of $750. The top 29 players pocketed $1,000, and the 17 players that bagged earned an $800 bonus along with a ticket to Day 2 and a shot at a minimum first-place prize of $260,000. Day 2 resumes on July 5, and there are nine more starting flights including Day 1b and Day 1c on Monday and Tuesday, respectively.
Among the players who cashed but failed to reach Day 2 were Season XI WPT Player of the Year Matt Salsberg and Season VIII WPT Player of the Year Faraz Jaka. Both Robert Salaburu and Loni Harwood booked their tickets to Day 2, locking up the $800 bonus.
4. SCOOP Recap
The 2015 Spring Championship of Online Poker is in the books, and throughout the virtual festival Jason Mercier crushed. The American spent his days in Amsterdam with Kyle Julius following the season-ending EPT Grand Final, winning three SCOOP tournaments, all of them in the high variant.
The Team PokerStars Pro locked up 22 cashes, reaching six final tables and earning a total of $319,323.55. For his efforts, Mercier topped the SCOOP overall leader board, winning a 2016 PCA package and $10,000 in cash.
Thanks to his big victory in the SCOOP-H Main Event, Mustapha Kanit walked away with the most money during the online festival, banking $1,315,619.99. That number represents more than 15 percent of all of the United Kingdom's earnings (while Italian, Kanit relocated to the UK in order to compete on the dot-com sites).
Canada led the way with $9,445,987.21 in earnings during SCOOP. Russia ($5,374,131.74) was the only other country with more than $5 million.
The highlight of SCOOP for me was Event 35-M, where Remko finished runner-up for around $18,000. While I couldn't rail Remko on my mobile (thanks, Obama), I was sweating his updates in a text chat and trying to cheer him on whiel traveling from Trinidad to California. After he busted, we fired up an emergency PokerNews Podcast to discuss his great run:
5. Checking Off the Bucket List
Thanks to Blaycation, a group of players from across America was able to travel to Las Vegas and compete in the WSOP, checking off an item from their bucket list.
Making dreams, however small, come true is awesome in itself, but knowing that those dreams are tied to poker make this story even better. Sarah Grant followed the group around Sin City as they experienced Las Vegas and the WSOP:
Get all the latest PokerNews updates on your social media outlets. Follow us on Twitter and find us on both Facebook and Google+!