Will the 2015 WSOP Main Event Field Size Increase or Decrease Over 2014?

Donnie Peters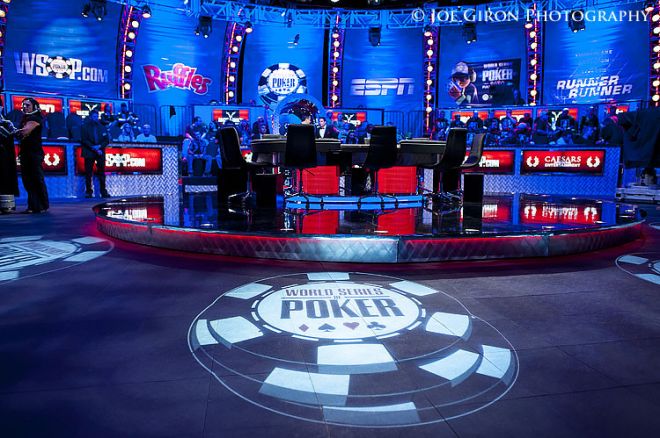 There's no doubt that the World Series of Poker Main Event is the world's greatest poker tournament, but with greatness comes great responsibility, and oftentimes immense scrutiny. It's the event that sparked the poker boom with the fairytale emergence of Chris Moneymaker, and we've been dissecting every bit of it every year since.
While we can arguably gauge how poker's ecosystem fares by analysing events throughout the year, it's never until the results of the WSOP Main Event are realized that final determination is made. If the field size increases, then poker is in a great place and thriving. If the field size decreases, then officials, media, and players are scrounging to find the answer to one question — what happened?
Last year, the WSOP Main Event attracted 6,683 entries — a welcomed increase over the 6,352 entries from one year prior. Heading into 2014, the field size in poker's "grand daddy of them all" suffered declining numbers over a three-year period starting with 2011.
They say hindsight is 20/20, and while it's often much easier to look back on something and retroactively apply reasoning, predicting what's to come can be just as intriguing. So, what's going to happen this year?
Do You Bet Against the Streak?
The amount of entrants in the WSOP Main Event saw impressive increases from 2003 to 2006, but then it went up and down between 2007 and 2011. Starting in 2011, the field size declined slightly for three years, but it was then infused with more than a five-percent increase last year. Interestingly enough, these changes aren't completely unpredictable.
Since 2012, main events at the five majors — the PokerStars Caribbean Adventure, Aussie Millions, World Poker Tour, European Poker Tour, and WSOP — have shared similar trends — all were down in 2012 and 2013, then up in 2014. Leading into the 2015 WSOP, the four other majors have had main events with a smaller field size than the year before.
Furthermore, changes in the field size of the WSOP Main Event have mirrored the ones for the Aussie Millions Main Event going back to 2008. In fact, the Aussie Millions Main Event field, preceding the WSOP Main Event each year on the poker calendar, has represented 9.9-11.7 percent of the WSOP Main Event field size from 2007 to 2014. Basically, multiply the Aussie Millions Main Event entries by 10 and you'll get WSOP Main Event entries.
| | PCA | AM | WPT | EPT | WSOP |
| --- | --- | --- | --- | --- | --- |
| 2005 | 461 | 263 | 453 | 211 | 5,619 |
| 2006 | 724 | 418 | 605 | 298 | 8,773 |
| 2007 | 937 | 747 | 639 | 706 | 6,358 |
| 2008 | 1,136 | 780 | 545 | 842 | 6,844 |
| 2009 | 1,347 | 681 | 338 | 935 | 6,494 |
| 2010 | 1,529 | 746 | 195 | 848 | 7,319 |
| 2011 | 1,560 | 721 | 220 | 686 | 6,865 |
| 2012 | 1,072 | 659 | 152 | 665 | 6,598 |
| 2013 | 987 | 629 | 146 | 531 | 6,352 |
| 2014 | 1,031 | 668 | 328 | 650 | 6,683 |
| 2015 | 816 | 648 | 239 | 564 | --TBD-- |
As you can see from the table above, the numbers don't lie, and the trends have all matched up since 2012. Some would argue that last year's rise was due to the WSOP implementing a $10 million guarantee on the Main Event's first-place prize, but it likely had much more to do with a positive turn in the overall poker economy evidenced by trends from the other events. Last year, that positive turn can likely be attributed to the return of a lot of Full Tilt money to players.
For 2015, the statistics say there will be a decrease, as the prior four majors have seen a decline in their main event field sizes. Plus, the Aussie Millions Main Event, which best reflects what will happen to the WSOP Main Event from the sample, was down just under three percent. It wasn't a small drop off, but a drop off is a drop off.
As the old gambling saying goes, never bet against the streak, right?
Payouts Changes Hope To Buck the Trend
Despite the trends working against it, the WSOP has implemented a couple of changes to the Main Event payout structure in hopes of injecting positive growth.
After the WSOP originally announced the Main Event would feature the same $10 million guaranteed first-place prize, customer feedback sparked the officials to make a change. Instead, the event will now guarantee that the top 1,000 places reach the money, as long as the event attracts a minimum of 5,000 players. A move to pay closer to 20 percent of the field should certainly do its part to entice amateur players to take a shot, as their chances of cashing will be greater. Last year's field of 6,683 players paid the top 693 spots, or just over 10 percent. With 1,000 places paid out, that's an extra 300-plus players who will receive a return on their investment and this could be huge for the growth and future of the game.
The second change is that, given a field size similar to last year, the final table will all receive a $1 million payout. The last time the WSOP Main Event final table saw all of its competitors receive at least $1 million was in 2009. In 2010, ninth place received $811,823, and then in 2011 ninth place took $782,115. In 2012 and 2013, the two bottom spots, eighth and ninth place, were awarded less than $1 million, but then in 2014 just one spot took home less than a seven-figure payday.
So far, we've got the trend working in favour of a decrease, but changes to the payout structure working in favor of an increase.
Too Many Other Options?
Now, whereas the WSOP seems to be working for growth of the event with payouts changes, one may question whether other changes and additions to the full WSOP summer schedule will take away from the Main Event's performance.
First, there are more "Main Event-light" events this year — there's the $565 Colossus with a $5 million guaranteed prize pool, the $1,500 Millionaire Maker with $1 million guaranteed to first place, the $1,500 Monster Stack, the $1,500 Extended Play No-Limit Hold'em, and the $777 Lucky 7s. With the Monster Stack and the Extended Play events specifically, they provide a Main Event-like structure with the chance to play for a big first-place prize, but for a fraction of the $10,000 Main Event price.
You may even lean to include the $1,500 DraftKings 50/50 event that will pay the top 50 percent of the field. Like the Main Event extending payouts to the top 1,000 spots, will amateurs see this event as a great shot at their own WSOP glory and pick it over the Main Event? For many players, especially amateurs, the ultimate dream is winning a WSOP event, but even just cashing is held very, very high.
If you're an amateur player looking to come out to the WSOP to take your shot on poker's biggest stage, do you give yourself a discount by playing one of these "Main Event-light" events and hold off on splurging for a $10,000 buy-in to the Main Event? That's a very, very interesting question leading into the summer.
What Do the People Think?
Last, but not least, we wanted to see what the players thought. PokerNews polled 250 poker players of various skill levels, from expert professionals to home-game warriors. We asked each person one question — do you think WSOP Main Event field size will increase or decrease from last year's 6,683 entrants?
Of the 250, 165 (66 percent) said they anticipate an increase in field size, whereas 85 (34 percent) said they think it will decrease. That's just under a 2-1 ratio in favor of the field size increasing, so there is a positive outlook coming from the community.
As for members of the PokerNews staff, it's split right down the middle, with the same amount of people anticipating an increase as a decrease — five to five on the scorecard.
Again, it looks like things are dead even. In addition to the trends, the entire WSOP schedule providing so many other options for players seems to work in favor of a decrease. On the other side, in addition to the changes to the payout structure, you've got the community in favor of growth.
What do you think? Select increase or decrease from the poll and give us your reasons why in the comments section below!
Get all the latest PokerNews updates on your social media outlets. Follow us on Twitter and find us on both Facebook and Google+!