Scott "Aggro Santos" Margereson Discusses His Sunday Million Win and More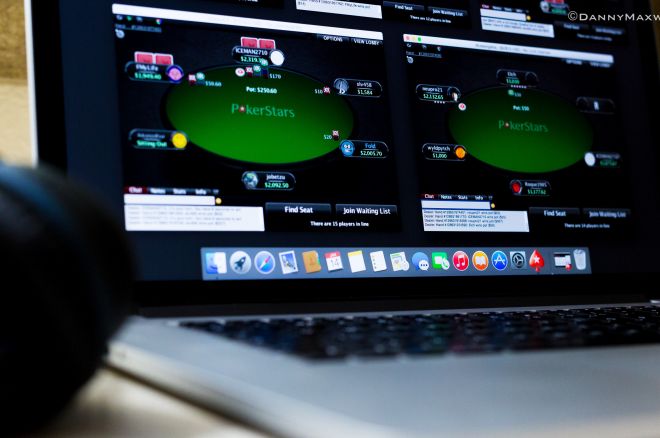 On April 26, Scott "Aggro Santos" Margereson racked up his first big tournament cash in 2015 when he was the last man standing in the Sunday Million on PokerStars, shipping $194,479.
Originally from England, Margereson currently resides in Playa del Carmen, Mexico, where he grinds both ring games and tournaments online. Despite now focusing a bit on ring games, Margereson ranks 41st place on the PocketFives Worldwide Rankings, and in fourth on the United Kingdom Rankings, just behind Oscar "MendaLerenda" Serradell, Patrick "pleno1" Leonard, and Jareth "jareth3542" East.
Margereson made a name for himself in the online poker tournament world when he not only won the PokerStars WCOOP-18: $320 NL Hold'em [Turbo, Zoom], $400K Guaranteed on Sept. 12, 2014 for $106,896.51, but then two days later he also took first place in the PokerStars WCOOP-22 [Sunday Warm-Up SE]: $215 NL Hold'em, $1M Guaranteed for $202,000.
PokerNews sat down with Margereson to get his reaction to his recent win, along with what his plans are during the Spring Championship of Online Poker beginning this weekend and the 2015 World Series of Poker (WSOP).
PokerNews: How did you feel about winning the PokerStars Sunday Million? How does did this win compare to your success during the WCOOP, when you won two tournaments for a six-figure payday each within three days?
Scott Margereson: Winning the Sunday Million felt good, but not as much as the WCOOP. This is just because the WCOOP only comes around once a year, plus the amount of variance involved in the Sunday Million is just enormous. I think it's pretty obvious how lucky I have been in multi-table tournaments in the last eight months.
Tell us a bit about the tournament. Was it smooth sailing the entire time or did you run into difficulties along the way?
I had a big stack pretty much from the money until there were around 12 players left, and it was pretty steady the entire way. I won more than my fair share of all ins, but I also just managed to win lots of small pots because raises just get through very often when deep in that tournament.
What was the final table like? Was there anyone there giving you any problems?
Nobody at the final table gave me any problems, really. I believe there were only a couple of regs, but none of them really did much. I think my opponents were lower-stakes regs, too, so they probably weren't as fortunate as I have been to be in a similar position a couple of times before.
I think it's easy for those kind of guys to not take the spots they usually would, because the money is so large. But hopefully if they get the chance again they will be better equipped because of this final table. Also, I remember watching the replay, and I think the guys I thought were regs made a couple of small mistakes, but they didn't do anything terrible either.
Was there ever a discussion about chopping?
A few people at the time were pushing for a deal, but I never intended on dealing at any point.
What was it like winning you first and then second WCOOP? Which one was more fulfilling?
Winning the first WCOOP felt the best, since it was my first six-figure score and it was my first "title," so to speak. But the second WCOOP win was a little more fulfilling. Getting a score in a turbo doesn't mean that much to me just because of the amount of variance involved. I think I had less than 14 big blinds for the entire final table in the first one.
We understand even though you are ranked 41st in the world in online tournaments according to the PocketFives Worldwide Rankings, that you play mostly ring games during the week. How has your success been in ring games, does the experience there help you when it comes to playing tournaments? What adjustments do you have to make when playing the two different poker formats?
The first six months or so of playing ring games started off great. I have never produced a great volume because I obviously play tournaments on Sundays, and also occasionally on Tuesdays and Thursdays. I also have spent a lot of time studying.
I would say that for the first six months I was 50/50 between studying and playing. My results this year in ring games have not been great thus far. I am in the middle of a pretty annoying, albeit standard, downswing. I am on the way out, but there is still some way to go because I have moved down in stakes until I recoup some confidence in my game.
As for your question about how my experience in tournaments helps in ring games, honestly I don't think it does much. I think it will help a lot during the SCOOP high events, with stacks being deep throughout. I expect to have one of the largest edges in the field. However, on your average Sunday, I don't think it helps much at all.
Many cash regs will be playing SCOOP, and just assume they are gonna have bigger edges than the tournament players will, and this just isn't true. Admittedly, the majority of tournament players play poorly, particularly post flop. But when it comes to understanding the tendencies of other tournament players, and things such as ICM and short-stacked poker with less than 20 big blinds, a lot of cash regs make big mistakes.
What are your plans for SCOOP? Do you plan to play most of the schedule and take a break from ring games?
I think I will be playing full tournament sessions for the duration of SCOOP. Hopefully, I won't get sick of it early on, as there is pretty much only one day I plan on taking off.
What about Las Vegas this summer? Any plans to hit the WSOP this year?
Yeah, I am going to be in Vegas for five to six weeks. I am hoping I don't get sick of that one, too (laughs). I plan on taking a break from Vegas somewhere in the middle and then travel somewhere else in the US for a few days to break it all up a bit.
What poker players have been helpful to your success on the poker felt?
I credit a lot my my tournament success to my old backer and coach, Elio "smokrokflock" Fox, and also to Jonathan "apestyles" Van Fleet. I wouldn't be here without them I don't think.
As for cash-game success, I would have to credit my good friend Donald "D7o1d1s0" Rae, who pointed me in the right direction in a lot of spots when I first made the switch. He's not known so much in the tournament world yet, but has been working on his tournament game a little the last few months, so i wouldn't be shocked to see him do something big in the tournament world in the future.
Get all the latest PokerNews updates on your social media outlets. Follow us on Twitter and find us on both Facebook and Google+!