Five Brits To Watch at the 2015 World Series of Poker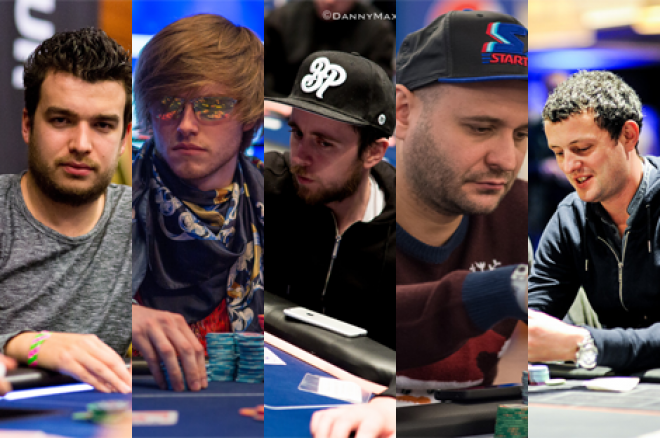 Can you believe that the 2015 World Series of Poker kicks off today? It seems like only yesterday that the Rio All-Suite Hotel & Casino was awash with poker players chasing their dream of winning a gold bracelet. But here were are, about to embark on another WSOP and although ever-so-slightly biased here at UK & Ireland PokerNews HQ we think this could be the year of the Brits.
It's a shame that I have to narrow down my list of players to watch to a more manageable five because it means that I have to cross off some extremely talented players who have a legitimate shot of glory in Las Vegas, but five is a nice number for these sort of things so five players we shall take a look at.
It would be easy to list the top five players in the UK Global Poker Index (GPI) or to mention players who are going to play a massive schedule but this year I'm going with a complete mixed bag. Let me know what you think.
Chris Moorman
Although I don't have confirmation that Chris Moorman is heading to the WSOP, it is more likely that Phil Hellmuth won't have a rant than Moorman not showing up in Las Vegas.
The former online world number one is in hot form right now having won his record 25th PocketFives Triple Crown and seems to be going deep in tournaments for fun. His record at the WSOP is also solid with two runner-up finishes, a third place and a fifth place.
Last year's WSOP didn't exactly go to plan for Moorman, who cashed once, but I have a sneaky feeling that Moorman is in the zone right now and that spells danger for anyone unfortunate enough to have to face him.
Charlie Carrel
Charlie Carrel is one of the hottest talents in poker right now and one who could make a huge impact in Sin City. I probably sound like a Carrel fan-boy but that's because I am genuinely excited about seeing him in action against the softer-than-average fields that the WSOP conjures up.
The only downside I can think of is that this is the youngster's first Vegas trip and that fact could give him a lot of distractions, yet I still think he's got a mature head on his shoulders and is determined to grab some gold.
I tipped Carrel to win the European Poker Tour (EPT) Grand Final €25K High Roller and he proved me right and took it down. He's my tip for the $111,111 One Drop event, which if it comes true you owe me a pint Mr Carrel!
Patrick Leonard
Like Moorman, Patrick Leonard is a former world number one in online poker circles and this fact alone will stand him in good stead for the coming series. According to his social media channels, Leonard is spending two months in Vegas for the WSOP so hopefully most of that will be spent playing poker and showing the world that he can reproduce his online form in the live arena.
Leonard only has one previous cash at the WSOP, that coming in 2013 when he came 106th from 2,100 in a $1,000 event. Expect a handful more results from the Hungary-based Brit by the time this summer is out.
Roberto Romanello
Before I planned on writing this article I was considering adding Roberto Romanello to it, then I saw he's secured some sort of sponsorship deal with MatchRoom and that solidified his entry for me.
Romanello, an EPT and World Poker Tour (WPT) champion, has had a five-figure score at every WSOP (or WSOPE) since 2011 and I fully expect that to continue in 2015. The Welshman may not play as many live events as he once did, but that could work for him as he'll be refreshed and ready to become the latest Triple Crown winner.
Another thing in Romanello's favour is the new deeper stacks which I believe will suit his style of play. Shame I won't be in Vegas for the Triple Crown party!
James Akenhead
James Akenhead is another player who isn't confirmed as going to Vegas but the word around the camp-fire is that the former November Nine member has got the taste for tournament poker again and could be heading out to the WSOP to play a few events.
Anyone who knows Akenhead knows he's a phenomenal player and one who hit some horrific variance a couple of years ago. Here's hoping that Akenhead does travel to Nevada and kicks variance square between the legs and returns home with a big score.
As mentioned at the start of this article, there are close to 50 names that I'd like to have thrown out there but these are my five which include a couple of long shots, but who doesn't love a punt? I can't wait for the series to start and I'm sending good luck vibes to all the Brits who are playing at the 2015 WSOP – bring back some gold boys and girls!