Major Changes Ahead For Sky Poker TV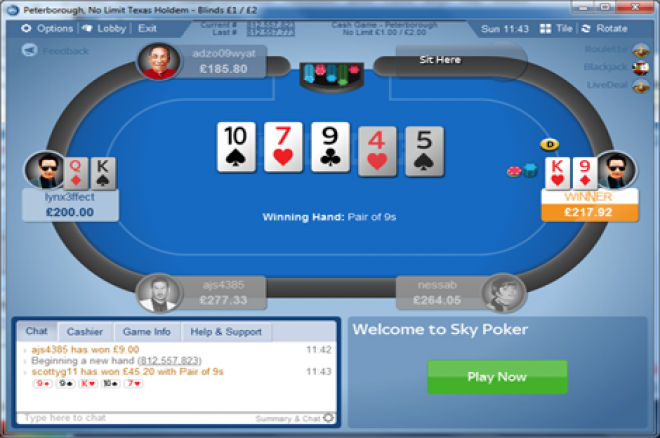 An announcement on the vibrant Sky Poker community forum on Monday revealed that the popular Sky Poker TV channel is undergoing some major and immediate changes, the most significant being the cessation of broadcasting its 24/7 channel.
Part of the forum post reads:
Following the recent news that Sky Betting & Gaming is to become an independent company, we have been reviewing the Sky Poker channel. Although we will still be part owned by Sky and will still work closely with them, effectively we will be a separate company and that affects how we can run the channel commercially and legally.
The poster then goes on to state that Sky Poker TV is going to continue, but "in the very near future" it will cease to operate the TV channel (channel 861 on Sky) and stop the online live stream, too. This will happen as early as the end of the current week according to the post.
It appears that the new Sky Poker TV strategy is to focus on producing more pre-recorded content such as the UK Poker Championships, educational content and special features such as the Julian Thew documentary that proved popular with viewers.
The Sky Poker community is a close knit one and the TV channel is extremely popular with them, so you can imagine that this news has been taken badly.
Sky Poker regular "TommyD" says losing the TV channel is a "losing the biggest method of attracting new players" and that this "feels like a break away from grass roots poker, an area Sky Poker was easily the UK leader in."
Tony "Tikay" Kendall, one of the Sky Poker presenters, entered the discussion to put the minds of the community at rest and he explained that the move is not really a cost-cutting exercise as some claimed in the thread, reiterating that the recent changes to the company affects how they can run the channel commercially and legally.
It is a real shame that the current live shows look set to disappear from our screens because there have been some golden moments. The likes of Kendall, Lisa-Marie Long, Ryan Spittles, Joe Stapleton and the plethora of guests and analysts created some fantastic television and they will be sorely missed.
CVC Capital Partners purchased an 80% stake in Sky's gambling business in December 2015 for £600 million. Part of the deal allows Sky Bet, Sky Vegas, Sky Casino and Sky Poker to continue using the Sky brand name, but that is as far as the affiliation with Sky goes.
Get all the latest PokerNews updates on your social media outlets. Follow us on Twitter and find us on both Facebook and Google+!