Five Thoughts: Cash in the Poker Room, Ravee's Revenge, and More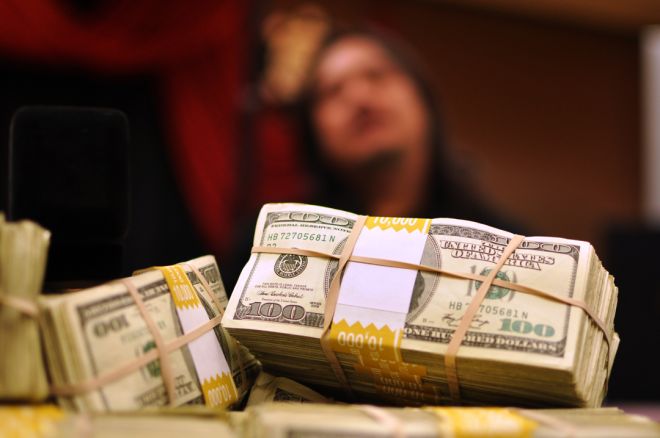 Raise your hand if you were nervous the first time you sat down to play poker at a casino. I was, but then again I get nervous when I enter a building and there is a person trailing me and I don't know whether or not to hold the door for them because they're about 10 feet away and moving sluggishly.
Seriously, that scenario makes my skin crawl on a daily basis.
Poker is an individual game, so when you play at a casino for the first time, no one is incentivised to help you learn or become comfortable. As poker players, their task is to take every dollar you put onto the table, so it's actually beneficial if you're a nervous newcomer. The dealer is tasked with protecting everyone at the table by enforcing a set of rules that governs all players, but he or she won't always go out of their way to make a new player feel welcome.
Playing poker in a casino for the first time isn't nerve-wrecking because the game changes. You still are dealt two cards — or however many cards are dealt in your game of choice — and the rules of the actual game remain the same. The difference is the social interaction at the table.
In your home game, it's all good. You're kicking it with your boys or girls, throwing back a few adult sodas and playing some cards. Online, you don't need to worry about any social interaction whatsoever. You can sit there in your underwear (shout out to Chris Grove) and scream at the top of your lungs every time you hit a miracle card or suffer a bad beat.
There are no consequences, unless you are streaming on Twitch (shout out to StickyRice1).
In a casino, you are surrounded by strangers who may be there to have a good time, but ultimately want to take your money. The economic implications of a game of poker create an extra level of awkwardness that you won't find at a pickup basketball game, for example. If you're playing ball at the park and some team whoops your ass up and down the court, it's no problem. After the game you shake hands, share a few laughs, get something to drink, and check it up again.
In poker, when you get your ass whooped, you lose hard-earned money. No one wants to work all week only to lose a paycheck to a two-outer on the river, and if they do get two-outed, please don't try and dap them up and tell them "good game."
A poker room isn't the most welcoming environment, unless you're stumbling around with flags falling out of your pockets, and even then it's a tainted embrace. So, we as players, fans, or industry workers should try to improve these experiences as much as possible. In the short term, creating a more positive environment can propel the economic success of live poker. More importantly, in the long term, it can help grow the game we love to watch, play, discuss, and more.
Last week, it was reported that MGM Resorts will no longer allowed cash to play at poker tables on their properties, which I believe will benefit most players.
1. No Cash for You
Last Friday, the aforementioned Chris Grove reported on Online Poker Report that MGM Resorts, including Las Vegas properties MGM Grand, ARIA Resort & Casino, Bellagio, The Mirage, Mandalay Bay, Luxor, Excalibur, and Monte Carlo, will no longer recognise cash at poker tables starting on April 1.
According to Grove, MGM offered no explanation. PokerNews spoke with Caesars, looking to gauge if this would affect summer cash games during the World Series of Poker, and the company said that procedures are "currently under review for 2015."
Allowing cash to play at the table can be convenient. Players who enter the game can play right away, purchasing a stack from a neighbour or just using bills. Cash also reduces the amount of physical chips that enter a pot, making counting, splitting, and pushing pots simpler. Having bills on the table can also save a trip to the cage after a session, because you can sell your stacks to a player at the table with bills.
These conveniences are nice, but they are accompanied by many possible headaches. Money laundering, while likely rare, is one of them. Most players don't walk around with a marker or a blue light in order to examine bills at the table, nor should they need to. If a player is offered a counterfeit bill in exchange for chips, there are very few defences in place. In turn, the casino can be hurt by these transactions, as their chips are being traded for fake bills.
Again, my evidence is limited as to how frequent these fraudulent exchanges are made, but the presence of bills makes them possible.
It's also easier to hide and/or "go south" with bills. All it takes is a quick hand and a deceptive mind, and viola, the money is off the table or hidden under a stack or under the rail. When the time comes to bring it back, you do so. It's much more difficult to execute this with chips.
There's also in-hand issues with cash. Counting stacks of chips takes practice, but it can be done. Counting a stack of bills that are adjacent to, under, behind, or leaning on chips is very difficult. Asking for an amount isn't always secure either, because players can lie or miscount.
To me, sacrificing a small bit of convenience to avoid the possibility of counterfeiting, angle-shooting, and other shenanigans is totally worth it. This is a great decision by MGM, and I'd like to see it implemented in other properties around the world.
2. From Sixth to First
Ravee Mathi Sundar recorded his first cash at the World Poker Tour Bay 101 Shooting Star, according to Hendon Mob, finishing sixth for $168,260. Five days later, he reached yet another WPT final table, this time winning WPT Rolling Thunder for $266,857, which includes a seat into the season-ending WPT World Championship.
Final Table Results
| Place | Player | Hometown | Prize |
| --- | --- | --- | --- |
| 1 | Ravee Mathi Sundar | Dublin, CA | $266,857 |
| 2 | Jesse Rockowitz | Petaluma, CA | $176,018 |
| 3 | Taylor Paur | El Dorado Hills, CA | $113,154 |
| 4 | Harrison Gimbel | Jupiter, FL | $83,818 |
| 5 | Rex Clinkscales | San Antonio, TX | $62,864 |
| 6 | Jeff Griffiths | Alameda, CA | $50,291 |
Taylor Paur, winner of the WPT Bay 101 Shooting Star, also reached back-to-back final tables, but was unable to pull a Darren Elias or an Anthony Zinno. Yes, had Paur won WPT Rolling Thunder, he would've been the third back-to-back winner in Season XIII, a feat that had only been accomplished previously by Marvin Rettenmaier.
Paur did win the California Swing, earning a special prize package for the Season XIV California Swing.
Sundar made some questionable plays at the final table, but always seemed to bounce back from them. The most crucial hand of the night came when Paur ripped three-handed with ace-ten and Sundar called with ace-queen and held. That hand not only ended a marathon three-handed affair, but it also gave him a near 4-1 chip lead entering heads-up play. The software engineer from Dublin, CA, took care of WSOP bracelet winner Jesse Rockowitz in four hands, winning the WPT title.
A true amateur, Sundar spoke with me on the phone right after his win and refused to refer to himself as a champion.
"I was very happy to finish sixth at Bay 101, that by itself is a great achievement," Sundar said. "I'm just a beginner. I feel humbled to be a part of the big leagues."
Like Zinno on the PokerNews Podcast, Sundar simply didn't categorise himself with his fellow Champions Club members. Maybe when he sits back this weekend and reflects on the last week, he can truly celebrate his accomplishments.
I'm excited to see Sundar compete in the WPT World Championship next month at Borgata, where, whether he likes it or not, he will be shoulder-to-shoulder with some of poker's greats.
3. Urbanovich Wins EPT Malta High Roller
The festivities are under way on the Mediterranean, and Dzimitry Urbanovich is a lot wealthier. The Polish native more than tripled his lifetime career earnings on Friday, winning the €25,500 buy-in EPT Malta High Roller for €572,300. Urbanovich defeated American Connor Drinan heads up, who earned €397,800 and now boasts more than $2.8 million in career lifetime tournament earnings.
If you recall, Drinan was the victim of this brutal aces-versus-aces hand during the $1 million BIG ONE for ONE DROP.
Final Table Results
| Place | Name | Country | Payout |
| --- | --- | --- | --- |
| 1 | Dzmitry Urbanovich | Poland | €572,300 |
| 2 | Connor Drinan | USA | €397,800 |
| 3 | Daniel Dvoress | Canada | €263,000 |
| 4 | Nick Petrangelo | USA | €205,900 |
| 5 | Dani Stern | USA | €166,000 |
| 6 | Piotr Franczak | Poland | €129,400 |
| 7 | Sam Greenwood | Canada | €102,400 |
| 8 | Martin Finger | Germany | €79,800 |
Nick Petrangelo also reached the final table, bowing out in fourth place and taking home €205,900. At the time of writing, Petrangelo ranks fifth in the Global Poker Index Player of the Year race. With this finish, he will likely leapfrog Zinno, who is ahead of him by less than 20 points, and perhaps even land at No. 2 behind only Scott Seiver.
The action heats up in Malta this weekend with the first annual Global Poker Masters. I'm taking America to win it all. I'm partially biased as a Yank of course, but just check out this absurd roster:
| Player | Lifetime Earnings | Current GPI Score | GPI Ranking | GPI National Ranking |
| --- | --- | --- | --- | --- |
| Bryn Kenney | $5,629,986 | 3,510.52 | 8 | 4 |
| Olivier Busquet | $6,103,517 | 3,121.65 | 18 | 8 |
| Dan Smith | $8,864,612 | 2,643.87 | 55 | 30 |
| Vanessa Selbst | $10,614,397 | 2,235.49 | 111 | 65 |
| Isaac Haxton | $9,487,646 | 1,732.19 | 219 | 106 |
Good luck, world.
4. More Full Tilt Payments
If you didn't receive your Full Tilt money at the start of 2014, and you are an eligible customer who previously contacted the Garden City Group, you may be among the approximately 3,500 petitioners who are about to receive a total of $2.8 million.
Last year, the GCG returned $82 million in player funds.
Payments are expected to be issued by the end of this month, and once again, the GCG will first send a test transaction of $0 to test bank accounts. The transactions will appear as "Full Tilt Poker Claims Administration."
Some petitioners will receive a reduced payment if they have a delinquent debt qualifying for collection through the Treasury Offset Program. According to the GCG: "A notice will be sent to these Petitioners in the upcoming weeks and will include a Unified Financial Management System Vendor Request Form, which must be completed by the Petitioner in order to receive the balance of his or her payment."
To read the entire notice from the GCG, click here.
While the sum of this repayment is roughly three percent of the first, it's still encouraging to see that the GCG is still working hard to transfer the fed's take to those who are owed. Not too long ago, Full Tilt balances were being sold on the open market for lower than face value, and many individuals had no hopes of ever recouping their funds.
The process has not been perfect, and many of my friends struggled to communicate with the GCG, but when this wave is completed nearly $85 million will have been returned to the players. That's a pretty big win in my opinion, even if the feds are dipping into some of these repayments in order to pay off debts.
If you are unsure whether or not you are among the players in this next wave, please reopen your communications with the GCG. Good luck to anyone who is still waiting for the money they deserve.
5. Smoke Show
According to this week's Inside Gaming, Harrah's New Orleans is looking for some special treatment from the city council.
In January, the New Orleans City Council voted unanimously to ban smoking in the city's bars, restaurants, and other public buildings, like casinos. The ban is scheduled to take effect on April 22.
Harrah's, whose representation previously stated that the property could see as much as a 20-percent decline in revenue due to the ban, issued a press release on Wednesday, announcing its intention to request a smoking section.
If granted this exception, the casino will "offer programs to make patrons and employees aware of the dangers of smoking and programs to quit smoking."
I wonder what the maths are if you were to remove smoking and, possibly, increase the life span of your customers. Would that even work? Some of them might take smoke breaks outside, or simply smoke in transit or at home, but I'm assuming you might bring in some new, non-smoking customers without the constant haze of cigarette smoke.
Coming from a family of smokers — both of my parents thankfully quit after my grandmother died of lung cancer, because there is no more powerful catalyst than the realisation of mortality — I know what it's like to be around smoke all of the time. My folks only smoked in the garage and on the deck while at home, but it still stunk.
Banning smoking indoors doesn't exactly ban smokers, and I'm not sure I would trust numbers that are presented by the company in their effort to maximise profits for the company. Remember when Chris Christie said online gaming would bring trillions (exaggerating here) of dollars to New Jersey in the first year?
If you include customer health, the long term effects of banning smoking certainly outweigh the short term economic losses. Hopefully the New Orleans City Council doesn't budge on this one.
Get all the latest PokerNews updates on your social media outlets. Follow us on Twitter and find us on both Facebook and Google+!