Mark Sanders Wins Sell Out APAT European Championship

Tom Brady

Matthew Pitt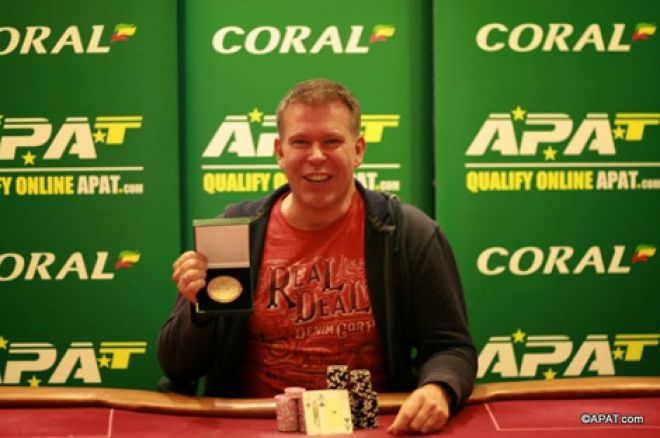 Coventry's Ricoh Arena played host to the latest leg of the Amateur Association & Tour (APAT)'s eighth season namely the European Amateur Poker Championship. A sell out crowd of 163 players bough in for £100 and created a £16,300 prize pool as they did so.
Day 1 concluded after 12 levels of intense poker action and saw the 163 starters whittled to a more manageable field of 41. Leading the way at the end of Day 1 was APAT regular Tom Clark who managed to turn his starting stack into 179,600 chips. Clark, who represents Scotland in the APAT competitions, had five cashes in APAT events and looked set to record a sixth.
Other big Day 1 stacks included Scott Berridge (145,000), Dan Smith (106,500) James Edwards (104,300), Tony Coles (103,800), and Nick Withenshaw (94,300).
With only 18 places paying, nobody wanted to bust in 19th place and burst the money bubble, but the nature of tournaments means someone has to do just that and this tournament's unfortunate bubble boy was George Liperis. It looked like the


of Liperis would double him up as Sean Priest called the all-in with


. However, a king on the river eliminated Liperis in 19th place and that locked up a min-cash of £210 for the surviving players.
There was a steady stream of eliminations after the money bubble burst and it didn't take too long for the nine-handed final table to be reached.
2015 APAT European Championships Final Table
| Seat | Player | Chips |
| --- | --- | --- |
| 1 | Tom Clark | 465,000 |
| 2 | Marc Wilkinson | 248,000 |
| 3 | James Edwards | 229,000 |
| 4 | Sean Priest | 265,000 |
| 5 | Scott Williams | 88,500 |
| 6 | Bill Sheppard | 375,000 |
| 7 | Jonathan Walker | 510,500 |
| 8 | Jason Patrick | 192,000 |
| 9 | Mark Sanders | 114,500 |
Marc Wilkinson busted from the final table first when he ran his


into the superior


of Jonathan Walker and he was followed to the rail by Jason Patrick who got his stack into the middle with


versus the


of Mark Sanders. The latter turned a straight to bust Patrick in eighth place.
In between eliminations, Scott Williamson won a massive pot to climb to 250,000. Williamson was all-in for 113,000 with


, Walker called with


and then called the three-bet shove of Tom Clark who held


. Those kings stayed best right up to the river of the





board, that nine on the river gifting Williamson a straight and a timely double.
Clark was left with a decent stack despite that cruel loss to Williamson, but he was still the next player out of the door. His exit hand saw him all-in with


and needing to hit to beat the


of James Edwards. Clark flopped a queen, but Edwards flopped a set. Clark then turned trips to give him some hope of a comeback, but the river bricked and he was gone in seventh.
Williamson was the next to fall after a clash with Edwards, although the damage was done by Bill Sheppard. Williamson was left with a micro stack when his


lost to Shepppard's


when the latter hit a king on the turn and the rest of Williamson's chips went into the middle with


on a



flop only to run into


of Edwards.
Walker then fell in fifth place to leave the tournament on its medal bubble, a bubble burst by Edwards, whose


lost to Sanders'


to see him crash out in fourth place for the fourth time in APAT tournaments; an unwanted statistic for sure.
Third place went to Sean Priest in another hand filled with drama. Priest pinned his hopes on


and Sanders was there with


to put him at risk. Priest spiked a ten on the



flop then turned trips on the turn, only for a queen to land on the river to improve Sanders to a set and leave Priest with a story to tell, plus a £1,950 boost to his bankroll.
That hand left Sanders with a significant chip lead over Sheppard and it didn't take too long for Sanders to send Sheppard to the sidelines. The final hand of this superb tournament saw Sheppard all-in with


and Sanders calling with


. Sanders caught a jack on the flop and when the turn and river were blanks, Sheppard busted in second place nd Sanders was crowned APAT European Championships champion!
2015 APAT European Championships Final Table Results
| Place | Player | Prize |
| --- | --- | --- |
| 1 | Mark Sanders | £4,750 + APAT gold medal + WCOAP Main Event Seat |
| 2 | Bill Sheppard | £3,110 + APAT silver medal |
| 3 | Sean Priest | £1,950 + APAT bronze medal |
| 4 | James Edwards | £1,320 |
| 5 | Jonathan Walker | £880 |
| 6 | Scott Williamson | £655 |
| 7 | Tom Clark | £540 |
| 8 | Jason Patrick | £455 |
| 9 | Marc Wilkinson | £395 |
Next up for APAT is a trip to Edinburgh for the 2015 APAT Scottish Amateur Poker Championships. This exciting event takes place from February 28 through March 1.
Get all the latest PokerNews updates on your social media outlets. Follow us on Twitter and find us on both Facebook and Google+!