Top 10 Stories of 2014: #1, PokerStars Acquired By Amaya and Makes Significant Changes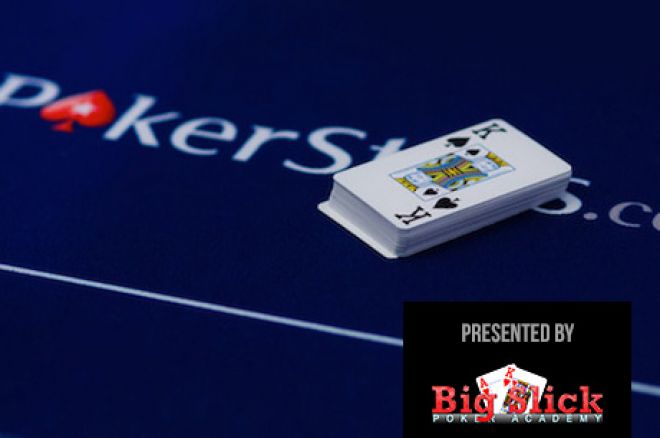 The PokerNews Top 10 Stories of 2014 is presented by Big Slick Poker Academy.
Every industry has its flagship brand, a company with such iconic status that it stands apart from the competition simply by virtue of its history and reputation. Smartphone sales are dominated by the iPhone, soda pop is the domain of Coke and Pepsi, and in the world of online gaming, PokerStars remains the pinnacle since the early 2000s.
Over the years, PokerStars has experienced plenty of changes, from the explosive growth of its early days — fueled by online satellite entries to the World Series of Poker and a man called Chris Moneymaker — to its historic purchase of fallen rival Full Tilt Poker after the dust of Black Friday finally settled. But even when those touchstone moments in the history of PokerStars are considered, the company's acquisition by Amaya Gaming Group Inc. on June 12, 2014, represented a turning point for poker players all across the planet.
A Quebec-based Canadian online gaming titan specializing in "B2B technology-based gaming solutions," Amaya agreed to purchase all issued and outstanding shares of the privately-held Oldford Group Limited — parent company of Rational Group, which operated both PokerStars and Full Tilt Poker — for an aggregate purchase price of $4.9 billion. In late July, the intricate financing arrangement underpinning the deal was approved by Amaya shareholders, and on Aug. 1 the media was informed that the deal had been finalised, thus creating the world's largest publicly-traded online gambling company in the process.
Amaya's CEO and Chairman David Baazov issued the following statement at the time:
"We are extremely pleased to have completed this acquisition. Through PokerStars, Full Tilt, and its multiple live poker tours and events, Rational's brands comprise the world's largest poker business, generating diversified and recurring revenues across the globe from its extremely loyal customer base."
PokerStars also expressed optimism after the purchase was announced, issuing a press release that contained a clarion call for the millions of Americans currently barred from playing their favourite game, or profiting from their chosen profession, due to the current prohibition on online poker. According to the statement, "Amaya believes the transaction will expedite the entry of PokerStars and Full Tilt Poker into regulated markets in which Amaya already holds a footprint, particularly the U.S."
This item of information was of particular interest to American players still cast adrift by the sudden loss of PokerStars and Full Tilt Poker from the domestic market on Black Friday. With mainstream media outlets gushing about the deal — writing glowing profiles of Amaya's acquisition like this, published by Forbes on June 19 — the growing movement supporting online poker's regulated return to American soil was given a certain sense of momentum. However, despite the push toward national regulation which many thought Amaya's purchase would provide, online poker continues to be legislated by individual states on a sporadic basis, while also facing concerted challenges from powerful lobbyists like Sheldon Adelson and loose opposition from local leaders.
While Amaya's purchase of PokerStars has not ushered in a new wave of legalized online poker here in America as of yet, poker's flagship brand did undergo a series of significant changes in 2014.
One of the most visible strategic shifts employed in the wake of Amaya's acquisition began to surface in mid-August, when PokerStars began actively streamlining a once prolific list of regional team pros with targeted cuts. Less than two weeks removed from the historic purchase of its parent company, PokerStars declined to renew the contract of one of the brand's more familiar faces: Costa Rican poker legend Humberto "The Shark" Brenes. A staple of the WSOP's ground-breaking early broadcasts, and a veteran who earned two gold bracelets a full decade before Chris Moneymaker won his, Brenes had represented PokerStars in his imitable style for the last eight years. For his part, Brenes accepted the decision with an entrepreneurial appraisal, telling PokerNews in an exclusive interview confirming his departure that "PokerStars is renowned on the poker scene, which hoards most of the global market and is prestigiously recognized worldwide ... [and] its new management approach goes beyond poker. They had to make strategic decisions, and I think in my case this came at a good time."
Brenes' comments on the aggressive approach Amaya seemed to be wielding while becoming acquainted with its new asset proved to be prophetic, and soon enough two more Latin American members of Team PokerStars Pro made their way to the rail. When the news broke days later that the contracts of Angel Guillen and Jose "Nacho" Barbero had also been allowed to lapse, the writing was on the wall: PokerStars was heading in a different direction with its global marketing efforts.
By the end of September, three more recognizable pros and respected ambassadors of the PokerStars brand had parted ways with the company, as 2009 WSOP Main Event Champion Joe Cada joined Marcel Luske and Alex Kravchenko on the outs. Having attained success primarily as an online gaming entity, Amaya clearly preferred to avoid sinking the bulk of its PokerStars budget into sponsored pros who achieve most of their marketing potential through appearances on the live circuit. By banking on PokerStars' global appeal to withstand this strategic adjustment, Amaya may be able to position its shareholders for increased profit margins — provided the company can maintain its current stranglehold on market share with a trimmed down roster.
On Oct. 30, the company announced its intention to introduce a two-phase series of rake increases, the first of which occurred on Nov. 4. A PokerStars representative posted on the Two Plus Two forum to explain the new rake structure put in place on that date, in which "hyper-turbo scheduled tournament fees increased from two percent to approximately half of the fees charged for other scheduled tournaments at same or similar buy-in levels." Additionally, the rake for ring-game pot-limit Omaha or no-limit hold'em hands in which exactly two players are dealt to increased to $2 for games at $25/$50 stakes, with a bump of $1 for all other stakes. Finally, the rake for ring-game pot-limit Omaha or no-limit hold'em hands in which five or more players dealt increased from $3 to $5 for games at $25/$50 stakes and higher.
Reaction to the rising rake among poker pros and casual players was decidedly mixed, with most leaning toward outrage that prize pools and pots would be diminished. Others in the community expressed their grudging approval of a sensible business maneuver made by an incoming owner, one looking to reap immediate dividends from its massive multi-billion dollar investment. Senior Writer Chad Holloway gauged the responses of several prominent pros shortly after the rake increase began to make waves, while Team PokerStars Pro Daniel Negreanu authored a blog post explaining his forgiving stance on the subject. In the immediate aftermath of the rake increase, whispers of a potential PokerStars boycott swirled, with online poker's most active social media presences calling for various acts of protest, but when the final numbers were tallied these actions had only achieved a marginal impact in user numbers at best.
In late November another major transition was announced by Amaya as part of its wider strategy to transform PokerStars into a comprehensive online gaming platform. By expanding PokerStars' menu of services to include casino-style games of chance like blackjack and roulette, along with a sportsbook for wagering on athletic contests, Amaya sought to implement several strategic goals outlined by its CEO in June. As Baazov told PokerNews one day after the acquisition announcement went public, "with the continuing trend of online gaming regulation around the world, the company has in front of itself an enormous opportunity to leverage its brand recognition and customer loyalty to diversify into other gaming verticals as casino, sports betting, and social gaming."
PokerStars users around the world were given access to blackjack and roulette — games of chance in which the house always maintains the edge — in November. And while the games have attracted a certain subset of players who prefer a little gamble in their games, this shift away from a purely poker-based product led to the sixth entry on PokerNews' Top 10 Stories of 2014 countdown after respected pro and longtime Team Pro Victoria Coren Mitchell decided to part ways with the company as a result.
Coren Mitchell's moral stance — one made against the idea that games of chance should be connected to, and thereby conflated with, the world's most prominent poker company — received a resounding vote of collective approval by her fellow pros. Negreanu authored a typically insightful blog post addressing his colleague's decision, and while he expressed a respectful view of Coren Mitchell's departure, his personal acceptance of the consequences that gambling entails made it clear that he would remain on board as the captain of PokerStars' global marketing campaign for the foreseeable future.
With a new year now upon us it has become clear that 2014 represented one of the most crucial periods in PokerStars' continued evolution. The impact of an incoming ownership group and a renewed effort to re-enter the American marketplace, the culling of its sponsored-pro roster, and the inclusion of casino games; the sum of these incremental changes could very well reshape the online poker industry in 2015 and beyond.
PokerNews Top 10 Stories of 2014:
Get all the latest PokerNews updates on your social media outlets. Follow us on Twitter and find us on both Facebook and Google+!