Genting Poker Series Looks To Inject Fun Back Into Poker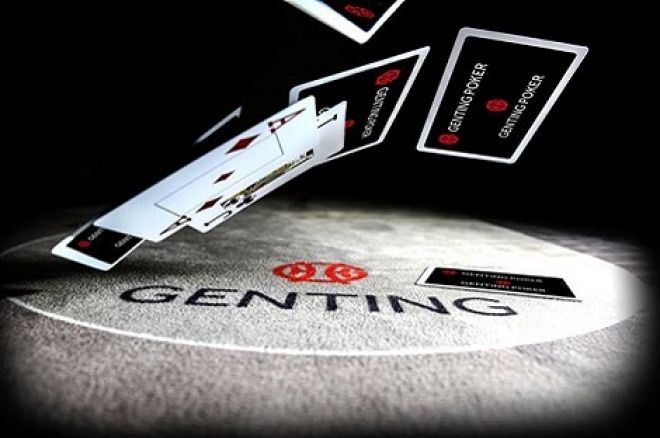 Matthew Pitt of UK & Ireland PokerNews sat down with Genting's poker operations manager Kevin Proctor to discuss the sweeping changes made to the Genting Poker Series and how the tour plans on bringing a fun element back to poker.
I remember when the Genting Poker Series (GPS) first appeared on the UK poker calendar. It seemed that it appeared from nowhere and was an instant hit. Despite an affordable buy-in of £440, the GPS Main Events featured a very deep stacked structure and boasted substantial guarantees, a formula that both recreational and professional players welcomed.
The GPS is about to embark in its fourth season and the poker landscape in the UK is much different to how it was when the GPS made its début. Firstly, the PokerStars UKIPT is a major player and has seen the buy-in for its main event climb as high as £1,100 and then reduced again to £770, while the long-running Grosvenor UK Poker Tour (GUKPT) regularly runs £550 buy-in events that pitch it in direct competition with the GPS.
Genting's poker operations manager Kevin Proctor describes the past three seasons as "challenging" yet I get the impression that Proctor loves the challenge of keeping the GPS fresh.
"I have gained some grey hairs during the last three seasons, never wanting to standstill we are constantly looking to innovate," jokes Proctor. "We prize highly the comments our players make, both good and bad, and make changes based on feedback received. You can't please everybody and we win some and lose some, always aiming to win more than we lose though.
"That said I love the challenge that running a tour event presents, every day something is happening and the only time you can relax is for five minutes after the event because you are then preparing for the next one. Usually in the summer there is a slight break, but with the GPS Minis added this year it will be full-on for the whole year."
The "minis" that Proctor speaks of should be a great addition to the GPS arsenal as they give lesser-bankrolled players the opportunity to experience what it is like to play in a GPS event for half of the cost. It is these players that the Proctor and his team are reaching out to wth the creation of these cut-price events.
"We have a number of Genting-owned venues that run successful weekly events running and typically operate with 10-12 tables, but they have no capability to add additional capacity and therefore cannot hold a full GPS leg. Therefore, in order to widen the GPS family and bring more events to players as part of our commitment to grassroots players we looked at ways we could host a higher entry single tournament event in these card rooms and bring the GPS to these players."
Less Levels, Same Structure, More Time For Fun
In addition to the creation of the Mini GPS series, Proctor and his team have made a number of changes to the GPS Main Event, with one major change being the reduction in the number of levels played each day, while keeping the same superb structure in place.
"Originally, this tour was aimed at grassroots players and feedback from players tells us that 13 hours of play per day over potentially three days is a definite disadvantage to that sort of player. We listened to their feedback and we reduced the number of levels played on each of the tournament's days. I think that just over nine hours of play per day is the route to go down and I hope the players agree by supporting the events"
One change that hasn't been received too well is the decision to reduce the £125,000 guarantee on Main Events to £100,000, especially as it wasn't long ago that the opposite was happening to the prize pools and the fact that more than half of the third season's guarantees were hit. Proctor explains the business decision behind the move.
"Poker is intrinsic element of the Genting offer in many casinos, but it does have to pay its way and make a contribution to the business. Looking at the numbers for 2014, we could have run with a two tier guarantee system, but that would not help those legs that overlaid as player numbers would diminish, so we took the decision to try and keep players expectations of all legs on a level playing field by having the same guarantee at all legs. We know, as do all operators, that certain sites are more popular because of favourable geographical locations but it is not our policy to penalise the other venues in our portfolio by offering lesser guarantees for the same tour events, when the entry level is the same.
As mentioned in the title of this article, the GPS is looking to inject an element of fun back into live poker. Proctor explains that "when I look at all the UK tournaments, all I see is poker, poker and more poker and yes, while that is the core business of a multi-day tournament there does not seem to be any fun in poker any more."
So what are the GPS doing to bring the fun back to the UK poker scene?
"We have introduced a charity cash game (which returning tournament director Colin McTaggart will play in) where any monies raised will go to the venues local charity, meaning poker will be contributing to a worthy cause.
We are also introducing a poker seminar run by a recognised "poker face" in the UK. Paul Jackson will give an informative 60-minute presentation on various aspects of poker from strategy through to bankroll optimisation, while there will also be an event for the partners at Star City which is a cocktail making master-class. Going forward we will be looking at events at each venue for people who attend these events with a player."
Season 4 also sees the creation of a free-to-enter team event where teams of two play for £500 worth of poker credits that can be used at any Genting event plus the addition of the increasingly popular Mix-Max event at each stop that gives players the chance to play full ring, six-max and heads-up in a single tournament.
Proctor continues, "In the bar area of each venue we are setting up a games console for players to relax after the exertions of playing and this will be free to use with Phil "The Tower" Heald hosting an event and offering prizes for those playing on the console. At certain venues we are planning for a DJ and/or Karaoke as well, so yes I guess we are trying to put the fun back into playing tournament poker.
"We are always looking for new and innovative things to do both on a poker and event front and will always listen to player feedback on improvements/issues within the tour and our card rooms."
When the schedule for the GPS' fourth season was announced, it became apparent that the Grand Final in Sheffield was scrapped, although Proctor hints that it could make a return eventually.
"When the originally created the GPS we had a venue in London (the now defunct Fox Poker Club) that could accommodate the Grand Final and if you remember the original buy in was £1,500. When we lost the option of going to London, we had a new venue in Sheffield that presented an opportunity to host the Grand Final and we took the unprecedented step of reducing the entry level from £1,500 to £880. This at the time was a massive gamble and while this has proved successful we have to spend a massive amount of time maintaining this event and needless to say other events then suffer.
"With the introduction of the Minis, Link Games and a couple of other things we have planned we could not maintain that same level of focus on this event and so in order to deliver players a quality offer something had to give. This does not mean that in the future we will not revisit this option and we are always open to reviewing options for this event."
Another glaring omission in the season four schedule was the Nottingham leg at Dusk Till Dawn. It appears that this decision was to support the newly opened Genting International Casino at Resorts World in Birmingham and to prevent there being too many stops in the Midlands.
"In the current UK poker schedule it was difficult finding a date that minimises the impact of clashing events and with the creation of the new Genting International Casino at Resorts World Birmingham we had to designate a leg to that venue. This left us with a dilemma on dates with events in the Midlands for the GPS already being hosted at Star City and Stoke with Genting International Casino also coming online we could have become a Midland centric event and that is not what we are about."
GPS Season 4 Kicks Off February 2
The fourth season of the Genting Poker Series kicks off on February 2 at the Star City Casino in Birmingham, the full schedule of which you can see below:
| Date | Time | Event | Starting stack | Clock | Notes |
| --- | --- | --- | --- | --- | --- |
| Mon 2 Feb | 8:00pm | £50 satellite (£10 top-up) to Main Event | 10,000 | 20-mins | 10 seats GTD |
| Tue 3 Feb | 4:30pm | £20 satellite (£10 top-up) to main Event | 10,000 | 20-mins | 1 seat GTD |
| Tue 3 Feb | 8:00pm | £100 NLHE 6-Max | 15,000 | 20-mins | |
| Wed 4 Feb | 4:30pm | £20 satellite (£10 top-up) to main Event | 10,000 | 20-mins | 1 seat GTD |
| Wed 4 Feb | 7:00pm | Beat the Boss £1/£2 charity cash game | Min £250-Max £500 | | One bullet only! |
| Wed 4 Feb | 8:00pm | £100 PLO Double Chance | 15,000 | 25-mins | |
| Wed 4 Feb | 9:00pm | £400+£40 Main Event Day 1a | 25,000 | 24-mins | Online leg |
| Thu 5 Feb | 12:00pm | £40 player draw satellite | n/a | n/a | 1 Seat GTD |
| Thu 5 Feb | 1:00pm | £400+£40 Main Event Day 1b | 25,000 | 60-mins | £100,000 GTD |
| Thu 5 Feb | 7:00pm | Poker seminar with Paul Jackson | | | |
| Thu 5 Feb | 7:00pm | Cocktail making course | | | |
| Thu 5 Feb | 8:00pm | £40 turbo satellite | 10,000 | 15-mins | Five seats GTD |
| Fri 6 Feb | 12:00pm | £40 player draw satellite | n/a | n/a | 1 Seat GTD |
| Fri 6 Feb | 1:00pm | £400+£40 Main Event Day 1c | 25,000 | 60-mins | £100,000 GTD |
| Fri 6 Feb | 8:00pm | £100 NLHE Turbo | 15,000 | 15-mins | |
| Sat 7 Feb | 12:00pm | £40 player draw satellite | n/a | n/a | 1 Seat GTD |
| Sat 7 Feb | 1:00pm | Main Event Day 2 | | | |
| Sat 7 Feb | 4:00pm | £100 Mix-Max event | 15,000 | 30-mins | |
| Sun 8 Feb | 2:00pm | Main Event final day | | | |
| Sun 8 Feb | 5:30pm | £50 NLHE | 10,000 | 25-mins | |
Get all the latest PokerNews updates on your social media outlets. Follow us on Twitter and find us on both Facebook and Google+!