Top 10 Stories of 2014: #8, Ultimate Poker Closes in New Jersey and Nevada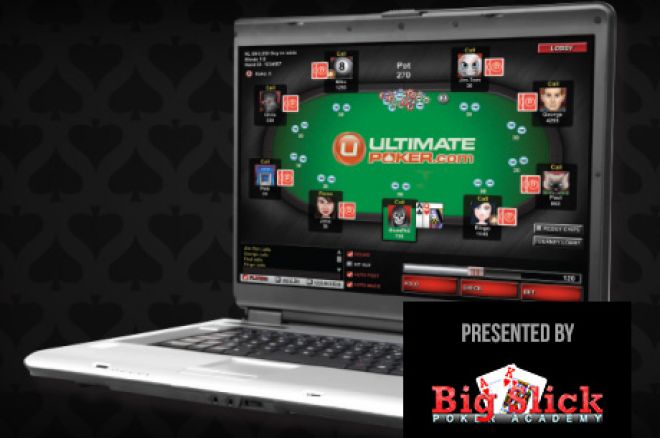 The PokerNews Top 10 Stories of 2014 is presented by Big Slick Poker Academy.
As 2014 comes to a close, the staff here at PokerNews have collaborated and put together a list of what we feel are the top 10 poker stories of the year. Our list was created based upon a vote from each member of our staff and throughout the rest of the year, we'll count down what we believe are the biggest and most interesting stories of 2014. In 2013, the launch of regulated online poker in the United States was our No. 1 story. Fortunes changed quickly, though, as one of those sites would ultimately shut down in 2014. Read on to find out exactly what happened for our No. 8 story of the year — the demise of Ultimate Poker.
From Hero to Zero — the Fall of Ultimate Poker
Ultimate Poker got off to a big start as it was the first site to launch regulated online poker in the United States on April 30, 2013. They had star power with the likes of Antonio Esfandiari, Dan O'Brien, and Jason Somerville among their roster of professional poker players. For five months, they were the only option as a competitor did not launch until September. They would also be one of the first on the scene in New Jersey late in the year.
While there was some initial growth at Ultimate Poker, they never gained much traction and things started to grow bleak when they announced in September this year that they were leaving the online gambling market in New Jersey. Most saw it as a result of the failures of their casino partner, Trump Taj Mahal Associates LLC, after they filed for Chapter 11 bankruptcy protection. Ultimate Gaming, the parent company of Ultimate Poker, said in a press release that the main reason for the termination of New Jersey operations was "multiple breaches by Trump Taj Mahal Associates." In that press release, they stated that they would continue to operate their poker operations in Nevada.
Less than a month later, more signs of doom would come when Ultimate Poker cut ties with a number of their sponsored pros. Among those hitting the rail were Brent Hanks, William Reynolds, Phil Collins, Jeremy Ausmus, and the popular Somerville. That left just Danielle Anderson, O'Brien, and Esfandiari on the Ultimate Poker team roster. Somerville would talk with PokerNews about his departure, stating that "Ultimate Poker's withdrawal from the New Jersey market forced the company to make some significant changes to their budgets and strategies, and unfortunately it didn't make sense for them to continue working with Run It Up! and myself given their new restrictions."
Reynolds was particularly critical of Ultimate Poker taking to Twitter with a series of since-deleted tweets where he took them to task for their software and their business decisions making such statements as:
"They care more about YouTube videos... than poker."
"The 1st legal regulated site in America... was paying the former CEO of the largest poker scam site in history for his services." (in reference to using Iovation services whose owner is Greg Pierson, former CEO of Ultimate Bet)
"1 year ago I showcased all of flaws on Ultimate Poker client to entire software team. In next two months they changed decks from blue to red."
Despite proclamations that they were dedicated to making online poker in Nevada work, the company was facing an uphill battle. Traffic at the site was dismal as they were averaging only 60 cash-game players. This put them barely on the radar in terms of online poker rooms and they were losing the battle to unregulated sites like Bovada, which at the time was averaging 1,450 cash-game players.
It was not much of a surprise then when Ultimate Poker announced in November that they were ceasing poker operations in Nevada. In a statement, Tom Breitling, Chairman of Ultimate Gaming said, "As has been the case in other jurisdictions, online poker revenues in Nevada have fallen far short of original projections. Moreover, the state-by-state approach to online gaming has created an extremely cost-prohibitive and challenging operating environment. These factors have combined to make the path to profitability very difficult and uncertain. Consequently, we have decided to cease operations."
Sponsored pro Anderson was much kinder than Reynolds in how she handled this news stating on Twitter, "Obviously saddened by the @UltimatePoker news. Appreciative of all the opportunities they provided for myself & the poker community. All I can do is hope like hell the future is brighter for this game I love so much. Saddens me to think of the alternative. #FreeOnlinePoker"
O'Brien was also reflective in his thoughts:
"Extremely disappointed to learn of Ultimate Poker ceasing operations in NV. It will begin winding down allowing point conversions & cashouts. Ultimate Poker and its ambassadors tried hard to create a unique, entertaining poker environment and I'm proud of the steps we made. Unfortunately, our shortcomings combined with single state legislation and over-regulation was a storm we weren't able to ride out. I look forward to a day when all Americans are free to play the game they love from the comfort of their own homes. #FreeOnlinePoker"
The two pros summed up best what was the cause of Ultimate's downfall and is our No. 8 story of 2014. A regulation system that doesn't allow for sites to possibly achieve profitability in order to sustain operations. Granted, there were other problems with Ultimate Poker, as highlighted by Reynolds and others, but hopefully other sites will learn from the lessons of Ultimate Poker's failures and we aren't writing another Top 10 story about the failure of regulated online poker in the United States next time around.
PokerNews Top 10 Stories of 2014:
Be sure to stay tuned to PokerNews as we continue to count down the top stories from 2014.
Get all the latest PokerNews updates on your social media outlets. Follow us on Twitter and find us on both Facebook and Google+!