Top 10 Stories of 2014: #5, Passing of Strassmann, Brown, Korfman, Sartori, Elvis Joe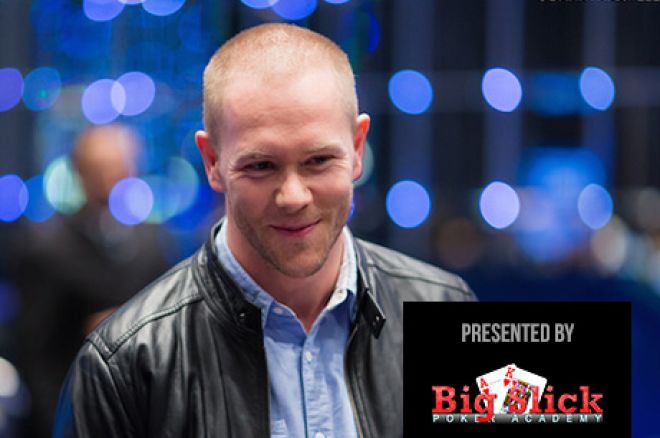 The PokerNews Top 10 Stories of 2014 is presented by Big Slick Poker Academy.
The year's end has always been a time of reflection. Along with the traditional acts of giving thanks for what we have before gifting one another even more, the winter months also become a time for families to mourn members who are no longer there.
Poker lost no less than five of its extended family in 2014, and while the deaths of Johannes Strassmann, Chad Brown, Tony Korfman, Joe Sartori, and Joseph "Elvis Joe" LeVine occurred in vastly different circumstances to very different people, each passing left our community grieving their loss. And so it is with great sadness that the No. 5 entry on PokerNews' ongoing countdown of the Top 10 Stories of 2014 serves as the smallest of tributes, one written in memoriam of five men who spent their lives making the game we love better for their presence.
Note from the author: I never had the pleasure of knowing these individuals on a personal level, and rather than eulogize them from that impersonal vantage point, I thought it best to let friends and family speak on behalf of each of the deceased.
Johannes Strassmann
January 3, 1985 — June 21, 2014
When the poker world learned in June that the young German pro had been reported missing in Slovenia's capital city of Ljubljana, the news left many people wondering how and why he had disappeared. Slovenian authorities led a nationwide search, and initially suspicions seemed to center on a group of high-stakes players Strassmann was visiting with at the time, with robbery suspected to be the motive.
Just a few days after Strassmann was reported missing, however, the body of a man matching his description was found along the banks of the Ljubljanica River on June 27. Two days later, DNA testing confirmed the grim truth: Strassman had drowned.
"When I first met Johannes Strassmann in January 2008 at the European Poker Tour in Dortmund, he was already being talked of highly," penned Robin Scherr of the German PokerStars Blog. "Just six weeks earlier he had finished ninth at EPT Prague, and he was confident about playing his first home EPT. In fact, he put that confidence to good use, and finished the Main Event with a strong sixth place."
Read the rest of Scherr's tribute here.
Chad Brown
August 13, 1961 — July 2, 2014
In the immediate aftermath of the poker boom there were many "stars" to emerge simply because the spotlight happened to shine in their direction.
Chad Brown wasn't one of those players. The former minor league baseball player turned actor tended to excel in whichever pursuit he was passionate about at the time, and he loved performing for an audience. So when the cameras started seeking out poker talent, he took a decade's worth of experience on the felt and turned himself into "Downtown" Chad Brown, a perpetually confident figure who quickly became a fan favorite.
Brown's natural charisma attracting air time on World Series of Poker and World Poker Tour broadcasts while he accumulated an impressive list of results — one highlighted by 10 WSOP final table appearances, three runner-up finishes in bracelet events, more than $3.4 million in live tournament earnings, a long-standing sponsorship as a Team PokerStars Pro, and the 2006 BLUFF Magazine Poker Player of the Year award, about which he said, "winning player of the year is like an actor winning an Oscar."
After he was diagnosed with a rare form of cancer known as liposarcoma in February of 2011, Brown endured five surgeries, multiple radiation treatments, and several rounds of chemotherapy, all while continuing to play the game at the highest level. Brown defeated 110 other pros to take down the $2,090 no-limit hold'em tournament at the Wynn Classic one month after receiving his diagnosis, and while his efforts after such a devastating announcement would have been admirable no matter where he placed, the fact that he won it all speaks volumes.
During the WSOP this summer word began to spread that Brown's body was succumbing to the inevitable, and the poker world came together to collectively mourn their friend. Brown passed away in the Bronx on July 2, in the company and care of his family and friends, but before he did the poker community paid a final tribute to a man who will always be remembered as a champion.
"Chad Brown rubbed elbows with James Bond, faced down a maniacal killer, won a baseball championship, and earned more than $3.6 million playing a card game," wrote Brad Willis of the PokerStars Blog. "A model, actor, baseball player, and poker legend, Brown lived his entire life earning a living in ways that most people believed impossible."
Read the rest of Willis' tribute here.
Tony Korfman
November 13, 1942 — August 18, 2014
A person's legacy can be left in many ways, and if stories that bring a smile to the faces of those that knew you are any measure, Tony Korfman was a man among men. Living most of his life in Nevada, the Bronx-born Korfman made his presence felt in poker rooms throughout the state, nagging casinos in Boulder City, finishing as the runner-up in the WSOP Senior's Championship, and penning the poker book Texas Hold'em: Tournaments, Cash Games and Embarrassing Social Gas.
Korfman passed after suffering from complications during hip surgery, but at the age of 71 he had made more than a few friends, many of whom spoke in reverential tones while remembering their times together.
"Consider the following fact. Right now, there's a 62-page thread exclusively dedicated to Korfman on TwoPlusTwo, which makes him damned-near a legend," wrote Nolan Dalla, noted poker historian and longtime WSOP media coordinator, in his review of Korfman's aforementioned book. "I mean, who in the hell generates 62 pages of posts at TwoPlusTwo?
"Answer: Phil Ivey, Daniel Negreanu, Phil Hellmuth, and... Tony Korfman!"
Read the rest of the Dalla's revealing book review here.
Joe Sartori
September 9, 1959 — October 29, 2014
Every poker room has one. The quiet, competent manager who makes the system function, day in and day out. Joe Sartori worked his way up from poker dealer to poker room manager for Palace Station, before serving in the same capacity for Palms Casino.
Shortly before his sudden passing from stomach cancer, the 55-year-old Sartori was tabbed by Heartland Poker Tour founder Todd Anderson to collaborate on the latter's new project, Poker Night in America (PNIA).
"Even if you didn't know Joe Sartori by name, you still knew him.," said Dalla, who now serves as PNIA's Media Director. "He was the kind of guy who was always there for everyone. He was the person who watched over those he cared about. Some people in life are just like that. They're called guardian angels. Joe was steadily dependable, unwaveringly so, always there when you needed a favor or just a helping hand."
Read the rest of Dalla's tribute here.
Joseph "Elvis Joe" LeVine
July 24, 1959 — September 3, 2014
If you played poker at the WSOP at any point during the last 30 years, chances are you've seen Joseph LeVine somewhere around Binion's Horseshoe or the Rio. Even if the name doesn't ring a bell, LeVine's jet black hair perfectly coiffed into an Elvis-style cut helped him stand out from the crowd, even earning him the moniker "Elvis Joe" among longtime WSOP veterans and newcomers alike.
After the 56-year-old Sartori was shot and killed in his Las Vegas residence on September 5, police took a 30-year-old transient women who Sartori had been helping into custody, naming her as the primary suspect in Sartori's murder. In the immediate aftermath of his untimely death, poker players flocked to social media to mourn the tragedy, and many of his friends from three decades of WSOP dealing attended a memorial service held in his honour.
"Joey was widely known and loved in the poker world as 'Elvis Joe,'" wrote the Levine family in his obituary. "He was a poker dealer for over 30 years, mostly working tournaments including the World Series of Poker. He loved singing, and spent years working and living his Elvis impersonation. He relished making people smile and laugh with his Elvis 'shtick.'"
Read the rest of Levine's obituary here.
PokerNews Top 10 Stories of 2014:
Be sure to stay tuned to PokerNews as we continue to count down the top stories from 2014.
Get all the latest PokerNews updates on your social media outlets. Follow us on Twitter and find us on both Facebook and Google+!