Scots Rule Britannia in the Coral APAT UK Team Championship

Tom Brady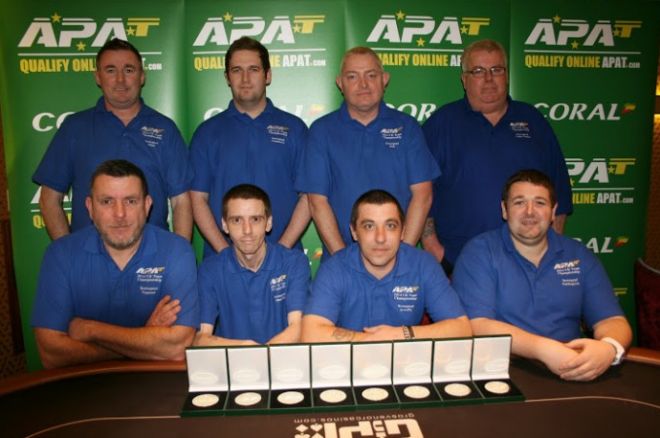 Manchester's Grosvenor G Casino played host this weekend to 33 teams of eight players from throughout the United Kingdom who went into battle at the felt in an attempt to be crowned the Coral APAT UK Team Champions.
The tournament kicked off at 2:30 p.m. on November 29 with the 264 runners present and correct. With the £50 buy-in per player allocated between team placings and individual performance, the top three teams and top 20 individuals sharing the prize fund of £6,600.
Plenty of early action brought a steady stream of departures from most of teams. The first team to lose a member were the Newcastle Poker Forum, who have competed in this exciting event for many years, only to be quickly followed by The North East Poker Forum – it wasn't looking good for the North East contingents at this point!
Further departures came from A World Of Poker, Kracked Kings, Midlands Poker Forum and others, but it was Sutton Poker who were the first team to lost two members.
APAT legend and Blonde Poker member Richard 'Tighty' Prew was unlucky to run his set into a bigger set to depart in 251st, just seconds before his fellow team mate Dai Llewellyn. Further misery was in store for Blonde because all but one of their members busted before the team points kicked in with 100 players remaining.
As it approached the 'points bubble' of 101st place, it was well-known 'regular poker dealer' Mel Lofthouse for Yorkshire Poker Club, this time playing the cards, who departed without being able to contribute to the team score, mere minutes before Angie Doherty earned her team 'Angie's Poker Room' the first point on the event scoreboard by finishing in the 100th spot.
At the end of Day 1, there were only eight teams with four or more players remaining:
FISO: 5 players
Geordie Poker: 5
Voyage In Poker: 5
Angie's Poker Room: 4
Live Pub Poker League: 4
Scotsquad: 4
Sky Hitsquad: 4
Team Coral: 4
At this point, all of the Kracked Kings team had been eliminated from the event with zero points, but they won the battle for having the most fun!
Day 2 brought a meltdown for Geordie Poker, with them losing three players in the first 30 minutes only to be followed by a fourth within the hour. However, they still had Karl Webber Jnr left in with a good stack to keep their medal hopes alive.
With the quick departure of so many Geordie Poker players, Scotsquad became clear favourites with three players still left in. Team FISO saw the departure of their final member in 41st place and were still hoping for a Bronze medal finishing position in the Team event, but they needed Degens Poker and Team Coral to lose players because they were the only other team that could take third place (Geordie Poker and Scotsquad were fighting it out for Gold and Silver medal positions)
With both Degens Poker and Team Coral losing a player each, their maximum possible points tally would not exceed that of Team FISO's minimum possible haul, so a delighted Team FISO were awarded third position and bronze medals.
APAT Team Championships Final 18 Chip Counts
| Place | Player | Team | Chips |
| --- | --- | --- | --- |
| 1 | Nick Todd | Blonde Poker | 435,000 |
| 2 | Gareth Howard | Black Country Poker Club | 430,000 |
| 3 | David Underwood | ILovePlayingPoker | 340,000 |
| 4 | Dan Scott | North East Poker Forum | 320,000 |
| 5 | James Newman | Bristol & South West Poker Meetup Group | 250,000 |
| 6 | Derek Rowland | Team Coral | 250,000 |
| 7 | Tony Moores | Hendon Mob Forum | 250,000 |
| 8 | Colin Napier | Scotsquad | 230,000 |
| 9 | Ky Hutchinson | AWOP | 225,000 |
| 10 | William Kerr | Scotsquad | 220,000 |
| 11 | Darren Knaggs | Newcastle Poker Forum | 200,000 |
| 12 | Karl Webber Jnr | Geordie Poker | 190,000 |
| 13 | Paul Lamonby | Blackbelt Ulluminati | 130,000 |
| 14 | Claire Duffy | Degens Poker | 120,000 |
| 15 | Dave Collins | Newcastle Poker Forum | 110,000 |
| 16 | John McMahon | Sutton Poker | 100,000 |
| 17 | Steve Brooke | Yorkshire Poker Club | 50,000 |
| 18 | Rab McCarrol | Scotsquad | 32,000 |
The next crucial departure was Rab McCarrol from Scotsquad in 15th position, again giving more and more hope to Geordie Poker medal ambitions. However, with Karl Webber Jnr committed his stack soon after and was eliminated in 14th place, Geordie Poker's maximum possible points total was now below the minimum required for first place. Therefore the Silver and Gold Medal positions were confirmed – Geordie Poker taking Silver and Scotsquad, captained by Bryan Cameron, taking the coveted Gold Medals and the title of UK Team Champions.
Team Payouts
| Place | Team | Prize |
| --- | --- | --- |
| 1 | Scotsquad | £3,300 |
| 2 | Geordie Poker | £1,980 |
| 3 | FISO | £1,320 |
From this point onwards it was simply about individual performance and the £6,600 prize fund with a top prize of £2,010.
William Kerr was the final member of the Team Champions Scotsquad to depart, taking fifth and £415, followed by Nick Todd who put in a sterling performance for Blonde Poker and finished in fourth for £525.
David Underwood from I Love Playing Poker took third, a Bronze Medal, and £750 leaving Paul Lamonby from Blackbelt Illuminati (1.5m chips) heads up with Gareth Howard from Black Country Poker Club (2.4m chips).
A truly epic Heads Up battle ensued with no player ever taking a real commanding lead and it took over 90 minutes until we got to the two crucial hands, which were within minutes of each other.
Howard checked to Lamonby on the



flop, Lamonby bet 75,000 and then called when Howard check-raised to 190,000. The turn brought the

into play and Howard led for 200,000 before instantly calling when Lamonby moved all-in. Lamonby showed


and was way ahead of the


in howard's hand. The river was a brick and Lamonby helped himself to a 3,000,000 to 900,000 chip lead.
Soon after it was all over. Howard moved all-in with what turned out to be


and Lamonby called with


. A final board reading





busted Howard and left Lamonby to revel in the glory that comes with becoming an APAT champion and, of course, the £2,010 in prize money and the coveted gold medal.
Next up for APAT is a ground-breaking 2-day deepstack PLO Main Event in Bewleys Dublin Airport hotel 10-11 January 2015, with a 20k+20k Double Chance on a 30 minute clock. Details at the APAT website.
Get all the latest PokerNews updates on your social media outlets. Follow us on Twitter and find us on both Facebook and Google+!