Five Thoughts: Coren Mitchell Leaves PokerStars, Jaffe Trolls Again, and More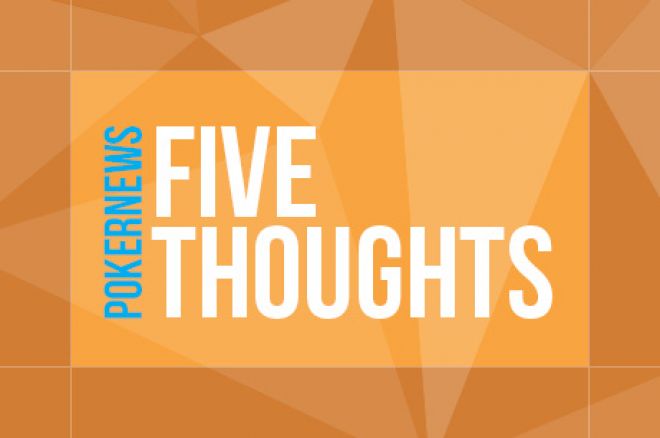 Before we get to Five Thoughts this week, I want to take a second to thank you all for reading this. Whether this is the first time you've clicked on this article or you're a loyal reader, this space wouldn't exist without you.
Most writers and broadcasters get their "thankful" columns and takes out of the way prior to the Thanksgiving holiday, but I didn't allow myself much time to sit and reflect. During the long holiday weekend I was airborne for nearly 20 hours, and there are few places that provoke thought — at least in my personal experiences — more than an airplane. You're stuck in one place for several hours, in an environment that doesn't promote much social activity.
Let's face it, rarely will the person next to you want to engage in a meaningful conversation.
Thanksgiving is a strange holiday because its roots are muddied by violence against Native Americans and now commercialism makes a mockery of the occasion with Black Friday blowout sales, but it is still humbling to sit and think about the positives in our lives. Family. Friends. Shelter. Food. Work.
This year has been especially wonderful for me. My wonderful wife and I tied the knot in October, and we moved across the country to California. The amount of good fortune I have stumbled upon in these last 338 days alone is staggering.
I am thankful for everyone in the poker industry who has given me an opportunity to work in this space. There are so many poker fans that don't have the same opportunities as me to contribute, and they are just as passionate as me about this game, so for that I am very lucky and even more grateful.
Again, the content that we produce is nothing without you, the reader. Thank you.
1. Vicky Coren Mitchell Leaves Team PokerStars Pro
Not too long after I submitted Five Thoughts last week, the first and only two-time European Poker Tour winner announced that she was leaving Team PokerStars Pro due to the introduction of casino games.
"I can't hang around, sleep on it, have meetings and talk myself into staying, when my gut tells me that the right thing is to walk away," wrote Vicky Coren Mitchell, who had been with PokerStars since 2007. "This is no criticism of PokerStars itself: business is business, they are providing a new service that people want, and I know they intend to abide by some key principles of responsible gaming. It's not anti-casino either; I spend a lot of time in casinos, and I have been known to indulge in live table gaming."
Coren Mitchell's departure was met with great applause from those who are upset with PokerStars and Amaya Gaming over the introduction of casino games and sports betting and the recent rake increases.
To no surprise — she is an excellent writer — Coren Mitchell's announcement was thoughtful and honest. It wasn't a hate-filled post, like most of what you read on TwoPlusTwo and Twitter, rather Coren Mitchell plainly stated her opinion and why she thought it was the right time to move on. She even sent a pleasant message on Twitter to PokerStars Head of Corporate Communications Eric Hollresier.
Coren Mitchell isn't losing much either. She is a well-established writer and broadcaster in England, and I assume that her PokerStars checks weren't a main source of income. If ever there was a great time to walk away it would be now, when the company that could do no wrong is suddenly public enemy number one.
Unlike Coren Mitchell's blog post, I dislike some of the reactions from players and fans about her departure. I don't quite understand why leaving Team PokerStars Pro is somehow heroic? Coren Mitchell still plans to play on both the EPT and the UKIPT, so this isn't a boycott, and she also leaves the door open for future opportunities with the company.
It's bizarre. Fans and players are so thirsty for professionals to denounce PokerStars in some sort of way that Coren Mitchell's fair yet easy-stance exit is being met with uproarious applause. If she came out and denounced the company, saying she would never play in a live or online event ever again, that would be one thing. But this is not some rebellious exit.
Kudos to Coren Mitchell for doing what she believes in. She is, and always will be, the first two-time EPT champion, and it was wonderful having someone with such sustained mainstream success promote our game for as long as she did.
2. Troll So Hard
Jonathan Jaffe entered the final table of the partypoker World Poker Tour Montreal Main Event with the chip lead, and only surrendered it briefly en route to a victory and a $429,106 payday. Jaffe also became a member of the WPT Champions Club, a feat he nearly achieved in Season VII when he finished runner-up in the WPT Foxwoods Poker Finals.
During heads-up play, Jaffe and Ratharam Sivagnanam battled back and forth until the two had nearly identical stacks. That's when Jaffe ran a courageous bluff, forcing Sivagnanam to fold the best hand and forfeit a 7.1 million-chip pot. Jaffe pulled away from there, winning seven hands later.
| Place | Player | Prize |
| --- | --- | --- |
| 1 | Jonathan Jaffe | $429,106 |
| 2 | Ratharam Sivagnanam | $290,111 |
| 3 | Mukul Pahuja | $186,964 |
| 4 | Kevin MacPhee | $138,278 |
| 5 | Sam Chartier | $103,537 |
| 6 | Guillaume Nolet | $83,658 |
You may remember Jaffe from 2013 WSOP Main Event, where he finished 42nd for $185,694. He received a little bit of airtime, and was able to trick the ESPN producers into thinking he was a dolphin trainer:
Of course, Jaffe is not a dolphin trainer. He is a professional poker player, who now has just under $2 million in career live tournament earnings.
Jaffe got his troll on again in the partypoker WPT Montreal Main Event, this time tricking poor Caitlyn Howe:
An indigenous population of squirrels that are being eaten by a new, invasive species of bird. Absolutely brilliant.
Jaffe's jokes, while annoying for production, are harmless, and more importantly entertaining. Jaffe is also outgoing at the poker table; there were several times at the final table, including his big bluff, when he showed one or both cards when he didn't have to. These actions, while small, break the robotic nature of most final tables and keep things interesting.
Due to gaming regulations, player microphones are not allowed during most WPT live streams, so I am very interested to watch the final product and hear what kind of nonsense Jaffe had to tell his opponents at Playground Poker Club.
3. Gatto's Gold Shovels
In an exclusive with our own Matthew Kredell, California Assemblyman Mike Gatto says that his new online poker bill introduced Tuesday will unite all the different groups in California.
"We have a lot of the same language from last year, but what I think makes our bill special is a regime for weeding out money laundering, guaranteeing foot traffic to casinos and expanding the number of parties who will be able to participate in the marketplace," Gatto told Kredell.
Gatto's bill is similar to the one Assemblyman Reggie Jones-Sawyer submitted last session, but one key difference is that all initial deposits and withdrawals would have to be made in person. In turn, several satellite service centres would be established across California, limiting the potential for underage play and money laundering. The satellite centres can also create jobs for the state and provide a reason for players to place wagers inside the casinos as well.
At first I didn't understand the necessity for these in-person transactions, and I feared that they might have adverse effects on deposits. Poker players aren't the most ambitious individuals, and they don't want to leave their house or apartment to deposit into an online poker site. We live in a digital age where everything should be doable on our smartphones, tablets, and computers. However, I understand how this can be used as a checkpoint to limit underage gambling and money laundering. The land-based venues will also appreciate the foot traffic from initial deposits and withdrawals.
The big issue with Gatto's legislation is that it contains a bad actor clause, which was amended to include Amaya Gaming, and excludes horse racing. The horse racing industry is a key stakeholder in gaming in California, and Amaya has spent too much money to simply be shut out of the most populated state in America. Both of those lobbies will give Gatto hell if he is unwilling to compromise, but he said he is open to exploring amendments.
"This is a Mike Gatto bill," Gatto said. "It's not Coke or Pepsi. I've always been a fair legislator, and we'll work with a lot of different participants. This is an opportunity for everybody to make lots of money."
Speaking of money, Gatto, like many others before him, compared the growth of online gaming to the California Gold Rush.
"A lot of people in the gold rush got rich selling shovels, and we think we have a proposal that has shovels in it now," Gatto said.
If any of you understand what that means, please enlighten me in the comments section below.
4. Visser Wins the Master Classics of Poker
Ruben Visser defeated fellow Dutchman David Boyaciyan heads up to win the 2014 Master Classics of Poker Main Event last week, earning €225,000 after a three-way chop. Boyaciyan, who won the 2011 MCOP Main Event, earned €178,000 for finishing second, and third-place finisher Andrew Chen walked away with €190,000.
Also at the final table were Clyde Tjauw Foe, Ole Schemion, and [Removed:17]. Schemion also reached the final table of the MCOP high roller, finishing runner-up to Rachid Ben Cherif.
2014 MCOP Main Event Final Table Results
| Place | Name | Prize |
| --- | --- | --- |
| 1 | Ruben Visser | €225,000* |
| 2 | David Boyaciyan | €178,000* |
| 3 | Andrew Chen | €190,000* |
| 4 | Clyde Tjauw Foe | €83,786 |
| 5 | Jussi Nevanlinna | €71,985 |
| 6 | Robbie Hendriks | €59,004 |
| 7 | Ole Schemion | €47,203 |
| 8 | Steven van Zadelhoff | €35,403 |
| 9 | Hzarem Aaquich | €23,602 |
| 10 | [Removed:17] | €18,882 |
There are few countries that have embraced poker quite like the Netherlands, and the Master Classics of Poker is a very special event held in Amsterdam. For two consecutive years, the tournament series has been pushed back because a Dutchman reached the final table of the WSOP Main Event. Last year it was Michiel Brummelhuis, and this year it was third-place finisher Jorry van Hoof.
Both men served as ambassadors for the event, and PokerNews' Remko Rinkema spoke with van Hoof after his player's party last week:
For Visser, this is his first six-figure score since he won EPT London in 2013. The Dutchman now has over $2.3 million in career live tournament earnings and two major victories. He also finished eighth in the 2012 PCA Main Event, and 44th in the 2011 WSOP Main Event.
There's also Schemion who is now back to No. 2 in both the GPI Player of the Year race and the GPI300 with his two big cashes in Amsterdam. With several notable events to go in the calendar year the German whiz kid certainly has a shot at repeating as GPI POY, all he has to do is catch poker's "super villain" Dan Colman.
5. Klay is a Fish
According to Golden State Warriors center Andrew Bogut, Klay Thompson is a fish. He chases flushes, even on "fourth street."
I guess that's what happens when you sign a four-year, $70 million extension. You chase flushes.
It wasn't that long ago that Gilbert Arenas got into serious trouble, brandishing a gun in the Washington Wizards locker room after a dispute associated with a card game. In general, professional sports have tried to distance themselves from gambling, and it's very refreshing to hear Bogut talk about the card games that he and his teammates are playing.
They might not even be playing for large sums of money. Playing poker is a great way to pass the time, especially when you're spending hours upon hours on planes and in hotel rooms. There was a great scene from this season's Hard Knocks with the Atlanta Falcons where Roddy White, Julio Jones, and other receivers were playing spades. There can be very little wagering on spades, but it is a great game to pass the time.
Poker is more than gambling or placing wagers. It is a very fun, social game that brings people together. I am glad that the Warriors play card. I am glad that Bogut was willing to chat about it. And I am glad that Thompson is a fish.
Someone who can stroke that well from three has to have some fatal flaws, right?
Get all the latest PokerNews updates on your social media outlets. Follow us on Twitter and find us on both Facebook and Google+!