Charlie Carrel Becomes the 2014 GUKPT Grand Final Champion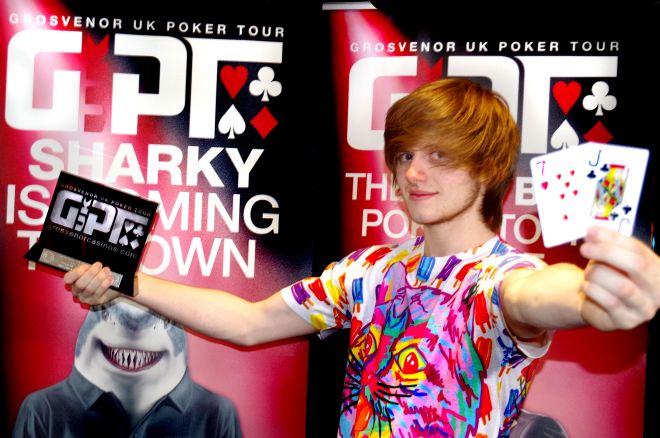 Twenty-one-year old Charlie Carrel has taken down the 2014 Grosvenor UK Poker Tour (GUKPT) Grand Final in London, is now £108,625 richer as a result and has seen his already glowing reputation start to shine even brighter following this amazing victory.
Carrel started playing poker a couple of years ago and famously turned a $15 deposit into $500,000. Carrel deposited $15 into his PokerStars account, won a $1 buy-in 180-man sit 'n' go tournament and never looked back. Now he can brag about being a champion in the live arena after winning one of the toughest tournaments to take place in the UK.
The final day's play commenced at 12:00 on November 30 with 20 players and by the time the clocks read 14:50 the final table was set. Falling prior to the finale were Dave Maudlin, Abi Khaitan, Stuart Fox, Louise Duffy, Khoa Nguyen, Alex Bounsall, Robin Fisher, Sandieop Khosa, Juan Benito, Paul Byrne and John Bousfield.
2014 GUKPT Grand Final Final Table
| Seat | Player | Chips |
| --- | --- | --- |
| 1 | Will Kassouf | 617,000 |
| 2 | Charlie Carrel | 1,136,000 |
| 3 | Pyrian de Mel | 733,000 |
| 4 | Walid Sawaya | 140,000 |
| 5 | Martyn Fuller | 338,500 |
| 6 | Adrian mateos | 529,500 |
| 7 | Tamer Kamel | 810,500 |
| 8 | Ben Vinson | 417,000 |
| 9 | Paul Vas Nunes | 526,500 |
Around an hour into the final table proceedings, with blinds of 8,000/16,000/2,000a, double GUKPT champion Pyrian de Mel opened and then called when Walid Sawaya three-bet all-in for 100,000. Sawaya held


] and was in terrible shape against the


of de Mel. The atter improved to a full house by the river of the





board and the final table lost its first player.
Next to bust was the 2013 World Series of Poker Europe Main Event champion Adrian Mateos who came off second best in a clash with Carrel.
Carrel limped into the pot and called when Matoes re-raised all-in for 300,000. Mateos tabled


and needed some help from the community cards because Carrel held


. That help failed to arrive as the board ran





and Mateos was gone.
Around half-hour after Mateos exited, the dangerous de Mel joined him on the rail. Ben Vinson led for 55,000 on the all-heart



flop, de Mel responded with a 120,000 raise only to see Vinson make it 202,000 to continue, which is exactly what de Mel did.
The turn brought the

into play, Vinson greeted it with an all-in bet and de Mel called off his last 260,000 chips. Vinson flipped over


and had the


of de Mel drawing stone dead. The inconsequential

completed the board and confirmed de Mel's exit.
Six-handed play last close to 30-minutes and ended with the exit of Martyn Fuller. Paul Vas Nunes raised, Fuller re-raised all-in for 200,000 and Vas Nunes called. It was


for Fuller versus the


of Vas Nunes and when the five community cards ran





it was game over for Fuller.
The vocal Will Kassouf, who finished eighth in this tournament in 2013, saw his tournament end in fifth place.
Kassouf made it 62,000 to play from the button, Carrel three-bet to 100,000 from the small blind, Kassouf called and it was heads-up to the



flop. Carrel, holding


, led for 160,000 and called when Kassouf raised all-in for 360,000 in total. Kassouf was ahead with his


and stayed in front on the

turn, but then buted when the

river gifted Carrel a straight.
As superb back-to-back performance by Kassouf who will no doubt be attempting to go for an unprecedented triple final table appearance during 2015.
Tamer Kamel was the next to fall. The action folded to Carrel in the small blind and he raised all-in to put Kamel to the test for his 320,000 stack. Kamel called and discovered his was flipping with his


being up against Carrel's


. Kamel was left drawing extremely thin on the



flop and dead on the

turn. The river was the

and Kamel crashed out in fourth place, only a week after finishing third in the 2014 partypoker WPT UK Main Event.
A few hands after Kamel's demise, Vinson busted in third place. Down to 10 big blinds, Vinson moved all-in from the button with


and Vas Nunes called from the small blind with


. The board ran





and Vinson was gone.
Van Nunes held a 3,030,000 to 2,270,000 chip lead over Carrel and soon extended that lead after wining the frst few confrontations. Carrel then won a large pit when he hit a diamond flush on the river to draw almost exactly level, before moving into the lead himself.
During a scheduled break, Carrel and Vas Nunes discussed the possibility of a deal. Wen those negotiations were over, Carrel had secured a £100,005 payday and Vas Nunes £94,775, which left £8,620 and the trophy for the eventual champion.
The final hand took place at 11:00 p.m and saw Carrel bet 100,000 on the



flop, Vas Nunes call and the dealer place the

onto the turn. Carrel welcomed the turn with a 185,000 bet and Vas Nunes called again.
Carrel moved all-in on the

river and Vas Nunes called off his last 700,000 chips, turning over


as he did so for the straight, but Carrel held


for a higher straight. Vas Bunes busted and Carrel became the 2014 GUKPT Grand Final champion.
2014 GUKPT Grand Final Table Results
| Place | Player | Prize |
| --- | --- | --- |
| 1 | Charlie Carrel | £108,625* |
| 2 | Paul Vas Nunes | £94,775* |
| 3 | Ben Vinson | £50,500 |
| 4 | Tamer Kamel | £33,100 |
| 5 | Will Kassouf | £22,900 |
| 6 | Martyn Fuller | £16,500 |
| 7 | Pyrian de Mel | £13,600 |
| 8 | Adrian Mateos | £11,400 |
| 9 | Walid Sawaya | £9,800 |
*reflects a heads-up deal.
The GUKPT now goes on a break until January 25, 2015 when it returns to The Poker Room, London for the first leg of the 2015 tour. Until then, a huge congratulations to Charlie Carrel, the 2014 GUKPT Grand Final champion and a worthy one at that.
Lead image courtesy of the GUKPT Blog
Get all the latest PokerNews updates on your social media outlets. Follow us on Twitter and find us on both Facebook and Google+!